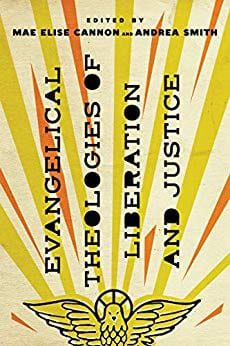 Mae Elise Cannon and Andrea Smith are the editors of the newly released "Evangelical Theologies of Liberation and Justice" by InterVarsity Academic. It was my honor and privilege to participate in this long-awaited volume. In wishing to collaborate further, I reached out to them for an interview to discuss this exciting new academic venture. Their answers follow my questions set forth in bold, italicized print.
Mae and Andy, what inspired you to edit a volume dedicated to evangelical theologies of liberation and justice?
Several years ago, we were on a bus tour organized by Mae in Israel and Palestine. We started talking about how evangelicals should be at the forefront of fighting for liberation given that the Bible is so centrally concerned about liberation and justice. Consider Jesus' very first sermon in Luke 4 that talks about "setting the oppressed free." However, evangelicals are often allergic to engaging liberation theology – viewing it as too much in alignment with the social gospel and not focused enough on the salvation that comes through relationship with Jesus. So we thought it would be a good idea to do a book that presented possibilities for what evangelical liberation theology could look like as a way to open the conversation. The book sought to ask the question about how core tenets of evangelicalism – including the centrality of Christ and the Scriptures – speak to the faith of communities of color and people groups that suffer from oppressive realities. Otherwise, social justice is always presumed to be under the sole purview of theological liberalism with the presumption that being justice-centered requires one to be less biblical. Nothing could be further from the truth.
Some readers of this post might be surprised or confused by the close association of "Evangelical" and "Liberation" in the title and book. What is so surprising or dumbfounding to some readers about this association in your experience? How would you address their amazement or bewilderment?
The story of Christ and his death on the cross is one of liberation – not only for the soul, but also for the brokenness in the world to one day be fully redeemed. How often do evangelicals pray "Thy kingdom come"? What does the kingdom look like? Throughout the Scriptures, the kingdom is described as a place where people are not only made complete and right with God, but where all of creation is right with the Creator. Consider the vision laid out in Leviticus 25 of the Year of Jubilee where the slaves would be set free, the poor would be fed, and debts would be wiped clean. That was what Jesus referred to when he declared himself the fulfillment of the Year of the Lord's favor (Luke 4:21).
In addition, evangelicals often associate liberation theology with Marxism, which is presumed to be anti-Biblical. In response, it is important to note the following items. First, there is a lack of awareness of the diversity of liberation theologies, many of which are not Marxist. Second, Marxism is not monolithic and evangelicals can learn from Marxist theory, that which is useful without being anti-Christian or anti-Biblical. Third, it is often overlooked that many evangelicals took part in creating various forms of liberation theology.
It is important for evangelicals to stop being afraid of conversations and be open to learning from many sources. This doesn't mean one has to compromise their faith, their relationship with Christ, or their belief in the Bible as being sacred. Being open to learning from diverse perspectives can enable us to see how our interpretations of the Bible can be shaped by social location in ways we do not recognize. Unfortunately, as a result, we often use the Bible to simply affirm our positions rather than allowing the Bible to stand as a continual critique and guide.
It is important to remember that the Bible was written by colonized people for colonized peoples trying to survive colonialism. It was not a book written from the perspective of empire. Thus, liberation is central to the Bible and the teachings of Jesus.
I have witnessed with sadness and empathy how many evangelicals committed to liberation emphases have abandoned the label "evangelical." I am grateful to the two of you that you have not jettisoned the word "evangelical" to describe core aspects of your pursuit of liberation and justice. What are some core evangelical attributes that surface in this theological exercise? From the flipside, what are some core liberation and justice emphases that stand out in this theological endeavor? How do these attributes and emphases mutually support and challenge one another?
We both agree that there isn't any tension whatsoever between ascribing to evangelical tenets such as the Bible being the inerrant word of God, or that Jesus died, was resurrected, and is coming again with supporting liberation for oppressed groups. After all, Jesus came from a group that was being colonized! He was not born as a member of the Roman aristocracy. An evangelical approach to liberation should ideally help us engage three domains: 1) personal – how we are personally implicated in the logics of oppression; 2) structural – how our society sets up some people for premature death; and 3) ontological – because we are so fundamentally shaped by structures of oppression, we must become fundamentally new creatures in Christ, be fundamentally different in ways for which we have no vocabulary (which being "born again" can signify). It is sad and ridiculous that some evangelicals will argue that following Christ has nothing to do with social justice. That is such a completely un-biblical proposition.
What are your long-term aspirations for the volume and anticipated impact in the evangelical Christian community and beyond on pressing matters affecting marginalized communities?
Our hope is that we can foster conversations where evangelicals experience fewer knee-jerk reactions to talking about social justice and can listen to people with whom they disagree without their heads exploding. We are not interested in replacing a "bad" conservative evangelical theology with a "good" progressive evangelical theology. Part of the problem is that we often worship our own theology rather than worship God who is way beyond our comprehension. That's why your approach, Paul, to theology is so important. We must be open to receiving critique and being able to learn from each other and change as we strive to be closer to God.
In addition, one area where we would distance our approach from some strands of liberation theology concerns the idea that God sides with the poor or the oppressed. This tends to presume that the oppressed cannot engage in oppressive behavior. But from Andy's work on violence against women of color, and from Mae's work on Israel and Palestine, we have always seen how the oppressed also oppress. Thus, we must always engage in work that addresses both how we are oppressed and how we are complicit in oppression simultaneously. Thus, we see God, not as being on the side of the oppressed, but as always standing against oppression, no matter who commits it.  Centering marginalized communities is more about process than content.
What's next for the two of you in terms of writing ventures and public events related to the themes of this volume?
We are both involved in the upcoming Liberating Evangelicalism: Decentering Whiteness conference happening Sept 19-21, 2019, in Chicago. The conference information can be found on our website at http://www.liberatingevangelicalism.org. This conference has a similar ethos to the book. Based on Paul's framework around centered-set theology, the idea was to open up the conversation on what would evangelicalism look like if it de-centered whiteness. This was not meant to suggest that we would be excluding white people. Rather, whiteness is a logic by which people are divided into two groups: those who are deemed human and those who are deemed less than human, although who gets marked as "white" can change across time and space. But whiteness and white supremacy are logics that negatively impact everyone and we are all complicit in it. In any case, as with the book, the conference doesn't presume a destination of where conversations should go but encourages speakers to create a space for imagining what evangelicalism not centered on whiteness could be.
We would also encourage you to learn more about the writing and ministry of each of the authors. The contributors for Evangelical Theologies of Liberation and Justice do great work in the academic setting, denominational leadership, and as activists and advocates on different issues like racial justice, responding to the incarceration crisis, fat acceptance, the humane treatment of animals as a call to discipleship, and work on peace-building and justice advocacy work in the Middle East. Look up their ministries and see how you can get involved.
What closing thoughts would you like to share with our readers?
A prayer that the body of Christ might have a holistic understanding of the liberation and justice that is offered through the Gospel of Jesus Christ and that we might be advocates on behalf of oppressed people around the world. Resting on the truth that righteousness and justice are the foundations of God's throne (Psalm 89:14), evangelicals – alongside so many others – must commit to being advocates of freedom, and to diligently pursue liberation for all people by being advocates for the disinherited, so that one day we may all be free.