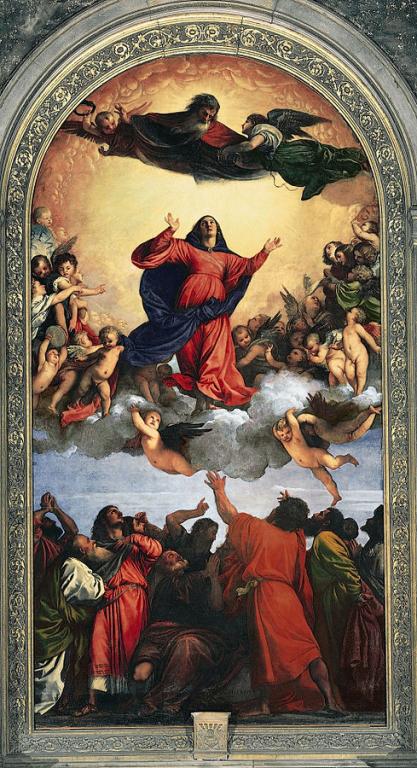 August 15th marks the assumption of the Blessed Virgin Mary according to official Roman Catholic teaching. What is the "assumption of Mary"? It is the Roman Catholic teaching that at the end of her life Mary was taken up in soul and in body to be present along with her Son Jesus in God's glory. While the Eastern Church and certain Anglican communities also reserve a special and elevated place for Mary, Protestantism in general takes issue with the teaching of Mary's assumption. It is also worth noting here that whereas the month of June is dedicated to honoring Jesus' sacred heart, the month of August is dedicated to honoring Mary's immaculate heart in Catholic circles. This article will consider both Roman Catholic teachings–her immaculate heart and assumption into glory.
Devotion to Jesus' sacred heart centers on his divine love for humanity, whereas devotion to Mary's heart centers on her human love for God in Jesus. Here's what one article articulates on their related though distinct honor:
The main difference between the devotions to the hearts of Jesus and Mary is that the one concerned with Jesus emphasizes his divine heart as being full of love for mankind, but with this love for the most part being ignored or rejected, while devotion to Mary's heart is essentially concerned with the love that her heart has for Jesus, for God.
It is worth pointing out that in official Catholic teaching, Jesus' superior status and distinction between him and Mary is secure. Here is one example of this distinction: "The physical heart of Mary is venerated (and not adored as the Sacred Heart of Jesus is) because it is united to her person: and as the seat of her love (especially for her divine Son), virtue, and inner life. Such devotion is an incentive to a similar love and virtue."
We are not to adore or worship Mary, but venerate her, according to Catholic doctrine. The idea that her heart is immaculate or sinless signifies that she alone among humans (other than her Son, who is God) lives a life that exemplifies what God desires—total, pure obedience. One Catholic article presents this teaching in the following manner:
In an age of sensuality and materialism the Assumption points out the dignity and destiny of our human body, extols the dignity of womanhood, and turns our eyes to the true life beyond the grave. At Mass today ask Mary for the grace to keep your mind fixed on things above and to aspire continually to be united with her and to be brought to the glory of the Resurrection.
At the close of this article, a few assertions will be made on Mary and her significance that hopefully Catholics and Protestants can affirm together. For now, it is worth highlighting some of the key points of contention that separate many Catholics and Protestants.
First, Protestants generally express suspicion about Mary's immaculate heart and assumption of her soul and body into heaven at the end of her life because they do not find the teaching explicitly taught in Scripture. In fact, the idea that Mary's heart is immaculate or sinless might suggest to some that she is not in need of salvation. Scripture is quite clear that all people (which would include Mary) are in need of salvation from sin through Jesus who alone is our mediator before God (See for example 1st Timothy 2:4-5), as we are corrupt as a result of the universal fall and our fallen condition. Similarly, Protestants generally express severe caution about any sign of recognizing Mary in a unique manner in the church since they fear such recognition will make her a co-mediator with Jesus for our sins. The following statement will raise suspicions in many Protestant minds, namely, that Mary was/is "the Mother of God" and she alone is "called to share in and co-operate in his [Jesus'] redemptive sufferings." While for Protestants generally, Mary does not "share in and co-operate in [Jesus'] redemptive sufferings," she does have theological significance in that Mary really is the Mother of God through whom the second person of the eternal Trinity came into this world and was made human (as is accounted for in the teaching of the theotokos). Those who deny this theological claim fail to safeguard the unity of Jesus' person against the threat of Nestorianism with its assertion that Jesus has two personal centers–one divine and one human. Moreover, while it is true that the teaching that Mary was assumed body and soul into heaven at the end of her life does not have clear biblical warrant, Catholics do make a theological point worth considering that is derived from the unique bond between Jesus and Mary. Here is one such articulation:
Even as incarnate Word, God does not want to grow in her in such a way that he uses her for a time and then drops her when he has achieved his purposes. He uses her wholly; therefore he uses her without temporal limits, and when he allows her to given him everything constantly in her human fashion, he also gives her everything in his divine, eternal fashion. The Mother is not separated from the fruit that she brings forth; after the birth she does not cease to be mother and bearer. Rather it is part of her fruit that she becomes the Mother of all Christians. Her own fruitfulness is the fruit of her assent; in this the Son sows her his gratitude. He does not want simply to proceed from her life the effect from the case; he also wants his Mother to be the effect of her own case, a cause whose beginning lies in the decree of grace decided upon between the Father and the Son.
We all make theological assumptions that reflect presuppositions of various kinds regarding Mary. No doubt, the debate over Mary between Catholics and Protestants will continue, not simply on August 15th, the day Catholics recognize Mary's assumption into heaven, but throughout the church year. Yet hopefully, in the midst of the clear and strong differences, both traditions can come together to recognize Mary's importance in various ways. While not exhaustive, here are a few such items of importance. God's selection of Mary highlights God's elevation of the humble and lowly and judgment on the proud and mighty in every age. Moreover, Mary's decision to obey God and accept the call to be the Mother of the Messiah reflects her pure devotion to God and her Son—especially in our "age of sensuality and materialism," as already noted. Furthermore, Mary's special bond with Jesus, who also cherished her as his Mother, reflects the special place awarded to womanhood here on earth and in eternity, as she is rightfully hailed as a great and foundational saint along with the Apostles and worthy of recognition throughout time and in the age to come. We close with the words of the Magnificat which, no matter our theological take on the Catholic teaching of Mary's assumption and her immaculate heart, should unite all Christians in affirming her unassuming honor and dignity that also reflects the heart of God:
And Mary said,

"My soul magnifies the Lord,
and my spirit rejoices in God my Savior,
for he has looked on the humble estate of his servant.
For behold, from now on all generations will call me blessed;
for he who is mighty has done great things for me,
and holy is his name.
And his mercy is for those who fear him
from generation to generation.
He has shown strength with his arm;
he has scattered the proud in the thoughts of their hearts;
he has brought down the mighty from their thrones
and exalted those of humble estate;
he has filled the hungry with good things,
and the rich he has sent away empty.
He has helped his servant Israel,
in remembrance of his mercy,
as he spoke to our fathers,
to Abraham and to his offspring forever" (Luke 1:46-55; ESV).