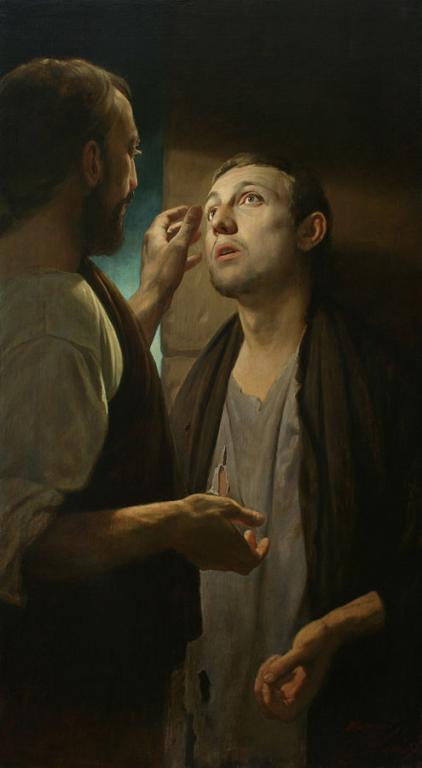 October is National Disability Employment Awareness Month. Disability Awareness Sunday also falls in October in some church traditions (Refer here, here, here, and here for different church traditions and their recognition of Disability Sunday at various times of the year). We need to grow in awareness and appreciation for the many ways those with disabilities can enrich society and the church, and celebrate them. But does the Bible show such awareness and appreciation?
Rather than shut people with disabilities down, Jesus affirms their persons and their agency. Take for example Mark 10 and the story of "Blind Bartimaeus":
And they came to Jericho. And as he was leaving Jericho with his disciples and a great crowd, Bartimaeus, a blind beggar, the son of Timaeus, was sitting by the roadside. And when he heard that it was Jesus of Nazareth, he began to cry out and say, "Jesus, Son of David, have mercy on me!" And many rebuked him, telling him to be silent. But he cried out all the more, "Son of David, have mercy on me!" And Jesus stopped and said, "Call him." And they called the blind man, saying to him, "Take heart. Get up; he is calling you." And throwing off his cloak, he sprang up and came to Jesus. And Jesus said to him, "What do you want me to do for you?" And the blind man said to him, "Rabbi, let me recover my sight." And Jesus said to him, "Go your way; your faith has made you well." And immediately he recovered his sight and followed him on the way (Mark 10:46-52; ESV).
We find here that many in the crowd of people following Jesus tried to silence Bartimaeus when he cried out to Jesus to have mercy on him. Jesus, however, stopped in his tracks, called Bartimaeus to come to him, asked Bartimaeus what he wanted Jesus to do for him, and then affirmed his active faith after healing him. Bartimaeus, in turn, followed Jesus on his journey.
How often do we try explicitly or implicitly try to silence people who want to recover their sight, or who desire to be able to walk? And if we do engage them, how often do we encourage them to take the first step toward recovery of sight or wholeness in some way? Jesus stops in his tracks. Jesus wants Bartimaeus to come to him. How often do we ask them openly what they would like done, like Jesus did, rather than presume we always know best what they need or say it for them? How often do we affirm their agency in having the courage to cry out for help to be made whole so they don't have to continue begging based on fostered impositions of dependency? How often do we affirm their agency rather than point to our charity in aiding them? While Jesus obviously healed Bartimaeus of his blindness, Jesus does not take the credit, but credits Bartimaeus, affirming his agency and human dignity.
Numerous stories could be shared of Jesus healing people with disabilities. I will share a portion of one other account. Earlier in Mark's Gospel, we find the moving story of the man who was let down through an opening in a roof to receive healing. In chapter 2, it reads:
And when he returned to Capernaum after some days, it was reported that he was at home. And many were gathered together, so that there was no more room, not even at the door. And he was preaching the word to them. And they came, bringing to him a paralytic carried by four men. And when they could not get near him because of the crowd, they removed the roof above him, and when they had made an opening, they let down the bed on which the paralytic lay. And when Jesus saw their faith, he said to the paralytic, "Son, your sins are forgiven" (Mark 2:1-5; ESV).
Sometimes those with disabilities simply need greater access. Sometimes those around them need to express agency and assist with providing access. Here those who carried the paralytic man on his bed did not allow the inaccessible room from street level to stop them, but creatively sought a solution to gain access, even if that meant taking the roof off the place! Jesus affirms their faith, not simply the paralytic's desire to be healed. How about us? Are we people of faith who creatively try to provide access for those with disabilities to flourish, or do we take overcrowded, inaccessible rooms as closed doors to solutions at home, in the workplace, the marketplace, or at church?
Now there may be times when God does not heal people of disabilities? How many of us have a disability that God has not healed? How many of us need glasses or contacts, or resort to having laser surgery on our eyes? How many have need of hearing aids? Some of our disabilities are so common that we no longer view them as disabilities or handicaps. They have been made acceptable, normal. Moreover, whether disabled now or not, all of us, given enough time, will deteriorate where our once supposedly able-bodied state becomes a state of disrepair.
Going beyond the preceding reflections on physical states, we often approach disabilities in merely physically and medical terms, or fixate on visible disabilities and do not account for invisible disabilities that also require careful attention and care beyond stigma (October also recognizes "Invisible Disabilities" as part of Disability Awareness Month). Going further, how many of us who are seemingly able-bodied beyond apparent visible and invisible disabilities account for the possibility of ourselves being emotionally or relationally disabled? Often those with physical disabilities are "differently-abled," a striking phrase my friend Jimi Calhoun uses in his forthcoming social ethics volume, The Sounds of Love and Grace. These individuals have adjusted beautifully to their life situations where they cultivate other qualities of existence to a greater degree than the general population. Often their resilience, flexibility and problem-solving skills, awareness of people's needs, and emotional intelligence far outweigh the challenges they face physically. Do our churches and workplaces account for their strengths or pity them based on our narrow-minded and imagined perceptions of what wholeness looks like?
Criticisms are sometimes left at the doorstep of Christian Scripture that the only role a disabled person has in the Bible is to be healed. Could it not be that there is more to the story? Could it not be that sometimes we are given thorns in the flesh, like Paul (we don't know what his thorn was—could it have been a physical deformity or disability?), so that we have to rely on God to work wonders through our weaknesses? Could it be that in relying on God in such weaknesses we are able to accomplish far more than when we rely on our own strength? Here's what Paul has to say, as recorded in 2 Corinthians 12, to God's determination to give him a thorn in the flesh to keep him from being conceited based on the surpassing revelations he received:
Three times I pleaded with the Lord about this, that it should leave me. But he said to me, "My grace is sufficient for you, for my power is made perfect in weakness." Therefore I will boast all the more gladly of my weaknesses, so that the power of Christ may rest upon me. For the sake of Christ, then, I am content with weaknesses, insults, hardships, persecutions, and calamities. For when I am weak, then I am strong (2 Corinthians 12:8-10; ESV).
We close with Jesus himself, who in our culture of "body beautiful," challenges us to rethink what is truly beautiful. Take, for example, Isaiah 53. There was nothing about the Messiah or Suffering Servant's physical state that would draw us to him. Note the following text of Isaiah 53:2, which does not appear to be isolated to Jesus' foreshadowed passion and crucifixion alone, but likely points to his life as a whole:
For he grew up before him like a young plant,

and like a root out of dry ground;

he had no form or majesty that we should look at him,

and no beauty that we should desire him (ESV).
Couple that with Revelation 5, where the Lord Jesus bears the marks of his passion in his glorified state forever, that is as "a Lamb standing, as though it had been slain" (Revelation 5:6, ESV). "Body beautiful" in the Christian community must undergo significant change to account for this eschatological reality and cruciform aesthetic.
During and beyond National Disability Employment Awareness Month and this or that Disability Awareness Sunday, may we approach disabilities differently and with greater awareness in view of Jesus. May we recognize people of various life experiences, whom we often view as handicapped, as "differently-abled." May we also consider our own need to move beyond our handicapped imaginations and become more creative in providing access to those we often shut out due to what we see as normalcy, which is sometimes nothing more than projecting onto society what we ourselves are. May we take more than a designated Sunday or special month to celebrate how special and beautiful people are in the midst of all our collective challenges, and how special our own needs are for Jesus to heal us in view of his cruciform glory, which truly makes his church body and the world beautiful.