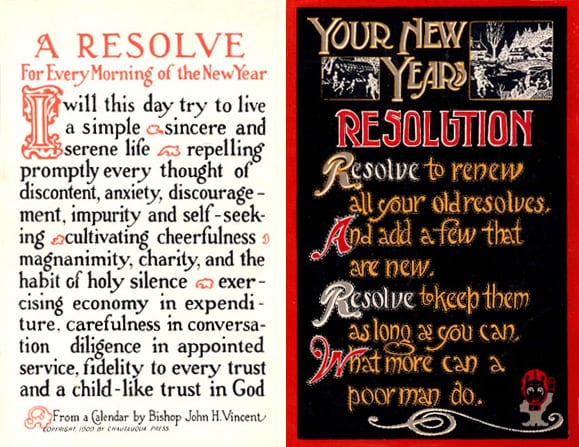 We often formulate New Year's resolutions with the intent of kicking a bad habit or getting a head start on improving our lot in life by way of exercise, economic well-being, moral enterprise, and more. If we are realistic and determined enough, we may succeed in attaining our goals. When we are victorious, it is quite easy to boast in our hard work and tenacity. How often do we resolve to boast in the Lord for his mercies in helping us overcome our weaknesses, rather than in vain ambition?
Several church celebrations occur at New Year's that account for this theme of boasting in the Lord. The Feast of the Circumcision of the Lord begins with an all-night vigil beginning on New Year's Eve in Orthodox circles. The Solemnity of Mary, which honors her as theotokos, that is as Mother of God or God-bearer (depending on the translation/theological rendering), takes place on January 1st. In times long past, Christendom celebrated the Feast of Fools, which turned upside down the leadership structure so that those of lower ecclesial rank presided over the liturgy during the feast. For more on these church celebrations, refer here and here.
These three events highlight God's upside-down kingdom. As the Feast of Fools served to remind God's people, "…God chose what is foolish in the world to shame the wise; God chose what is weak in the world to shame the strong" (1 Corinthians 1:27; ESV). Certainly, this was the case in God's choosing of Mary to be the mother of the Christ, who himself came to reign as a servant (Mark 10:45) rather than as a slave master.
Paul's words that close 1 Corinthians 1 resonate with Mary and Jesus' words about the nature of God's upside-down kingdom. Drawing from Jeremiah 9:23-24, Paul writes that the nature of God's upside-down kingdom is intended to lead us to boast in the Lord, not ourselves: "Let the one who boasts, boast in the Lord" (1 Corinthians 1:31; ESV). We find Mary and Jesus boasting in God for how he miraculously raises up the lowly and reveals to them his mysteries. Mother Mary marvels that God "has brought down the mighty from their thrones and exalted those of humble estate" (Luke 1:52; ESV). The Lord Jesus praises God: "I thank you, Father, Lord of heaven and earth, that you have hidden these things from the wise and understanding and revealed them to little children" (11:25; ESV).
How might these reflections on boasting shape us at the beginning of a new year, including in making and pursuing New Year's resolutions? Given that we do not know how long we have in this world, whether we have another day, month, or year, we need to guard against boasting in ourselves, but rather boast in the Lord. Let's take to heart the words of James, the Lord Jesus' half-brother, who exhorts us to guard against boasting in ourselves and our various plans, submitting all things to the Lord in humble obedience:
Come now, you who say, "Today or tomorrow we will go into such and such a town and spend a year there and trade and make a profit"— yet you do not know what tomorrow will bring. What is your life? For you are a mist that appears for a little time and then vanishes. Instead you ought to say, "If the Lord wills, we will live and do this or that." As it is, you boast in your arrogance. All such boasting is evil. So whoever knows the right thing to do and fails to do it, for him it is sin (James 4:13-17; ESV).
So, as we resolve to carry through with New Year's resolutions and other plans through the days, weeks and months ahead, let's be sure to add, "If the Lord wills." That way, we are more likely to guard against boasting in ourselves, but in him: "Let the one who boasts, boast in the Lord."