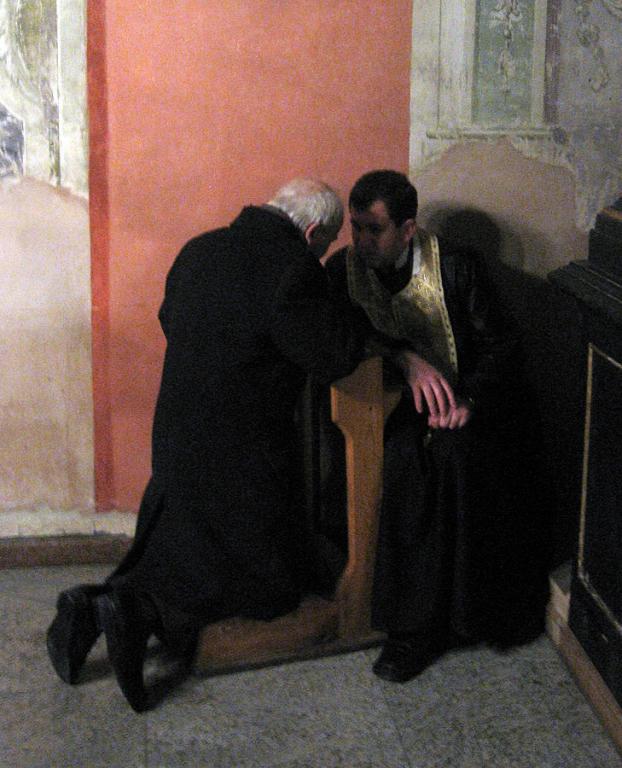 Are there long-term benefits to the "new normal " that should be kept in place after the Coronavirus crisis passes? This is the question a National Review article poses: "Is anyone keeping track of the changes being forced on us by the coronavirus that might be worth keeping around after this crisis is over?" The last item mentioned in the article resonated most with me: "Finally . . . what would a ' normal ' cold and flu season be like if we washed our hands like this all the time?"
Washing our hands certainly has long-term benefits, as does cleansing our hearts. Just as we should leverage for the long-haul certain practices put in place as precautionary measures for contending against the Coronavirus, we should do the same with Lent with its emphasis on purification from sin. Washing our hands regularly and confessing our sins regularly to God and others have benefits no matter what season of life in combating physical and spiritual sickness and disease respectively. Perhaps the Coronavirus threat is causing us to take to heart the transient state of life and that we need to get right with God today. Given that the virus hit us hard during Lent, maybe we are taking this liturgical season more seriously than in the past.
Lent is a season for fasting and confession of sin whereby we are more attune to the need for spiritual cleansing and renewal for healthy relationships with God, others, and the world. But how often do we pass right through Lent and never stop to take spiritual inventory of where we require cleansing and disinfection? And how often do we think of confession of sins to God and others during Lent as a 'one off,' operating as if we are good to go until next year? It would be like washing our hands with soap and water only just so long as the Coronavirus scare is an imminent danger and failing to wash again until the next time a deadly virus hits us. Such a vantage point is quite distorted and should never be viewed as normal.
Henri Nouwen engages the first question, which concerns passing right through Lent unaware:
How often have I lived through these weeks without paying much attention to penance, fasting, and prayer? How often have I missed the spiritual fruits of the season without even being aware of it? But how can I ever really celebrate Easter without observing Lent?[1]
The Book of Common Prayer provides the following prayer of penitence. It is not a 'one-off' or seasonal prayer, but rather serves as a model prayer for regular use both day and night. And so, it helps us engage the second (i.e., 'one off') question above.
Most merciful God,

Father of our Lord Jesus Christ,

we confess that we have sinned

in thought, word and deed.

We have not loved you with our whole heart.

We have not loved our neighbours as ourselves.

In your mercy

forgive what we have been,

help us to amend what we are,

and direct what we shall be;

that we may do justly,

love mercy,

and walk humbly with you, our God.

Amen.
The season of Lent equips believers in Jesus to contend against the deadly virus of selfish desire and excess. Lent functions like a vaccine, as it involves dying to self and identifying with Jesus in his passion as he sacrifices his life for our well-being. We shouldn't think that the Lenten lifestyle is only forty plus days. Self-sacrifice and death to self in service to others should carry on during Eastertide and beyond. And so, we must regularly confess our sins to God and to people for cleansing and renewal in waging war with selfish desire and excess. The Bible presents such confession as spiritually normal. Scripture is quite clear on the efficacy of genuine confession to God and to one another:
If we say we have no sin, we deceive ourselves, and the truth is not in us. If we confess our sins, he is faithful and just to forgive us our sins and to cleanse us from all unrighteousness (1 John 1:8-9; ESV).

Therefore, confess your sins to one another and pray for one another, that you may be healed. The prayer of a righteous person has great power as it is working (James 5:16; ESV).
So, confess often. The threat of spiritual and relational contamination is real and disastrous. Moreover, the benefits of confession are real and lifesaving.
Also, be transparent. Don't try and hide pet or prized sins and vices. Not only can they prove disastrous to your well-being and can expose others to vice, but also we cannot get away with secrecy for long. Simply put, we cannot hide from God. As the Book of Common Prayer records in the following prayer of preparation for Holy Communion,
Almighty God,

to whom all hearts are open,

all desires known,

and from whom no secrets are hidden:

cleanse the thoughts of our hearts

by the inspiration of your Holy Spirit,

that we may perfectly love you,

and worthily magnify your holy name;

through Christ our Lord.

Amen.
In addition to confessing often in a transparent manner before God who sees all, be vulnerable with trusted others who have your and God's interests at heart. They can offer or get you the help you need. Living in spiritual isolation does not help us address the virus at work in our souls. Moreover, the enemy preys on the weak straggler who is isolated from others: "Be sober-minded; be watchful. Your adversary the devil prowls around like a roaring lion, seeking someone to devour" (1 Peter 5:8; ESV). Relational transparency minimizes the impact of demonic attacks, as well as self-doubt and loathing. Get help when you need it, even if the only access you have to others presently is over Skype, Zoom, or phone. Otherwise, the virus will break down our spiritual immune system and spread to others once we go back out in public.
Leverage Lent for the long haul. Before you proceed past Lent and after it's complete, don't forget to confess your sins and keep short accounts with God and others. Make sure genuine confession and washing of hearts remains the "new normal ".
_______________
[1]Henri Nouwen, A Cry for Mercy: Prayers from the Genesee (New York: Image Books, 2002), page 24.