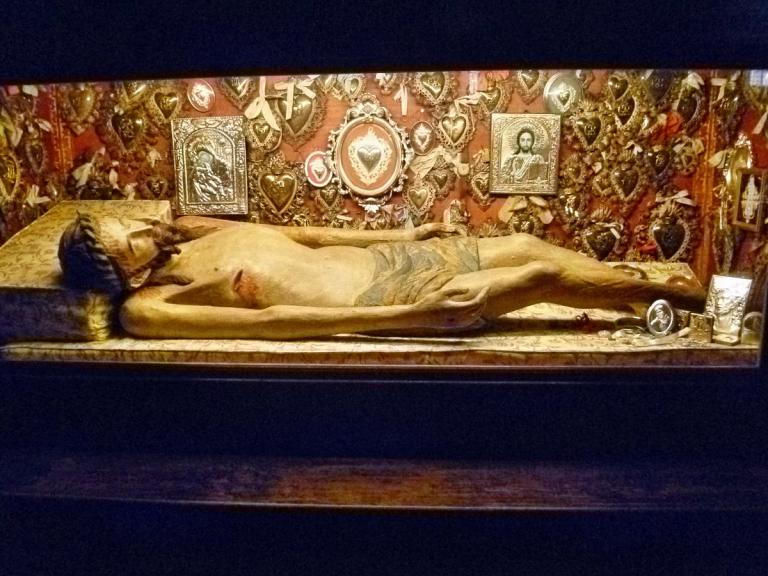 We often skip over the Saturday that falls between Good Friday and Easter. We simply pass through it and so lose out on its monumental significance. It's almost as if we are wholly in the dark about Holy Saturday's import.[1]
Speaking of being in the dark, that's exactly where Jesus and his disciples were on Holy Saturday. For his part, Jesus was dead in the darkened grave. For their part, his followers were spiritually at a dead-end. Who knows what thoughts they had of Jesus and their relation to him? Had they been deceived? Was he a messianic impostor? How could the One who was to lead Israel out of Egypt into the Promised Land die as a sacrificial victim to the victimizing evil Empire of Egypt/Babylon/Rome? Imposing doubts darkened the disciples' minds. They did not realize until later that Jesus was not only the New Moses to deliver them from bondage in Egypt but also the Passover Lamb.
If the disciples and we come into the light of the entirety of Holy Scripture that provides 20/20 vision, we will find that Holy Saturday is critically important for our faith. It is a date to mark on our church calendars. Without it Good Friday's not so good, and Easter's not so hopeful. In what follows, we will provide three reasons why Holy Saturday is wholly relevant to our faith and lives.
First, identification. Holy Saturday signifies that Jesus' passion is our passion. He endures what we endure. He does not excuse himself from fully identifying with us. If we die, he dies. He accepts our human limitations and submits himself to bearing the burden of our fallen and sinful state. Here it is worth accounting for Tania M. Geist's reflection on Pope Benedict's 2013 meditation on the theological significance of the Shroud of Turin for Holy Saturday. Benedict considered the crucified man emblazoned on the burial garment to be Jesus. Geist writes,
Insofar as the Shroud symbolizes Christ's suffering and death, however, it also conveys a message of hope and life. Benedict mused that the image on the Shroud functions like a photographic negative, its contrast of dark and light being essential. So too with the paschal mystery, wherein "the darkest mystery of faith is at the same time the most luminous symbol of boundless hope. Holy Saturday is the 'no man's land' between death and Resurrection, but One has entered into this 'no man's land.'" And the One who has entered has come to share in our death, in a historic and unrepeatable gesture of "the most radical solidarity."
Benedict sees this to be the true power of the Shroud and what it represents: that in his descent, Christ takes on our suffering, our sins—"Passio Christi. Passio hominis."…[2]
Yes, Holy Saturday conveys "the most radical solidarity" between Jesus, God, and us. Such solidarity highlights God's exceeding goodness that we also find displayed on Good Friday.
There is more, though. Second, annihilation and transformation. Holy Saturday signifies that we are dead to the old-world system and can "walk in newness of life" given our baptismal union with Jesus in his death and burial, as Paul writes in Romans 6. Here is the full context of his remarks on this subject:
What shall we say then? Are we to continue in sin that grace may abound? By no means! How can we who died to sin still live in it? Do you not know that all of us who have been baptized into Christ Jesus were baptized into his death? We were buried therefore with him by baptism into death, in order that, just as Christ was raised from the dead by the glory of the Father, we too might walk in newness of life (Romans 6:1-4; ESV).
If Jesus were not dead and buried, our sinful state and old humanity would not be dead and buried. But given that Jesus who bore our sins on the cross died and was buried, we are dead to sin as we have been "baptized into his death." The annihilation of our old humanity makes possible the transformation of our humanity in accordance with Easter's emphasis on new life. As the link between Good Friday and Easter, Holy Saturday underlines and highlights God's goodness in terminating the old order of being and points forward with hope to Easter and the transformation of our existence as the new humanity.
Lastly, attention. Just as the chief priests tried to be attentive, so should we be, albeit for different reasons. The chief priests wanted a guard posted to keep Jesus' disciples from stealing the body (Matthew 27:62-66). But it was pointless to try and keep him in the tomb. The guards became like dead men when the angel appeared Easter morn (Matthew 28:4). And for those who argue that the disciples were responsible for Jesus' body's disappearance, think again. From the likes of the disciples at the time of Jesus' death and his post-crucifixion appearances, this clueless and cowardly band could not have put together a cunning and courageous, risky plan to steal the body of their fallen Lord and claim that he had been raised from the dead.[3]
To return to the disciples, they were not attentive to Jesus' prophetic hints offered throughout the gospels. They had no clue of Jesus' imminent resurrection. Would we be more cognizant, though? Hindsight's always 20/20. Not so with peering into the future, especially in view of the traumatic days when Jesus suffered and died. Jesus' followers could not come to terms and fathom all that Jesus had told them would occur, including the bodily resurrection from the grave. Still, as Jesus instructed them on Maundy Thursday, they were to watch and pray. Easier said than done in their case, and no doubt our own:
And he came to the disciples and found them sleeping. And he said to Peter, "So, could you not watch with me one hour? Watch and pray that you may not enter into temptation. The spirit indeed is willing, but the flesh is weak" (Matthew 26:40-41; ESV).
In talking about the need for attentiveness during Passover and beyond, we can learn a thing or two from God's command to Israel at the time of the first Passover celebration and Exodus:
In this manner you shall eat it: with your belt fastened, your sandals on your feet, and your staff in your hand. And you shall eat it in haste. It is the Lord's Passover (Exodus 12:11; ESV).
No doubt, Jesus' exhortation to watch and pray during the Passover celebration in Jerusalem during Holy Week bears some similarity to the first Passover whereby the Israelites were to be ready to set out on mission at any moment. When they did depart, it was with the urgent pleading of Pharaoh and the Egyptians (Exodus 12:29-42). The Israelites did indeed leave in haste. So, no wonder they were encouraged to keep watch. As Exodus 12:42 indicates, Passover is a night of watching or vigil: "It was a night of watching by the Lord, to bring them out of the land of Egypt; so this same night is a night of watching kept to the Lord by all the people of Israel throughout their generations" (Exodus 12:42; ESV).
While eating the Passover meal, the Israelites were to be prepared for departure, for missional sojourn—with belts and sandals fastened, staff and food in hand in haste. If that were true of them, what about us? What are we waiting for? The answer: for God to call us to embark. We are to wait on God attentively rather than sit back and relax or take matters into our own hands. Be vigilant and wait, which is not easy for us, especially when we don't know what to do, as on Holy Saturday when Jesus's first disciples were totally in the dark.[4]
God's goodness, divine comfort and hope are on display on Holy Saturday. The disciples could not have concocted or comprehended that Jesus was the suffering servant and Pascal Lamb. Only he and his Father knew in advance of Good Friday and Easter that it was he who had to suffer vicariously for the deliverance of the world. He had to suffer as a silent lamb led to slaughter (rather than suffer as the leader of a violent rebellion of a loyal remnant like the Maccabean martyrs, as some maintained), whom God would use to free the world from the evil and idolatrous Empire and bring about the new creation.[5] Only Jesus knew that the Father would raise him from the darkness of the tomb. Although Jesus' followers could not do anything to keep Jesus from falling into the hands of his enemies, and although they could not have stolen his body from the grave, God was in control and everything was in his hands, including their own lives. No one could snatch them from Jesus' or his Father's hands (John 10:28-30).
In view of what has been shared, watch and pray. Do not be taken by surprise. The Passover Lamb's blood has been spilt and the Angel of Death has passed over our heads and homes while God liberates us from captivity. Watch and pray for not only does the Passover Lamb identify with us in our suffering, but also as the New Moses and High Priest, he transforms our state of being from slaves to God's firstborn heirs, a royal priesthood and holy nation, God's chosen people (1 Peter 2:9). God will lead us into the light of day and out of Egypt into the Promised Land. Those who are attentive and waiting on God will find in view of Holy Saturday how good and hopeful Good Friday and Easter truly are.
_______________
[1]For a novel and robust analysis of Holy Saturday, see Alan E. Lewis, Between Cross and Resurrection: A Theology of Holy Saturday, with a foreword by John Alsup (Grand Rapids: Eerdmans, 2003).
[2]Tania M. Geist, "Benedict XVI's Theology of Holy Saturday," First Things, March 30, 2013; https://www.firstthings.com/web-exclusives/2013/03/benedict-xvis-theology-of-holy-saturday (accessed on 3/29/2020).
[3]N.T. Wright comments that the disciples' bewilderment (See John 20:1-18) points to the authenticity of the resurrection account. N.T. Wright, "The Uncomfortable Truth of Easter," A Sermon at the Sung Eucharist in Durham Cathedral, Easter Day 2008; https://ntwrightpage.com/2016/03/30/the-uncomfortable-truth-of-easter/ (accessed on 3/29/2020).
[4]N.T. Wright, "God in Private and Public," Sermon at the Maundy Thursday Sung Eucharist, 20 March 2008; https://ntwrightpage.com/2016/03/30/god-in-private-and-public/ (accessed on 3/29/2020).
[5]See here the following interview between Michael Bird and N.T. Wright: "N. T. Wright: The Church Continues the Revolution Jesus Started," Christianity Today, October 13, 2016; https://www.christianitytoday.com/ct/2016/october-web-only/n-t-wright-jesus-death-does-more-than-just-get-us-into-heav.html (accessed on 3/29/2020). Refer also to this discussion in Wright's work, The Day the Revolution Began: Reconsidering the Meaning of Jesus's Crucifixion (New York: HarperOne, 2016).