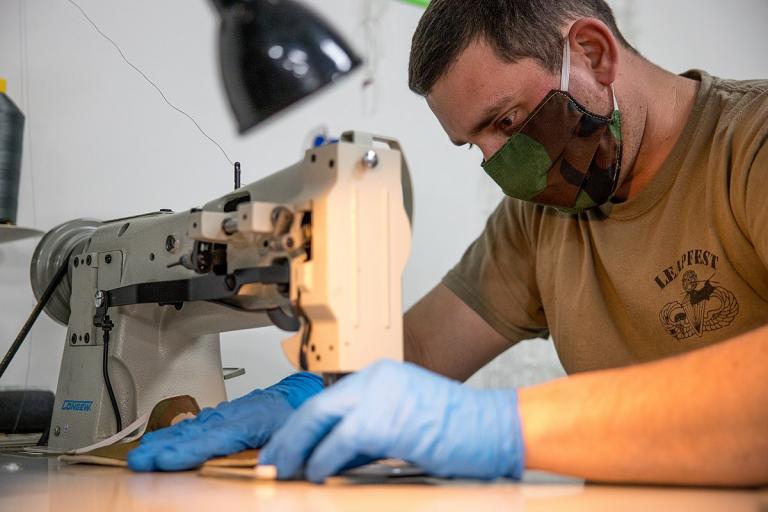 Early last week, the Governor of Washington issued a statement requiring people to wear masks in public places across the state beginning Friday, June 26th because of Covid-19. It appeared that half to two-thirds of the people congregating at the grocery store where I shopped last Friday didn't read or hear the news, or simply discounted the mandate. As I exited the store with face covered, I crossed paths with an unmasked man wearing a t-shirt with the inscription, "Trust God."
Maybe there was no connection between the unmasked face and the t-shirt, or the t-shirt and the individual's religious convictions. But it reminded me of what my pastor friend in that town where I was vacationing had said the previous day: many Christians there maintain that if you trust in God's sovereignty, you won't wear a mask. It's not that they think you won't get sick, but that you entrust your life and future to God no matter what transpires.
For others from Washington state to Washington, D.C., wearing a mask can appear unpatriotic. As Americans, they claim that they are free at every turn to exercise personal liberty concerning their bodies and what they choose to wear. For some, freedom takes precedence over safety and fear.
Now I share the Christian conviction that we are to entrust our lives to God's sovereign care, no matter what the future holds. I also share the American conviction that we are to celebrate our freedom, especially on the Fourth of July weekend. But I look at the matter differently than those who won't wear masks because they are Christians and Americans. In no way do I wish to challenge their sincerity. Rather, I offer a different outlook as their fellow citizen of Christ's kingdom and this nation.
As I assume my fellow Christians are well-aware, Jesus told Satan during his temptation that we should not put God to the test. Of course, the situation was different. Satan said that God would protect Jesus if he threw himself down from a high place (Matthew 4:5-7). Those who say we shouldn't wear masks because we trust in God for our future are not necessarily asserting that God will protect them from Covid-19. But shouldn't trust in God lead us not to increase risks to our health unless other risks outweigh them? What other risks outweigh wearing masks? The risk that those who aren't Christian will think we don't trust in God for our future? Could it be that many of them will think we don't care about their personal safety given the risk of Covid-19's spread? My pastor friend encourages his liberty-loving fellow Christians at church to wear masks if for no other reason than that those who visit will see it as a sign of care for others' well-being.
The Apostle Paul encourages us to trust God so much that we will use our freedom to serve others well. Galatians 5:13 states, "You, my brothers and sisters, were called to be free. But do not use your freedom to indulge the flesh; rather, serve one another humbly in love" (NIV). Elsewhere he writes, "Do nothing out of selfish ambition or vain conceit. Rather, in humility value others above yourselves" (Philippians 2:3; NIV). If there are people who would find my exercise of Christian or American freedom a sign of disregard for their well-being, that should give me serious pause, as my pastor friend suggested.
Unfortunately, the debate about wearing masks faces challenges due to confusion and changing perspectives and is often viewed as politically charged. Still, biblical wisdom encourages us not to throw caution to the wind and to be prudent.
Prudence is a biblical virtue. And while Proverbs does not provide specific case-by-case instructions, but general guidelines for life, the following texts suggest that we should not rush in where angels or even the medical community fears to tread:
The wisdom of the prudent is to give thought to their ways, but the folly of fools is deception (Proverbs 14:8; NIV).

The simple believe anything, but the prudent give thought to their steps. (Proverbs 14:15; NIV).
Speaking of angels and the medical community, Biblical prudence and scientific research should not be viewed in isolation from one another. The Church Fathers and Reformers like John Calvin held to the two-book theory, namely, that God is revealed through Scripture and nature (Refer here and here). Biblical scholars and theologians like John Calvin help us understand the book of Scripture. Scientists help us understand God's book of nature.
According to one infectious disease expert, Dr. Simone Wildes, quoted in a July 2nd article in ABC News,
I can understand the frustration some individuals are experiencing about the need to wear the mask at all times… But in the midst of a pandemic with more than 2.5 million cases in the US and more than 127,000 deaths with no cure or vaccine yet, we have to take all measures we can to slow the spread of the virus.
As the scientific consensus suggests, while not fool-proof, wearing masks helps. It is prudent.
The Protestant Reformer Martin Luther modeled needed trust in God's sovereign grace, prudence based on biblical and medical insights, and care for the well-being of others, when he responded to a plague crisis impacting his city:
Very well, by God's decree the enemy has sent us poison and deadly offal. Therefore I shall ask God mercifully to protect us. Then I shall fumigate, help purify the air, administer medicine, and take it. I shall avoid places and persons where my presence is not needed in order not to become contaminated and thus perchance infect and pollute others, and so cause their death as a result of my negligence. If God should wish to take me, he will surely find me and I have done what he has expected of me and so I am not responsible for either my own death or the death of others. If my neighbor needs me, however, I shall not avoid place or person but will go freely, as stated above. [See Martin Luther, "Whether One May Flee from a Deadly Plague," To the Reverend Doctor Johann Hess, pastor at Breslau, and to his fellow-servants of the gospel of Jesus Christ, in Luther's Works, vol. 43: Devotional Writings II, ed. Jaroslav Jan Pelikan, Hilton C. Oswald and Helmut T. Lehmann (Philadelphia: Fortress Press, 1999, c1968), pages 131-132.]
My pastor friend would no doubt resonate with Luther's balanced perspective. Luther's views made an impact on the church, city, and nation state. Luther sought to balance biblical wisdom, civic concern, and scientific understanding in his day. We should do the same.
While the issue of wearing masks is often politicized, it shouldn't be. According to a June 30th Associated Press article, most Republican politicians on the national stage are now exhorting people to wear masks. It would appear that to them and their Democrat politician counterparts, patriotism requires that we wear masks to wage war with COVID as it poses an increasing threat to the lives of countless Americans, as well as people from all walks of life here and abroad.
Still, many Americans contend that their freedom is at stake if, and when, the government enforces mask-wearing. What is often lost in this debate is that unmasked or unlimited individual freedom can bring about the demise of our society. Back in 1985, a book review of Habits of the Heart in The Los Angeles Times reflected upon this subject. It bears repeating here:
The title is from Alexis de Tocqueville who, writing about us in "Democracy in America" from 1835 to 1839, discovered habits of the heart–he named family life, religious convictions and participation in local politics–as helping to form the unique American character.

They were habits that would help sustain free institutions, De Tocqueville said. But he also suggested that individualism , a word he was one of the earliest to use and long since a catchword for the American character, could prove dangerous, setting citizens apart from one another, making positive collective action difficult if not impossible, and therefore threatening those same free institutions.

Robert N. Bellah, a UC Berkeley sociologist, and his several colleagues argue in their forceful and controversial new study, "Habits of the Heart," that De Tocqueville was all too prophetic.

"We are concerned that this individualism may have grown cancerous–that it may be destroying those social integuments that De Tocqueville saw as moderating its more destructive potentialities, that it may be threatening the survival of freedom itself."
Mask-wearing is not a passing cosmetic issue. Long after this debate subsides, the issues that underlie it will remain. These issues include what it means to trust in God, what it means to exercise freedom responsibly and lovingly, how faith and citizenship and science go together, and what American patriotism entails. We all have a stake in this issue. On and beyond the Fourth of July, as fireworks flair in the night sky and culture wars explode on the public stage, let's reason together, not apart from one another. In the meantime, for the sake of our neighbors and fellow citizens, it makes good biblical, patriotic, and scientific sense to wear masks.