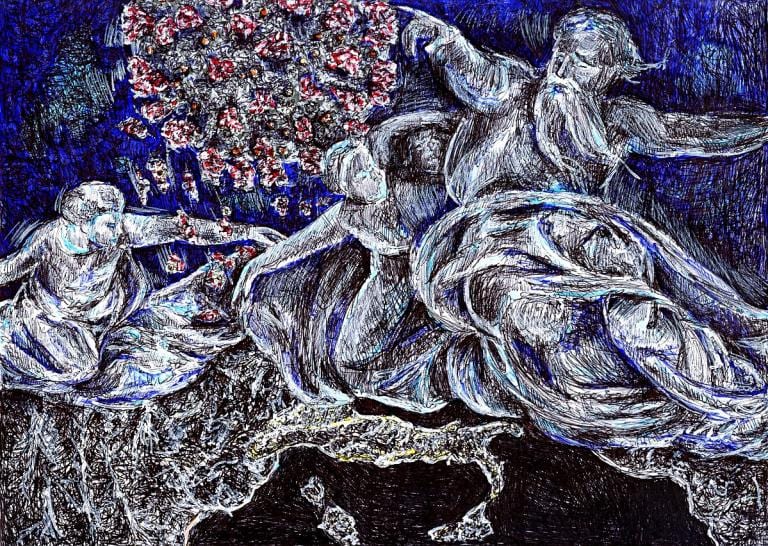 We may never go back to the old normal, but can the church operate holistically and missionally that leads to ecclesial and societal flourishing no matter the size of our churches and gatherings? The megachurch phenomenon may or may not come to an end in view of COVID-19. Church growth and large numbers, at least in terms of public gatherings, may change dramatically ("After-math" in the title pertains to the crisis and numbering/growth). In what follows, I provide the outline for a recent video recorded interview that can be found at the close of this blog post. An interdisciplinary group of panelists from the sciences to pastoral ministry and theology engage the overarching theme: "What Does the Future Hold? Being the Church in the COVID After-Math." The interview is part of a series hosted by The Institute for Cultural Engagement: New Wine, New Wineskins on how to make life-giving connections in times of crisis.
Introduction of Panelists:
Prof. S. Joshua Swamidass (SJS) of Washington University in St. Louis and Founder of Peaceful Science is a scientist who operates at the intersection of various disciplines with a concern to bring diverse groups and mindsets together. His scientific and medical perspective will shine light on how we may need to think differently about how churches congregate and engage for the foreseeable future.
Prof. John W. Morehead (JWM) of Multi-Faith Matters and the Foundation for Religious Diplomacy addresses the sociological dynamics of the changing religious landscape in our country involving the Nones and Dones, etc., and how COVID speaks to these changing sociological-religious dynamics.
Pastor Carrie Graham (CG) of The Church Lab in Austin, Texas engages the subject of how to be the church in the post-COVID future. Carrie brings a wealth of experience and expertise in building community in diverse and novel settings.
Pastor CJ Young (CJY), New Wine's Advisory Council Chair, and a Pastor at Adventure of Faith Church in Port Orchard, WA addresses what church ministry will probably look like for his congregation of diverse views and expectations in the post-COVID world.
Dr. Brad Harper (BH), Professor of Theology at Multnomah University and Associate Director of New Wine, New Wineskins, addresses the prospects and limitations of social media for being the church in the new normal given his work as a theologian specializing in the doctrine of the church.
Questions for Panelists:
PLM: John, we have heard reports for some time about how the church in North America continues to decline at a rapid rate. You invest a great deal of energy and thought in analyzing social and ideological trends in our multi-faith and pluralistic society. How might Covid-19 accelerate that decline, and how might the church/churches marshal its relational resources in new ways to engage the "dones" and "nones"? (Prior to providing your answer, please define for the viewers what these terms mean).
JWM:
PLM: Josh, you are a scientist and a Christian. Your work at Peaceful Science is all about "making space for differences with a civic practice of science." While people debate the import and impact of Covid-19, it is hard to imagine things ever going back to the old normal before the virus set in. This includes consideration of the church's own future pertaining to large group gatherings. Given your work in pathology and immunology, and concern for human flourishing, how can the church best prepare for the future as it considers how it gathers in groups of whatever size for the foreseeable future?
SJS:
PLM: Carrie, ever since your work with Richard Mouw at Fuller, you have explored novel forms of religious gatherings and interaction of diverse participants. How has Covid-19 shaped your research at Church Lab in Austin, Texas, and what might you be developing to assist pastors of diverse contexts in fostering communion and mission for the future? What are your hopes and fears, and how might the church learn from this present moment to turn obstacles into future opportunities for thriving ministry?
CG:
PLM: CJ, one pastor in Vegas said awhile ago that for many Evangelicals, if Disneyland is open, all is well with the world. Well, Disney delayed reopening. Future visitors hope to gain the same Disney experience that people have enjoyed for decades. Perhaps something similar is true for many Christians in attending church. How do you foresee helping parishioners manage their varying expectations—perhaps in light of different perspectives on COVID—even while hoping to lead the entire community into a vibrant Christian experience for years to come?
CJY:
PLM: Brad, ever since our book project Exploring Ecclesiology, you and I have discussed at length multi-site church campuses, and how there are strengths and weaknesses to such church assemblies. As an Evangelical and ecumenical theologian, who cherishes the Catholic emphasis on the biblical notion of the body of Christ, what are the prospects and perils of social media in your estimation for assembling as the church? As a church elder and pastor of many years, how would you encourage church leaders to navigate this terrain presently in establishing practices for the future?
BH:
PLM: Friends, what closing thoughts do you wish to share?
ALL:
I encourage you to watch the video for my colleagues' constructive responses. They model the kind of foresight and collaboration needed to build life-giving connections in times of crisis. The church may look very different in the COVID After-Math. While the gates of hell and COVID will not prevail against the church, we need to be strategic and discerning, as these leaders demonstrate, if we are to be effective in serving God as Christ's body in the world today and tomorrow. For more videos from New Wine, New Wineskins, subscribe to our YouTube channel. You will receive notification of future episodes.