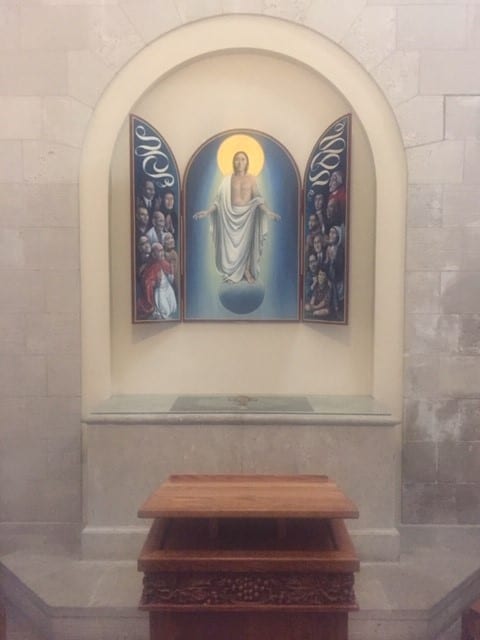 In the lower level of Yale University Divinity School's library, you will find a small chapel dedicated to the memory of Henri Nouwen. He taught at Yale from 1971-1981. Regardless of the rationale for the chapel being tucked away in a back corner deep in the library, I find its placement quite fitting on a symbolic level for life, especially now.
Nouwen was a learned man, who reflected deeply on life. However, it was not in a library or at a university divinity school that he found ultimate meaning and purpose, but at L'Arche, a community that included people with learning disabilities. According to the description of Nouwen and his association with L'Arche hanging on the wall at the prayer chapel, his initial visit to the community helped him "find a purpose that he had been missing. As Robert A. Jonas explains, 'Henri had always wondered what a Eucharistically centered community would be like, and now he had found one at L'Arche.'" Nouwen eventually left Harvard Divinity School in 1985 to take up long-term residence at the L'Arche community in Trosly-Brueil, France (for more on Nouwen and L'Arche, refer here). Of course, book learning helped Nouwen immeasurably in his writing. But he needed more. Nouwen came to realize the need for sharing life with those who are often tucked away in some remote corner of the lower level of society. I'm no Nouwen scholar, but I imagine that his time at L'Arche deepened the following reflection: "A minister is not a doctor whose primary task is to take away pain. Rather, he deepens the pain to a level where it can be shared." Henri J. M. Nouwen, The Wounded Healer: Ministry in Contemporary Society (New York: Image, 1979), pages 92–93.
I keep returning to this Nouwen quote, as I reflect upon my son Christopher's present situation. As I wonder to what extent his brain may recover from the traumatic injury he suffered earlier this year, I am thankful for the excellent medical treatment he is receiving. The medical staff at the hospital are doing everything possible to help his brain rest so that he might heal. In Christopher's case, he needs medicine to reduce fevers and take away pain. But I cannot afford to medicate my own pain, which is emotional and spiritual. I need to deepen such pain to a level where it can be shared. The amazing spiritual, emotional and relational care that God is providing through a diverse community of people from all walks of life helps to sustain us. Just this morning, an old friend who is undergoing similar relational trauma involving a loved one's tortuous ordeal reached out to share and identify. I am so glad he didn't hide his struggle by amusing himself to death by surfing the internet, or by turning to some pain killer. Our brief encounter over the phone was cathartic and catalytic for building stronger relational connections.
During my residency at the Overseas Ministries Study Center in New Haven, CT in 2018, I did research at the Yale University and Divinity School libraries. They are such amazing and beautiful storehouses for learning. Still, my greatest education during my time in New Haven came from sharing life at OMSC with missional leaders from all across the world, including Myanmar, Malaysia, and Nigeria. Their experience with suffering far exceeded my own. They were amazing teachers in the domain of applied theology.
I remember Face Timing with Christopher during my time away from family in New Haven. As I walked down the university town streets, I would show him various buildings and tell him what I was learning and experiencing. Now during my hospital visits, I tell him all I am learning through our shared ordeal, hoping it registers deep within his comatose state of mind.
I have never met a deep person who hasn't gone through deep suffering. It's the price you have to pay for admission and graduation for an existentially meaningful life. Jesus is no exception. He is a man of sorrows and familiar with suffering (Isaiah 53:3). He even learned obedience through what he suffered (Hebrews 5:8). No doubt it made a difference for his monumental impact as the eternal Word in cruciform flesh (John 1:14). As John says, the libraries of the world could not contain all his miraculous signs, or his wisdom: "Jesus did many other things as well. If every one of them were written down, I suppose that even the whole world would not have room for the books that would be written" (John 21:25; NIV).
Book learning and libraries certainly help us. Medicine and hospitals help us. But never avoid the opportunity to learn from suffering by refusing to go deep with others whom life has wounded, or by medicating the pain. Deepen emotional and spiritual pain to a lower level where it can be shared in community with those going through various struggles in life and where relational healing can occur. As is true of "Eucharistically centered community," sharing can be cathartic and catalytic for building a community of wounded healers. As in Nouwen's case, it will likely involve keenly learning from those the society at large often tucks away.