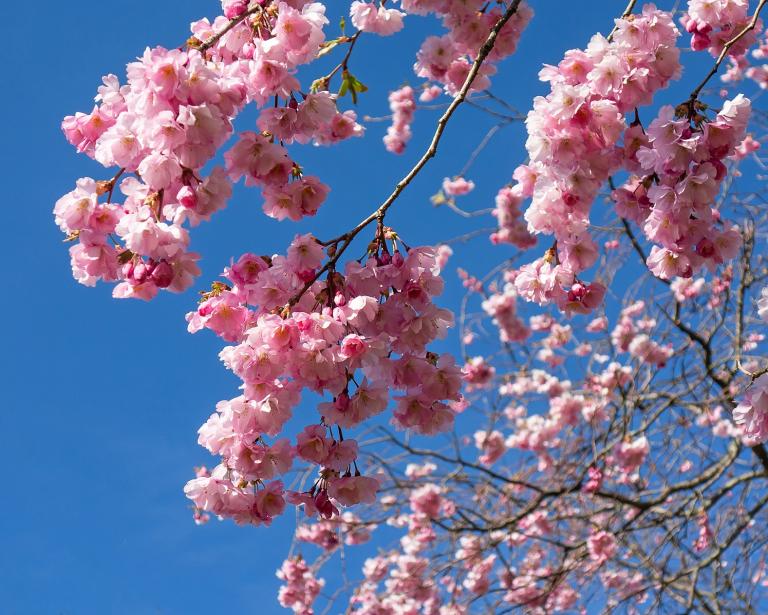 Last night as I made my way to the hospital entrance, I looked up to see the trees clothed and decorated with pink blossoms. A bit later I enjoyed a glorious sunset from Christopher's hospital room, where he rests in a comatose state. Now my wife and I pray he will open his eyes and see those same trees and glorious sunsets. I don't take such sights for granted, that is, since he's been on life support for three months.
I gravitated to this morning's news that the Perseverance rover just made enough oxygen on Mars to sustain an astronaut for about ten minutes. There on Mars at least my son and I would be on level footing, or both on our backside, depending on the circumstances. Just like me he is able to breathe on his own here on earth—even room air. Still, at this point, he requires a tracheostomy tube to breathe effectively. Neither of us could last for long on Mars, though, apart from an oxygen mask.
I need those blossoming trees here on earth on Earth Day today and similar wonders of creation throughout the year. It has been claimed that one large tree can produce enough oxygen to sustain four people for a day. Trees also remove carbon dioxide from the air.
I also need my son to blossom again here on earth. The news I received that fateful night in January that he was in emergency surgery for a traumatic brain injury took my breath away. It's been hard to breathe ever since.
The last video we have of Christopher was taken just two days prior to the injury. His wife Keyonna says "I love you" to which he responds "I love you, too" before he departs for the day. His last text message to his Mom the day of the injury was just one word—"Understood." They had been corresponding about something they were working on together. Little did we know what awaited us all that evening.
I long for the day when Christopher can say "I love you, too" to his family and "Understood." Right now, all I can do is say "I love you, Son" and "Can you hear me? Do you understand?"
Don't take anything for granted. We are all on life support in one way or another. The earth and the trees and our various relationships support our lives. Please keep this all in mind before it's too late.