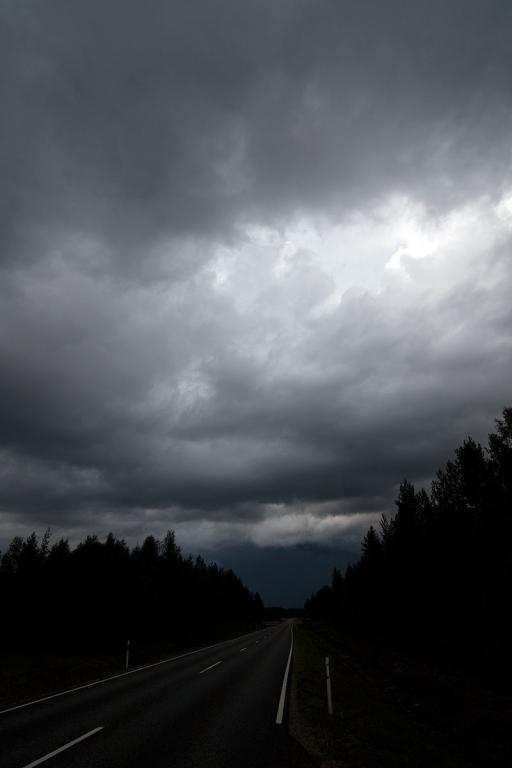 Like the weather the past few days, life the past four months has been mostly cloudy with rain and an occasional downpour. The sun rarely broke through Monday and Tuesday. But that didn't keep me from smiling. Why? Because of all the "no's" I've heard the past few days in relation to my son who endured a traumatic brain injury earlier this year. In fact, I've never smiled so much in hearing "no" so often. Therapists, nurses, and CNAs told us: No decerebrate posturing. No decorticate posturing. No stiffness in the upper limbs. No fevers. No sign of pneumonia from the chest X-ray. No supplemental oxygen… And "No"—Christopher blurted out "No!" on two separate occasions! To add praise to apparent healing in place of insult to injury, my wife Mariko shared with me after our visit yesterday that Christopher smiled when she touched his arms and spoke to him in Japanese. Let me assure you that it made the "rain, rain, rain go away," like in that children's rainy day chant. Of course, by now I know that with TBI (traumatic brain injury), the rain can "come again some other day." Today, a therapist tried to get him to speak. He didn't, but he did appear to squeeze my hand voluntarily again and again for several minutes. As with Pacific Northwest weather, life with brain damage feels like it can't make up its mind which way things will go. But none of that can take away from experiencing the sun breaking through when it does. So I cling to hope that we will experience more sunshine in Christopher's condition as summer approaches.
I'm no neurologist, nor the son of a neurologist. But no matter what's going on deep down inside my son's brain, those signs I just noted are good. They do not predict what will happen down the road. I simply rejoice in observing such positive reports and activity as they present themselves: No, no, "No!" Yes!
Just so you know, the "No!" appeared to be in response to something a CNA said they would do. Two different CNAs on successive days told Christopher what they intended to do in caring for him. I appreciate that they call Christopher by name and inform him of what they plan to do for him, such as repositioning his body. It's only right that my son should let them know what he thinks of their ideas—"No!" He's done that a lot in response to my ideas over the years, too. So, from that vantage point, his response mechanism wasn't unusual.
All those beautiful "no's" the past two days got me to thinking about Paul's introduction in 2 Corinthians 1, where he said the following words regarding their spiritual journey:
Because I was confident of this, I wanted to visit you first so that you might benefit twice. I wanted to visit you on my way to Macedonia and to come back to you from Macedonia, and then to have you send me on my way to Judea. Was I fickle when I intended to do this? Or do I make my plans in a worldly manner so that in the same breath I say both "Yes, yes" and "No, no"? But as surely as God is faithful, our message to you is not "Yes" and "No." For the Son of God, Jesus Christ, who was preached among you by us—by me and Silas and Timothy—was not "Yes" and "No," but in him it has always been "Yes." For no matter how many promises God has made, they are "Yes" in Christ. And so through him the "Amen" is spoken by us to the glory of God. Now it is God who makes both us and you stand firm in Christ. He anointed us, set his seal of ownership on us, and put his Spirit in our hearts as a deposit, guaranteeing what is to come (2 Corinthians 1:15-22; NIV).
Paul shared with these fellow believers in Corinth that he wanted to visit them, but decided against it for their sake (See 2 Corinthians 1:23). Paul was not one predisposed to double-minded flip flop decision-making. He was very purposeful in making plans, just like the support team that cares for Christopher's well-being. Still, sometimes circumstances dictate a change of course, as they did for Paul and the Corinthians' situation, or for Christopher's care.
Paul's own life situation was quite critical. Things got so bad for him and his colleagues at one point in their missional journey that they despaired of life itself. Similarly, despair has set in on us at times over the past four months, as I shared in a prior piece. But even though we have felt at times that the sentence of death hung over our heads, and so can feel the burden he experiences, we also take to heart, like he did, that God raises the dead! We have learned to rely more and more on God, just like Paul, and on other people's prayers, meditations, and holistic care, not unlike Paul (See 2 Corinthians 1:8-11). In reflecting on this passage, I end up where Paul starts: "Praise be to the God and Father of our Lord Jesus Christ, the Father of compassion and the God of all comfort, who comforts us in all our troubles, so that we can comfort those in any trouble with the comfort we ourselves receive from God" (2 Corinthians 1:3-4; NIV). May we all comfort others with the divine comfort we have received.
No matter how difficult Paul's own journey was, including his efforts to visit the Corinthians, and no matter how difficult the journey gets for you and me, remember what Paul writes: in Christ Jesus, God's answer to us is always "Yes." It is always "Yes" in that he finds a way to break through to us. The divine visitation has brought about a resounding "Amen," as Paul exclaims. God visits us and makes us stand firm, anointing us, setting his seal of ownership on us, and putting his Spirit in our hearts as a deposit guaranteeing what is to come (2 Corinthians 1:15-22).
I don't know what is to come on this unfathomable journey on life support as we come alongside Christopher. Nor can a neurologist predict what is to come, for that matter. We wait and see. All I do know for sure is what has already occurred, as well as that God has visited us in Jesus and spoken his "Yes" over us, when everything round about us appears like a roadblock with a sign that says "Dead End" or "No Entry."
This discussion of "yes" and "no" reminds me of what Karl Barth writes in Church Dogmatics II/2: "…the final word is never that of warning, of judgment, of punishment, of a barrier erected, of a grave opened. We cannot speak of it without mentioning all these things. The Yes cannot be heard unless the No is also heard. But the No is said for the sake of the Yes and not for its own sake. In substance, therefore, the first and last word is Yes and not No." God makes a way in the wilderness to visit us and stay with us through the night to welcome the morning light, whereby "no" gives way to "yes."
Not all "no's" are words of judgment, though. For example, the "No's" heard in Christopher's room were actually quite affirming and beautiful. Whether Barthian or not, my dialectical musings are such that in those beautiful sounding "No's" I hear "Yes!" in my ears. Yes, Lord. Thank you. And thanks to all the rest of you, who help us in so many ways, including your prayers and meditations, as God works through you. Yes, we will go through many hardships. We may even experience TBI. Regardless of the causal factors and future ordeals, God desires to visit each of us in the midst of our hardships and wean us from relying on ourselves to increase our dependence and confidence in God. As Paul writes, "But this happened that we might not rely on ourselves but on God, who raises the dead. He has delivered us from such a deadly peril, and he will deliver us again. On him we have set our hope that he will continue to deliver us, as you help us by your prayers. Then many will give thanks on our behalf for the gracious favor granted us in answer to the prayers of many" (2 Corinthians 1:9-11; NIV).
This morning looked a whole lot brighter outside, as I wrote this essay, drank my coffee, and ate a piece of Mariko's mango-slice, chocolate-chip bread. By the way, this description sounds like a line that could fit in Bob Dylan's song "Leopard-Skin Pill-box Hat" playing in my head this morning as I wrote (Someone, please call the neurologist!): "I see you've got that mango-sliced, chocolate-chip bread in your mouth." I can't wait to visit Christopher again, no matter how he responds to my choice in Dylan music. Maybe my son will utter "No," "Yes," or perhaps he will not say a word. Even so, the divine "Yes" breaks through to us this day, when so much round about us would tempt to extinguish hope.