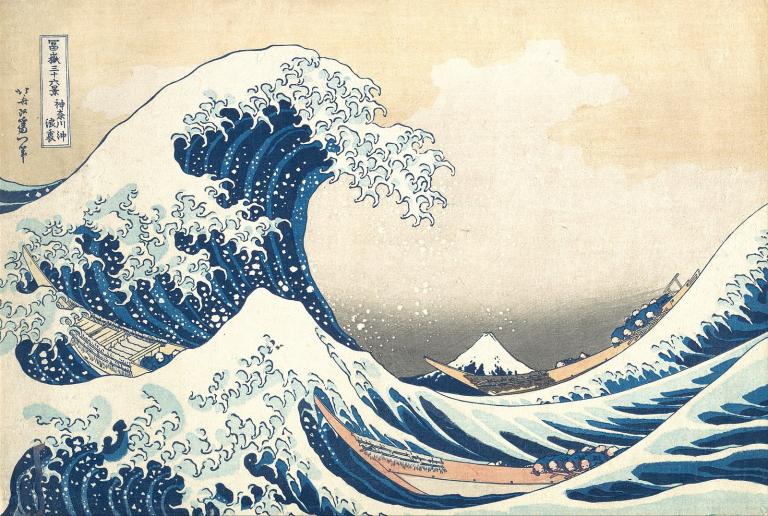 I have always found major transitions in life to be mind-warping and destabilizing experiences. The transitions after graduation from college and graduate school and doctoral studies, including moves from the U.S. to Japan to England and back and forth between the U.S. and Japan, were quite agonizing in various ways. There were times I felt as if we were riding Hokusai's great wave off Kanagawa in one of the boats pictured here. Thinking back on it now is enough to make me seasick. Even so, nothing from my past has prepared my family for the kind of transitions we've experienced in watching my adult son Christopher, who has lived in all three countries, go from able-bodied and active to his current comatose state due to his traumatic brain injury suffered over three months ago. Nor has anything prepared us for the various geographical moves from state to state to state and facility to facility to facility.
One of those moves occurred late this past week. My wife and I were present to send Christopher off from the hospital to the facility that now oversees his care in hopes of moderate to dramatic recovery. Believing our son can hear and hopefully understand us, we wanted to assure him at his bedside before departure that we were watching over him throughout this process and advocating for him. We also made sure they took all his critical care support gear that was to accompany him, while we packed up the personal belongings that will be transferred to his room at the new facility.
Tears welled up in my eyes as the paramedics transferred him from his bed to the cart in his hospital room. It was all so destabilizing watching it play out, as it has been all along. Rather than being able to take our son home standing up, our souls were being transported with him out of his room and down the hall on his stretcher. Then he and his transport disappeared. Where did they take our son? Of course, I knew, but I was so disoriented in a state of emotional and existential limbo. After all, you often get accustomed to your surroundings and that hospital room and entire floor had become a stable and safe environment for several months.
Everyone on the hospital floor was professional and pleasant, yet emotionally distant, as Christopher was prepared for transport and then taken down the hall. I don't know what I was expecting but given that our son had been in this hospital for a few months, I would have wanted for nurses and CNA's on the floor to say goodbye to him. Instead, the nurse who had been tasked with tending to his care that day had just left on lunch break, even though he knew Christopher was about to depart. His absence was nothing personal, but it did appear impersonal. The nurse who came in to relieve her colleague right before transport did not seem to know Christopher or what should be transported with him. It was up to us to inform the paramedics to take the protective gear and insist to the nurse and paramedics that a packaged tube was intended for transport. The respiratory therapist had dropped it off an hour earlier and had left the instructions with us, his parents, not the nurse. After a confusing exchange in which the on-call nurse said all the tubing in the room was to remain, the paramedics understood and took the packaged tube with them. Unfortunately, the sense of confusion did not end there. Nor did the sense of isolation.
We went home and I fell asleep due to exhaustion, while waiting for a few hours to allow the new facility to situate Christopher. Then I called to speak with our contact at the new residence. I left a message. When I didn't receive a call within a few hours, I called the switchboard who transferred me to our son's new nurse. As with the hospital, the staff at the new facility were and are professional and supportive. But we found out that the communication channels between the two centers were not clear and smooth at every point. In fact, they were rather bumpy. As with the respiratory therapist's packaged tube left for transport, I realized it was up to us to communicate some important information about our son's history, present status, and items necessary for support. I didn't sleep well that night.
I was relieved to hear the next day from our family medical consultant Dr. Robert Potter (M.D., Ph.D.) that unfortunately, the transition from a hospital to a care facility is all too often a very bumpy road. Dr. Potter assured us that we are not alone in enduring such bumpy rides (I can only hope Christopher's various rides by air and land have been smoother). In view of the preceding context, as well as some things left unsaid, we have found out how important it is to realize that the pathway on the journey will be quite bumpy at points, especially during times of transition. So, I am making mental notes of what kind of mindset, attitudinal posture, and communication style prove most beneficial. Here are five strategies for gaining stability I have been discovering, developing, and trying to apply:
Be mindful, not mindless of the need to brace yourself for sudden stops, change in motion, or gaps in going from one surface to another. Like when we lived in London, England and would be on "the Tube," it was good to try and hold on to a railing when the underground train was moving. Then whenever the train would stop and the doors would open, you would hear the words "Mind the gap" for passengers to account for when stepping onto or from the train car or platform. Those who don't mind the gap might stumble when stepping onto or off the train. Similarly, be mindful, not mindless, when making major transitions in critical care situations. Brace yourself and watch your step. Expect there to be sudden, even abrasive stops and gaps along the way.
Over-communicate and under-assume. As noted in the account of our own experience above, not all information is transmitted or received effectively between healthcare providers. This can be deeply unnerving, especially when dealing with critical care situations for those who cannot communicate for themselves, as in my son's case. Ensure the staff that you wish to provide such information in the effort to support them in their desire to care effectively for your loved one. You can be a great ally as an archivist who knows the patient far better than anyone else and who likely has been with them through their various life and critical care transitions.
Cultivate flexibility, not rigidity. The more I am able to adapt the more adept I will be. Flexibility is essential. Rigidity is detrimental. Don't say, "Well, the prior hospital (or center) staff never did ___ this way." Be open-minded about various ways in which staff can provide good, critical care. Each facility has their own procedures and culture of communication. So, ask open-ended though clear questions about their structure and processes for evaluating, safeguarding, and promoting quality treatment for your loved one. Feel out staff to see if they are alert and caring and make sure you understand their strategies of assessment and support. Learn their timetables and preferred lines of communication with patients' families, and of course, learn their names. No matter how professional and no matter how tightly structured a place might be, all those tending to one's loved one are persons who respond best to interpersonal care.
Be very constructive and proactive, not reactive. Look for good and improve on it. Affirm strengths. Where there are challenges, seek to be realistic and not unduly idealistic. Emphasize the importance of what really counts. Regardless of the hospital or care facility, if they do not demonstrate transparent and clear clinical care and do not model empathy, then make inquiries and share your concerns with those most adept and responsible for providing healthy accountability. Advocate, but don't aggravate. Be a squeaky wheel, not a whiner. Share about what matters to your loved one's well-being and seek to collaborate with staff in finding reasonable solutions that provide some meaningful level of satisfaction for all. It helps make the already bumpy ride more manageable and hopefully a bit more pleasant.
Stay grounded relationally and stick to solidifying routines. We are very grateful for the large support network we have, and in a variety of amazing ways. Reach out to trustworthy others who will provide opportunities to process emotions and problem solve challenging situations during times of great instability and change. That way, you won't fall through the cracks, or the gap when stepping off the train. Also, wherever possible, stick to stabilizing routines, whether it is walking the dog, reading a good book, or getting your normal regimen of sleep. However, given the nature of traumatic transitions in life, there are times when new routines will need to be established. Our care network has helped us greatly in establishing effective support structures for Christopher's family. Put stabilizing structures in place as soon as possible to keep your balance when undergoing vertigo and sea sickness in the mind-warping transitions of critical care situations.
In all these things, my wife and I take to heart the most stabilizing support in life—our God. The Bible is all about finding stability for critical spiritual health care amid destabilizing transitions. Two verses come to mind as I mind the gap: Deuteronomy 31:8 and Hebrews 13:8. The people of God were on the move from the wilderness to the Promised Land. Both the fledgling nation of Israel recounted in Deuteronomy and the fledgling church recounted in Hebrews faced great upheaval and trials in their wilderness wanderings. I pray that these verses on God as a stabilizing relational force provide comfort to your souls:
"The Lord himself goes before you and will be with you; he will never leave you nor forsake you. Do not be afraid; do not be discouraged." (Deuteronomy 31:8; NIV)

"Jesus Christ is the same yesterday and today and forever." (Hebrews 13:8; NIV)
Life situations will change unexpectedly and dramatically. That's one of the few things you can be sure of in life. Amid such uncertainty, you and I can also count on the Lord being constant. As the old hymn my late mother used to sing during all seasons of life goes, "Great Is Thy Faithfulness." I can hear her singing it now. While experts will debate whether we can trust traumatic memories, the memory of God's faithfulness to my family during times of traumatic, turbulent change helps stabilize my wife and me now. Remembering God's faithfulness in the past helps stabilize us in the present. Staying connected relationally with God and cultivating the routine of remembering God's faithfulness over the years helps us stay grounded.
Transitions in life are often hard. Just as I am hopeful that my son's new care facility will be a place where he can rest and heal, my hope is that these reflections can help others safeguard against making difficult transitions even harder. No one needs to make critical care situations more life-threatening than they already are.