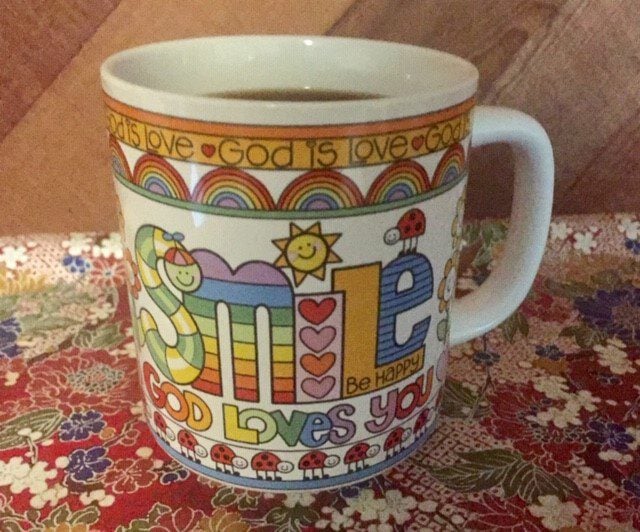 I never thought too much about that line "Smile, God Loves You" growing up, though I heard it often enough. I would also see it emblazoned on my late father's coffee mug (pictured here), from which I'm drinking my morning brew today. Surely, if I'm honest, there have been times in my life journey where I have been tempted by tragic and devastating experiences to write and say just the opposite—"Scowl, God Hates You" or "Sulk, God Just Doesn't Care." The past several months have provided their fair share of temptation along these lines, though I don't think I'll inscribe these dark words on a coffee mug.
Well, I wasn't scowling or sulking Thursday, when I went to my son Christopher's room at the rehabilitative care facility where he resides presently. When I greeted him, I witnessed that the right corner of his mouth moved slightly upward, as in a quivering smile. That was a first for me, though my wife had seen Christopher smile when she touched him and spoke to him recently. I have not seen any smile, no facial movement, not even a frown in all my daily or nightly visits with Christopher in hospital and care facility rooms since his traumatic brain injury in January. When his nurse came in later to introduce himself on Thursday, he immediately shared with me that Christopher smiled at him when the nurse first spoke to my son earlier in the day. Then I told the nurse of my similar experience. What a relief that I wasn't hallucinating, or if I was, so, too, was the nurse.
More smiles appeared on my fatigued face later on during my Thursday visit. The CNA tending to Christopher that day walked in and told me that Therapy was able to get Christopher to respond to prompts. They asked him eight times to open his right hand. Then they asked him to close his right hand. Christopher opened and closed his hand each time they asked! Again, that was a first!
With a smile beaming in my soul, I called Christopher's wife, my daughter, and my wife. They all had opportunity to express to Christopher their joy and celebration of these positive responses. His eyes were open. It appeared that he was listening intently.
As I ended the call on my phone in Christopher's room, I thought I would flick my fingers in front of my son's eyes to see if he would blink before I had to leave for the evening. I have flicked my fingers before his eyes on many visits, but I have never witnessed any responsiveness. Still, it was worth the risk of being discouraged again in the effort to try and make him blink for the very first time. So yesterday, I flicked my fingers a few inches from his eyes, just like in the past, pausing between each flick for several seconds. Each time, eight times in total, Christopher blinked. Flick…Blink. Flick…Blink. Flick…Blink. I quickly walked out into the hall to tell Christopher's nurse. His nurse's face beamed with a smile and he said that Christopher's sensors were returning. It sure seems that way. Similarly, it seems that my sensors are returning. A smile is returning to my face more often, sometimes with a slight quiver, but a smile nonetheless, as I respond to Christopher's encouraging prompts to me.
Life with a traumatic brain injury and life without it has so many ups and downs, so many smiles, scowls, sulks, and frowns. There are times when we think God loves us and times when we are tempted to think God hates us or doesn't care about us.
Now some may be tempted to take these sentiments as prompts for a rebuke. But that won't do any good, as it tends to suppress honest engagement with God. The psalmists were honest with God and their feelings. It doesn't help to suppress our feelings, but to move forward however gingerly to express them in constructive directions. I try not to allow any up day or down day of circumstances to alter my balance. Yesterday, Christopher was not responsive during visitation, which one of the therapists said is quite common with TBI. Responsive days can follow non-responsive days and non-responsive days can follow responsive days. But how do I ultimately respond to God?
The Apostle Paul had many good days and many bad days in his Christian sojourn. He wrote from house arrest in Rome:
I know what it is to be in need, and I know what it is to have plenty. I have learned the secret of being content in any and every situation, whether well fed or hungry, whether living in plenty or in want. I can do all this through him who gives me strength (Philippians 4:12-13; NIV).
Christ's abiding presence and sustenance gave Paul strength.
On another occasion, Paul writes to the Roman church that nothing can separate us from the love of Christ:
Who shall separate us from the love of Christ? Shall trouble or hardship or persecution or famine or nakedness or danger or sword? As it is written:

"For your sake we face death all day long;
we are considered as sheep to be slaughtered."

No, in all these things we are more than conquerors through him who loved us. For I am convinced that neither death nor life, neither angels nor demons, neither the present nor the future, nor any powers, neither height nor depth, nor anything else in all creation, will be able to separate us from the love of God that is in Christ Jesus our Lord (Romans 8:35-39; NIV).
Jesus endured hunger and want, weakness and shame. He endured trouble and hardship, persecution, nakedness, danger, and the sword or spear. So, too, did Paul. So, we, too, can endure, just like Paul did, knowing that Christ is with us and his love is more than sufficient to sustain us in the face of any evil or trouble.
We are more than conquerors and warriors, like my son Christopher, who fights for life and proves resilient in his pursuit of healing. I am convinced that neither death nor life, neither angels nor demons, neither bad days of little or no responsiveness in the present or the future, nor emotional highs or lows, neither brain damage nor any other mental, emotional or physical condition and COVID restriction that we endure will be able to separate us from the love of God that is in Christ Jesus our Lord.
Even when I am not smiling on the outside, and even when there is deep sorrow in my heart, there is an even deeper dimension of existence in my spirit where God's Spirit of love dwells, and who prompts me to keep moving my limbs and opening my eyes. May we see that God's love does not depend on circumstances. Rather, our response to life circumstances depends on whether we are confident in God's love that prompted and moved Jesus to conquer so much pain and isolation, suffering and shame, death and the grave.
Charles Spurgeon, the famed "Prince of Preachers," was no stranger to a range of emotions. He struggled mightily with chronic depression. Still, it did not keep him from reflecting on the everlasting love of God. In a sermon titled "More Than Conquerors" based on Romans 8:37 quoted above, Spurgeon declared on May 19, 1867:
But, above all, they conquered because Christ was actually with them. His body was in heaven, for he has risen, but his Spirit was with them. We learn from all the history of the saints, that Christ has a way of infusing supernatural strength into the weakest of the weak. The Holy Spirit, when he comes into contact with our poor, wavering, feeble spirits, girds us up to something which is absolutely impossible to man alone. You look at man as he is, and what can he do? Brethren, he can do nothing. "Without me, ye can do nothing." But look at man with God in him, and I will reverse the question— What can he not do? I do not see a man burning in yonder fires, I see Christ suffering in that man. I do not see a martyr in prison, so much as the divine power, laughing at the thought of imprisonment, and scorning iron bands. I do not so much see a simpleminded virgin, uneducated, contending with sophists and cavillers, as I see the Spirit of the living God speaking through her simple tongue, teaching her in the same hour what she shall speak, and proving the truth that the foolishness of God is greater than the wisdom of man, and the feebleness of God is stronger than the power of man. Oh! it is glorious to think that God should thus take the meanest, poorest, feeblest things, and should put himself into them, and then say, "Come on, all ye that are wise and great, and I will baffle you through those that are foolish and feeble! Now, come, ye devils of hell; come, ye men of earth, who breathe out threatenings, and foam with cruelty; come all of you, and this poor defenceless one shall laugh you all to scorn, and triumph even to the last!" It is the power of Christ. And did you notice the name by which the apostle called our Lord in the text? It is so significant, that I think it is the key to the text, "Through him that loved us."
Preach it, Preacher.
Jesus is God's smile. He is the proof of God's love. God's Spirit of love poured out in Jesus and into our hearts (Romans 5:5) prompts us to respond to his love when everything in us and round about us scowls, sulks, and frowns: "No, in all these things we are more than conquerors through him who loved us" (Romans 8:37; NIV). Smile, God loves you.