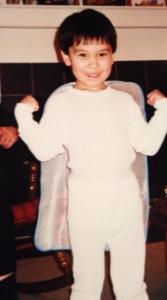 Late Monday afternoon, I left work and raced over to my son Christopher's rehabilitative care facility to watch our Chicago Bears take on the Pittsburgh Steelers on Monday Night Football. There is nowhere I would have rather been that night. Watching the game at my son's bedside was better than if I could have watched it from the fifty yard line or in a luxury suite at Heinz Field.
Just so you know, Christopher and I grew up as Chicago Bears and Cubs fans. I still remember Christopher's initiation as a Cubs fan. Given that we relocated to the Pacific Northwest when he was a small child, Christopher and I didn't have opportunity to watch Bears and Cubs games often. However, we were able to watch the last two innings of Game 6 of the Pennant race involving the Cubs and the Florida Marlins on October 14, 2003. I had raced home from work to turn on the TV and called to Christopher to sit down to watch the game with me.
This was actually his first experience watching the Cubs play. Christopher was eight at the time. I told him the Cubs were only five out from winning the Pennant and going to the World Series. It was the 8th inning and the Cubs were ahead 3-0 in the game and leading the best of seven series 3-2. A Marlins player hit a catchable foul fly ball. A fan named Steve Bartman tried to catch the ball and deflected it from Cubs outfielder Moises Alou grabbing it. The rest is history. The Cubs had a meltdown from that point onward, lost the game, and then the series. I still remember Christopher and I crying out instinctively and repeatedly as the last two innings wore on, "Oh no!" I had bellowed that same chant with my Dad as we watched the Cubs and Bears, when I was growing up west of Chicago. Christopher's initiation in Game 6 of the Cubs' Pennant race was a baptism with fire.
Over the years, Christopher and I would watch Bears games together on TV from the west coast on Sunday Night and Monday Night Football when they played in front of a national audience. I cherished those times, even when the Bears lost. It was great taking in the games over nachos and pizzas with my boy. Monday night was no different this past week. The only difference is that there were no nachos or pizza, as Christopher had a tube feed for liquid nourishment. He also appeared to sleep much of the time, perhaps the result of exhaustion from a challenging day and/or medications related to his traumatic brain injury. Even so, I added to the play-by-play commentary on the set. I stayed until the end, talked to Christopher, and cared for him. Like many games this year, the Bears lost. However, the offense experienced some growing pains. Their rookie quarterback Justin Fields took a few dramatic steps forward as they almost pulled off a victory in front of a hostile Steelers crowd.
After the game, I turned off the TV, said goodnight to Christopher, and told him I loved him. Then I headed home. When I walked in the front door, my wife Mariko asked me how Christopher was doing that evening. I told his mom that it was a rather uneventful visit, no raised leg in response to a CNA's prompt, like Sunday morning (which I shared about in my last update). Like the Bears' field goal kicker's desperation field goal attempt from 60-plus yards at the close of the game, Christopher's leg didn't have the lift. But Mariko and I don't give up. More critically important than following the Bears and Cubs, we keep looking for signs of growth, taking it one day, one week, one season at a time. As Mariko said in response to my report, progress with TBI is rarely if ever linear.
One of the most important things to keep in mind about growing pains is that they are painful. While we have no way of predicting what will result long-term from Christopher's TBI, we do take comfort from the fact that he has been minimally conscious for a few months and so can feel pain. Early on, I recall our family medical consultant Dr. Robert Potter (who was a pioneer nationally in palliative care) instructing a doctor at the hospital, who worried about pain Christopher might be experiencing, that Christopher could not feel pain if he were unconscious. Since Christopher starting experiencing consciousness, he endures pain. While we do not want him to experience it, it is a sign of life and some measure of growth.
Just last week, we had a conversation with a nurse and a social worker about Christopher biting down hard and cutting his lip. We had not witnessed such activity in the past. One of them said he may be experiencing pain sensors in that spot for the first time since the injury and could be wondering what it is. A different nurse shared that she thinks the cutting of the lip was in protest to care givers moving him in ways he did not like. We really have no way of knowing for sure why he started biting down on his lip, since Christopher rarely utters a word. But as with the tonal or muscle contractual issues that have increased over the past several days and that required a new medication, at least we know that Christopher is experiencing pain. He is conscious. He is alive.
I remember asking the one nurse and social worker who commented about pain sensors in the lip if they liked Johnny Cash. They both said they love Johnny Cash. I said Christopher loves Cash as well. I asked them if they knew Cash's remake of Nine Inch Nails' "Hurt." They indicated that they did. I recited the lyrics where Cash sings about cutting himself to see if he still feels. He focuses on the pain, which is the only thing that's real to him. Christopher feels pain when he bites down and cuts his lip. The pain he feels from the contractures is real, too. Consciousness is growth and so is the pain. I would rather that Christopher feels pain than never experience it. It means he is minimally conscious. It means he is alive and real.
My son has never been one to hide from pain or shirk it. In fact, he has an incredible threshold for pain. That doesn't mean he relishes it, nor do we. So we use painkillers and anesthetics as needed. But only as needed.
May we never dull the pain that would keep us from experiencing reality and the opportunity to grow as humans. Much of the time, personal growth is not linear, just like recovery from TBI. But when we hit plateaus and experience disappointments, let's remember we are still alive, that we still feel pain, and that we still have opportunity to grow.
To read the various updates about our son and family's journey with TBI, please refer here. Thank you.