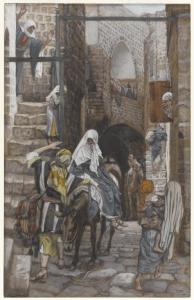 Today marks the second Sunday of Advent. Many Christians celebrate it by lighting the "Bethlehem Candle." The Bethlehem Candle is intended to illumine the week with the recollection of Mary and Joseph's journey of faith to Bethlehem.
Joseph and Mary's entire married life was one of faith. Mary had been told she would be the mother of the Messiah and that the birth would result from an immaculate conception (Luke 1:26-38). Joseph was told to marry Mary rather than sever their relationship upon the news that Mary was pregnant and that she conceived her child by God's Spirit, not sexual relations with another man (Matthew 1:18-25). Courtship and marriage is hard enough as it is. Could you imagine the pre-marital counseling they would receive if their story transpired today?!
Just like courtship and marriage, faith is hard. It is not easy to believe. Actually, in some ways, it would be easier for me right now to abandon my faith in God in the midst of all the constant travail associated with my son Christopher's traumatic brain injury. Faith involving wrestling with God can be so traumatizing. Easy believism only has a safe haven when things are going well and when one is prosperous. It cannot withstand the turbulent storms of life.
For the Mary's and Joseph's of this world, faith is really hard. Could you imagine what it must have been like for them to have to raise Jesus? God was Jesus' real father, not Joseph. Joseph and Mary likely had to endure the ghastly rumor mill about an illegitimate son being born to Mary. Simeon prophesied in the Temple at Jesus' dedication that a sword would pierce Mary's heart (Luke 2:35), which likely included Mary witnessing Jesus' passion and death (John 19:25). King Herod wanted to kill the child and so they had to flee to Egypt (Matthew 2:13-15). Then there was the sojourn to Bethlehem, which was no pleasure trip.
Here's what Luke 2 informs us about the immediate context surrounding Jesus' birth:
In those days Caesar Augustus issued a decree that a census should be taken of the entire Roman world. (This was the first census that took place while Quirinius was governor of Syria.) And everyone went to their own town to register. So Joseph also went up from the town of Nazareth in Galilee to Judea, to Bethlehem the town of David, because he belonged to the house and line of David. He went there to register with Mary, who was pledged to be married to him and was expecting a child. While they were there, the time came for the baby to be born, and she gave birth to her firstborn, a son. She wrapped him in cloths and placed him in a manger, because there was no guest room available for them. (Luke 2:1-7; NIV)
Rome's Emperor Caesar Augustus oppressed his subjects and taxed them severely. He issued a decree for a census in order to tax them. Joseph and Mary had to travel to Bethlehem for the census. Bethlehem was the family's ancestral town. Mary was close to delivering her child at the time. There was no express luxury train or first class air travel. The roads were likely bumpy and dusty. Then there was no room in the inn. Where were they to find respite? Their only real comfort was the hiding place of faith in God's guidance and provision each step of the way.
I pondered the hiding place of faith last night as I was driving to see my son at his rehabilitative care facility. I started singing the song "You Are My Hiding Place." The song is especially pertinent given that one of my son's caregivers is a Jewish man whose mother was one of the people Corrie Ten Boom and her family hid from the Nazis when Germany took control of Denmark. In her book The Hiding Place (which became a movie), Corrie Ten Boom wrote about how they hid Jewish people in their home until the Nazis discovered what they were doing and then exported Corrie and her family to Hitler's death camps. Her father and sister died in captivity. The Hiding Place is a powerful story of courage, Christian faith, and forgiveness in the midst of horror and tragic loss. There is no place for easy believism here.
I still remember when my son's Jewish caregiver, who always wears one of the yarmulkes his late mother made for him, asked me if I knew the story of Corrie Ten Boom and her book The Hiding Place. I said, "Yes, I do. The book sat on my parents' coffee table when I was growing up and my parents cherished the story and found Corrie so inspirational. So do I.
My son's Jewish caregiver shared with me how his mother fled Denmark to safety with the help of Corrie's family. Many years later, when Corrie visited the area where his family lived in the States, his mother gathered all her children and grandchildren to go and meet Corrie. Corrie was a noted speaker who traveled the world and shared about her story of faith. My son's caregiver's mother waited in line as Corrie signed books after speaking at the event they attended. When she finally had opportunity to speak to Corrie, she introduced her children and grandchildren to Corrie. She told Corrie that her faithfulness and courage was the reason these young lives, including my son's caregiver, stood before her that night many years ago.
It is also important to highlight that the ripple effects of Corrie Ten Boom's faith reaches my son's room years later. If it were not for Corrie's faith and courage, my son would not have such a good caregiver now. If Corrie had not stepped out in faith, when faith was the only hiding place she could find, this Jewish man would not be tending to my son who is in such a vulnerable state. I told my son's caregiver how glad I am that he, too, is alive.
I thought about The Hiding Place and this story of my son's caregiver and his mother along with Joseph and Mary's sojourn to Bethlehem last night. If it weren't for this young Jewish couple and their faith in the face of so many trials and trauma, where would I be in my faith today? Like Corrie Ten Boom and my son's caregiver and his mother, Mary and Joseph inspire me to keep going. When emperors and führers and oppressive systems flourish, when one's loved ones are taken from you, when everything gives way around you and you find yourself in exile, there still remains the hiding place of faith. Find shelter in the strength of God's love and promise never to abandon you.
To read the various updates about my son and our family's journey with TBI, please click here. Thank you.