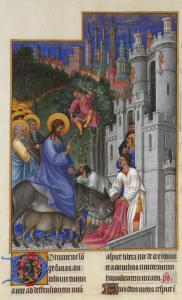 Longing with lament marks so much of life. Take for example the Christian story. Today is Palm Sunday, which marks Jesus' triumphal entry into Jerusalem as the long-awaited king and deliverer (See Matthew 21). The people welcomed him with shouts of joy. By Friday, he would be dead. They sensed such longing for peace and freedom, but the fulfilment of their hopes was dashed or delayed.
It's a comfort to know the story does not end there. According to the New Testament story, Jesus rose victorious from the dead the following Sunday. Later he ascended to God's right hand and the Spirit descended to be among Jesus' followers to encourage and empower them to live victoriously until Jesus' return. Jesus did not promise to keep them from suffering but strengthen them amid suffering until his return. On the night of his betrayal and trial, he declared: "In this world you will have trouble. But take heart! I have overcome the world" (John 16:33; NIV).
Jesus' words keep me going during Holy Week and beyond. They help me as we continue to support my son Christopher, who suffers from TBI, along with his family. We experience moments of stimulation, when he is responsive to prompts in his minimally conscious state. But those moments are far from satisfactory. We are left longing for so much more than the blinking of an eye, raising of a thumb, and moving of an arm in response to prompts.
Longing with lament marks our cycle of life with TBI. It's not just with TBI, though. I experience longing with lament in my work and relationships, too. Yes, there's stimulation, but not sufficient satisfaction. Maybe you feel the same way?
Longing and lament marks so many other people's lives no matter their circumstances. Longing and lament also marks Holy Week, which brings together Palm Sunday and the close of Lent, which leads up to Jesus' passion and death.
C.S. Lewis speaks about longing for satisfaction, and yet never experiencing it in this world. Lewis argues that the recognition nothing in this world can satisfy my desires signifies that we were made for another land. According to "The Christian Way,"
Creatures are not born with desires unless satisfaction for those desires exists. A baby feels hunger: well, there is such a thing as food. A duckling wants to swim: well, there is such a thing as water. Men feel sexual desire: well, there is such a thing as sex. If I find in myself a desire which no experience in this world can satisfy, the most probable explanation is that I was made for another world. If none of my earthly pleasures satisfy it, that does not prove that the universe is a fraud. Probably earthly pleasures were never meant to satisfy it, but only to arouse it, to suggest the real thing. If that is so, I must take care, on the one hand, never to despise, or be unthankful for, these earthly blessings, and on the other, never to mistake them for the something else of which they are only a kind of copy, or echo, or mirage. I must keep alive in myself the desire for my true country, which I shall not find till after death; I must never let it get snowed under or turned aside; I must make it the main object of life to press on to that other country and to help others to do the same. (C.S. Lewis, Mere Christianity, Touchstone: New York, 1996, pp. 120-121).
I'm longing for satisfaction, for more than the blinking of my son's eyes in response to prompts. I'm longing for my son to rise from his bed made whole. I desire more peace amid turbulence, more freedom from pain for Christopher and myself. My back hurts as I move his limbs. It's exhausting, tireless work. But still, I will enter my son's facility and room today triumphantly and say out loud, as I exercise his arms and legs: in this world we will have trouble. But take heart! Jesus has overcome the world.
I long for the deliverance Jesus brings. Still, I know that lament involving suffering and death precede the resurrection. Yes, there's stimulation, but not enough satisfaction. Perhaps I will never experience such satisfaction until the moment history draws to a close: ""in a flash, in the twinkling of an eye, at the last trumpet. For the trumpet will sound, the dead will be raised imperishable, and we will be changed" (1 Corinthians 15:52; NIV).
I'll mingle longing and lament until that day when God makes all things new. I'll hold fast to Jesus' words that he uttered on the eve of his passion: "In this world you will have trouble. But take heart! I have overcome the world" (John 16:33; NIV).