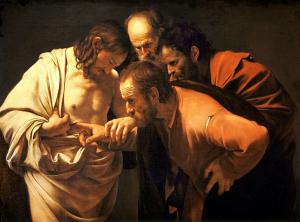 Easter Sunday is here. It couldn't come at a better time.
The past week brought stormy winter weather that broke scores of tree branches and closed schools in my region. It also brought death to one resident at my son Christopher's rehabilitative care facility on Good Friday, the day commemorating Jesus' death. I was nearing the entrance to the facility when two people bore the body covered from head to foot out the front door on a stretcher. One of the residents sat outside nearby in his wheelchair. He watched the procession as they placed the deceased in the back of a van to be taken away. It was a somber, awkward moment for both of us. All so sudden, unexpected, and unwelcome. It leads me to welcome Easter with open eyes and to lift up my heart for the deceased, for the man in his wheelchair, and for all of us in view of the hope in the resurrection of the dead.
Easter Sunday lights up and lightens my soul. It's not simply because of the sun shining down on us this morning, but also because of the resurrection hope. The resurrection is more than a face lift. It lifts up my heart with the hope of new life for all creation.
We will bring flowers to my son Christopher's room at his care facility today and replace the old flowers in the vase. I will also play George Frideric Handel's Messiah for Christopher, which is first up every morning on his tablet's playlist. One of my favorite parts in The Messiah is "The Trumpet Shall Sound." You can find here a masterful rendition. Here is the biblical text and context from which "The Trumpet Shall Sound" draws:
Listen, I tell you a mystery: We will not all sleep, but we will all be changed—in a flash, in the twinkling of an eye, at the last trumpet. For the trumpet will sound, the dead will be raised imperishable, and we will be changed. For the perishable must clothe itself with the imperishable, and the mortal with immortality. When the perishable has been clothed with the imperishable, and the mortal with immortality, then the saying that is written will come true: "Death has been swallowed up in victory." (1 Corinthians 15:51-54; NIV).
Not only am I thinking of this passage. Not only will I play this part of The Messiah for my son. I will also read Romans 8 along with 1 Corinthians 15 to him. Here's a wonderful selection from Romans 8:
I consider that our present sufferings are not worth comparing with the glory that will be revealed in us. For the creation waits in eager expectation for the children of God to be revealed. For the creation was subjected to frustration, not by its own choice, but by the will of the one who subjected it, in hope that the creation itself will be liberated from its bondage to decay and brought into the freedom and glory of the children of God. We know that the whole creation has been groaning as in the pains of childbirth right up to the present time. Not only so, but we ourselves, who have the firstfruits of the Spirit, groan inwardly as we wait eagerly for our adoption to sonship, the redemption of our bodies. For in this hope we were saved. But hope that is seen is no hope at all. Who hopes for what they already have? But if we hope for what we do not yet have, we wait for it patiently. (Romans 8:18-25; NIV)
Like the creation and so many of us, Christopher has been groaning. Recently, we have been hearing him groan again. I have not heard him groan for some time. Perhaps the groaning is due to pain, for which we hope the anticipated baclofen pump will work wonders. Perhaps the groaning is due to longing for renewal and healing. I cannot really tell. Christopher has only spoken a word or two on rare occasions since his traumatic brain injury in January 2021. However, he has been blinking his eyes to communicate "yes" and "no" answers to staff over the past few months, and at times to me.
Speaking of blinking his eyes, I have noticed how Christopher's left eye has been opening wide more often to keep in step with his right eye. Ever since the traumatic brain injury to the right side of his head, the left eyelid has been sluggish. Sometimes it won't open. At other times, it will only open slightly or part way. Rarely, has Christopher's left eyelid open all the way. No doubt, the increasing openness of his left eye is a sign of healing, however small. Still, in Christopher's case, a small sign of healing is a very big sign of growth when I think back to the first weeks following the injury. What a change!
Easter Sunday leads my eyes to twinkle and my soul to groan with hope. From today forward, in view of this meditation, I will lift my heart to heaven whenever Christopher blinks his eyes, opens wide both eyes, and groans. I will lift up my heart when I greet people who are down at Christopher's care facility in view of the resurrection hope so that I might encourage them by listening to them share how they are doing and saying a caring, fitting word and prayer in return.
The resurrection that awaits us is more than a face lift. It is a transformation of our entire being. I do not know if our glorified bodies will bear the marks of our suffering, like Christopher's surgical scar under the hair on his skull. But if our glorified bodies do bear those marks, they will be glorious scars, like the wounds on Jesus' palms, side, and feet that he bears in his resurrected person (consider the Caravaggio painting above).
Until then, may we live as new creations in Christ. As Paul writes in 2 Corinthians 5:17: "Therefore, if anyone is in Christ, he is a new creation; the old has gone, the new has come!" We wait to see how Christopher responds in the months and years ahead. We look forward with hope that Christopher will be a new creation and experience some level of meaningful recovery as we watch to see what neuroplasticity might do. I also look forward to seeing how you and I will respond to traumatic events in our own lives. May we take to heart what Jesus said to his followers on the eve of his passion and death and the ensuing resurrection: "In this world you will have trouble. But take heart! I have overcome the world." (John 16:33; NIV) Jesus will overcome tragedy and swallow up death and our incredible suffering in his victorious all-powerful love and resurrection glory.
It is fitting that we groan with the creation. Perfection awaits us. We will be changed in the twinkling of an eye. So even when stormy weather surprises us in springtime, closes schools and breaks tree branches, even when our bodies and hearts bend due to troubles and tragedies in life, know that new life awaits us, and those like Christopher with TBI, and those who have passed away. My hope that the resurrection is more than a face lift leads me to lift up my heart amid my deep and abiding sorrow. May we lift up our hearts with a twinkling of the eye as we groan, waiting eagerly and patiently for the transformation of all life at the resurrection of the dead.
To read the various posts about our unfathomable journey with Christopher and TBI, please refer here. Thank you for your prayers and care! God bless you! Jesus is risen!