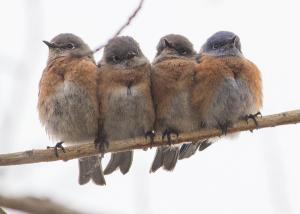 "Homeostasis" is a cool word, even on a hot day when it reaches 100 degrees Fahrenheit. Just saying "homeostasis" a few times in my head made me cool down yesterday, when I wrote this piece. It's kind of like "Serenity Now" in Seinfeld (please check out the clip). So, what does homeostasis mean? Here's how an article in Scientific American defines the term: "Homeostasis, from the Greek words for 'same' and 'steady,' refers to any process that living things use to actively maintain fairly stable conditions necessary for survival."
As some of you know, my twenty-six-year-old son Christopher endured a traumatic brain injury in January 2021. He endured extreme fevers in the weeks following the injury—even in the cold of winter. He has also weathered dramatic forms of spasticity in his neck, fingers, hands, arms, legs, and feet. His recent baclofen pump surgery* and ensuing increase in baclofen dosages have provided increasing relief from spasticity, though there are occasional spikes. That said, we believe Christopher is proceeding toward homeostasis.
Our family medical consultant Dr. Robert Potter (M.D., Ph.D.) informed me yesterday that we shouldn't be surprised by the occasional spikes in spasticity. He has observed such spikes over the years even in the most progressive state of patient recovery. Thus, he was not alarmed by my recent account of Christopher's severe contortions one evening. He assured me that such occasional spikes are not a sign of regression.
I have experienced occasional spikes in emotional spasticity while accompanying Christopher through this eighteen month ordeal with TBI. If Dr. Potter's observation about occasional jumps in spasticity relates to our spiritual condition, then perhaps even those who are maturing well in the Christian life will endure spastic leaps of spiritual upheaval along the way. That's reassuring as I seek to move forward toward a state of spiritual homeostasis.
The occasional spikes in spasticity since the baclofen pump surgery are not the only experiences that have surprised me at Christopher's bedside. I have also been surprised by the deep peace I feel much of the time when I am with my son. In fact, my most peaceable and serene experiences in life are when I am at Christopher's bedside, when he is relaxed. Christopher's presence in the quiet of his room at his care facility is a sanctuary for my soul. The hours at my son's bedside often provide the spiritual equivalent of homeostasis.
My son's minimally conscious state does not impede the influence he has on my own conscious state. Christopher, along with people's prayers for him and the family, and a keen sense of God's presence amid all the uncertainties and upheaval we have endured these past eighteen months, help me relax. It sure doesn't hurt that Christopher also has air conditioning in his room. Perhaps I will hang out there even more in the coming days!
The peace I experience at Christopher's bedside seems so strange to me given all that he has endured. Yet the peace, which is the spiritual and emotional equivalent of homeostasis, is very real.
Dr. Potter was not surprised when I shared with him about my sense of deep peace at Christopher's bedside. He commented about his involvement with patients in which he also has experienced moments of such person to person contact. He calls it a feeling of "empathic resonance." It is a kind of "I-Thou" experience (see Martin Buber), as if human persons are together united with the divine person (or divine persons). Victor Hugo put it this way: "To love another person is to see the face of God."
God's peace does not depend on having ideal circumstances, since God is "near" no matter where one is, or what one is going through in life. It reminds me of the Apostle Paul's words from his prison cell in Rome. Paul was imprisoned for sharing the good news of Jesus, the Prince of Peace, who stood in stark contrast to Caesar and his violent and oppressive Pax Romana. Paul informs us that God's peace "surpasses" or "transcends understanding." Here's the full context of Paul's statement in Philippians 4: "Rejoice in the Lord always. I will say it again: Rejoice! Let your gentleness be evident to all. The Lord is near. Do not be anxious about anything, but in every situation, by prayer and petition, with thanksgiving, present your requests to God. And the peace of God, which transcends all understanding, will guard your hearts and your minds in Christ Jesus." (Philippians 4:4-7; NIV)
Such peace does not result from Christopher's TBI or our life circumstances. Such peace emerges because the Lord is near and as I experience "empathic resonance" with my son in whom I see the face of God. We can experience emotional and spiritual homeostasis in a patient's room, a prison cell, or a traffic jam on a highway. All that is required is a sense of God's nearness and an empathic connection to the person before us.
May Christopher, you, and I continue to progress toward homeostasis of various kinds, including peace with God and one another. Such stability is crucial for our survival. Let our "gentleness be evident to all. The Lord is near."
_______________
*Here is an explanation of "baclofen pump surgery" and its aim from the University of Rochester Medical Center: "Baclofen pump implantation is a surgical procedure performed to permanently implant a pump that delivers baclofen to the spinal fluid to treat severe to moderate-severe spasticity that is refractory to oral medications. It continuously delivers baclofen in small doses directly to the spinal fluid, increasing the therapeutic benefits, and causing fewer and less severe side effects compared to the oral medicine." "The aim of the operation is to decrease spasticity."