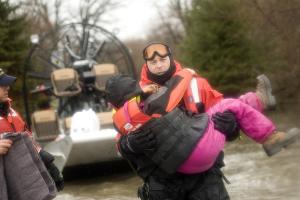 I read of how "megafloods" could devastate California. Such apocalyptic reports are enough to submerge you in a state of panic. A woman who got trapped on a flooded road in Santa Barbara County recently admitted that her first reaction was to panic. But then she called her father and got help. Firefighters and lifeguards came to her rescue. It was something to watch how they surrounded the woman and inched their way through the current to safety. You can find her account in the video that accompanies this article.
How often do we panic and freeze or try to make it on our own amid natural, physical, emotional, and relational floods, rather than reach out for help? I am incredibly grateful that my family and I have received help of various kinds as we have endured the analogical equivalent  of "megafloods" since my son Christopher's traumatic brain injury in January 2021. These megafloods are the culmination of neurological, emotional, financial, and relational currents that could easily sweep Christopher and the rest of us away. But God has not left us alone. I did not need to panic or try and do it on my own. We called for help and firefighters and lifeguards of medical, legal, pastoral, and holistic care have come to our aid.
Of course, like the woman, I could have panicked and froze, or tried to make it on my own. But I had enough sense early on to reach out for help. How often do we fail to look for help to trustworthy and reliable resources?
If we are not careful, you and I can reach out to others who lack competence and care, and who do not have our best interests at heart. Discernment is essential. The woman in the video showed discernment and responded promptly. She kept her cool. She knew her father was trustworthy and responsive. He must have reached out to emergency services who could provide a lifesaving crew.
I realize at times how little discernment I have and so look to others of various spheres of expertise who do. While it is important to cultivate competencies of various kinds, none of us have the aptitude in every area of life to make it on our own. Resourcefulness involves cultivating and depending on competent and caring networks. Who do you rely on amid megafloods in life that can overtake you in a moment?
Just this morning, I read the Farewell Discourse in John's Gospel (John 14-16). Jesus' disciples were tempted to panic when he informed them that he would be departing and returning to his Father. But he comforted his followers and assured them that he would not leave them alone. God's Spirit would come and guide them. He and his Father would also come and abide with them. Jesus encouraged his disciples to care for one another. They were never alone, even as the megaflood of extreme suffering approached and threatened to submerge their fledgling faith.
Some of you know that last weekend was tumultuous for us. Christopher had to be taken to emergency three times for infection that started with his lip (Christopher bites down on his lip in his TBI state). Initial test results suggested that infection had gone to his blood. A few days later, they did further tests at emergency to see if the tests were contaminated. At first, the results suggested again that there was infection. But by the end of the testing period, the hospital informed my son's care facility that the results came back negative. What a relief to my own fledgling faith.
This past Friday, we met with various leaders at Christopher's care facility to discuss actions steps moving forward with my son's care. Our own medical consultant, Dr. Robert Potter, joined us. My wife and I are impressed with how much strategic consideration the leadership demonstrates in addressing concerns that arise and problem solve collaboratively with us to provide Christopher with satisfactory care in hopes of meaningful recovery. For example, the medical staff recommended a bite guard that they will research and obtain, as well as put in place a Scopolamine patch to address excessive secretions. Dr. Potter was pleased with how the care facility leaders were attentive to potential risks and will monitor progress involving the two items.
In addition to addressing how to proceed with preventive measures for guarding against infection, one of the medical leaders informed us that Christopher has been approved for twenty-four sessions of occupational therapy related to his recent baclofen pump surgery. We now await approval for physical therapy sessions. There is only so much my family and I can do to help Christopher. Megafloods would engulf us if we had to do it all, especially when we have no expertise in addressing infections or providing needed therapies of respiratory, occupational, and physical kinds.
Who would have thought we would be at this point in Christopher's care? In the early days and months following Christopher's TBI, medical doctors suggested that we may need to think about pulling the plug. Dr. Potter, who was a pioneer nationally in palliative care and medical ethics, said it was far too early to make prognoses. Months later, he resonated with a neurologist who stated "there is no plug to pull" and who expressed realistic hope that Christopher will experience meaningful recovery.
We have never given up hope, though the brain injury was catastrophic. Moreover, Christopher had plateaued at one point, where physical and speech therapies were put on hold. Plateaus are agonizing and tumultuous, right up there with megafloods. We could have placed Christopher in another facility when he plateaued. There he might have been left to wait out his days and quite possibly endure a life-ending infection. But we kept him at his present facility, where we firmly believe he has the best opportunity to emerge and experience a meaningful quality of life.
The upcoming sessions in occupational therapy will be the second time to reinstate therapies since Christopher plateaued. Occupational therapy may very well help Christopher emerge more in his minimally conscious state. We sense he is there. He responds with a look of satisfaction and pleasure at times when staff and family members rub his shoulders, and comb or run their fingers through his hair. My son smiles and blinks his eyes for "yes" and "no" at times in response. He also appears to try and mouth words at times to communicate. I firmly believe he is trying hard to emerge from his submerged TBI state. But he cannot do it alone. We will keep surrounding Christopher and inching him forward to safety with the help of countless caring and competent others so that the megafloods don't devour him.
No matter what storms or floods life brings your way, don't panic or go it alone. Reach out for help.
You can read the various posts about Christopher and our family's journey with TBI at this link. Thank you for your care and prayers. God bless you and provide you with the necessary aid as you respond to your own megastorms in life.