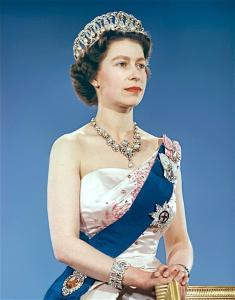 Today I look back on the legacy of Queen Elizabeth, rescue workers who gave their lives on 9/11, and my late dad. A word that marks each one of them is "duty." A royal confidant wrote the following reflections in honor of Queen Elizabeth who passed away on September 8th:
Because I have met her — because, at close quarters, I have observed her as she carried out a range of her official duties — people often ask me, leaning forward, narrowing their eyes: "What was the Queen really like?"

My answer disappoints them. "Very nice," I say. "Rather normal, actually; quite straightforward; much as you'd expect."

I wonder if we appreciate how fortunate we have been. Elizabeth II was neither eccentric nor quixotic, and her husband was as honest and straightforward as the day is long.

If there is one word that sums up Elizabeth II, it is "dutiful". Her life was driven by duty. She was a dutiful daughter and a dutiful Queen.
It is not simply Queen Elizabeth who was driven by duty. A reporter covering a 9/11 memorial service in Evanston, Illinois summarized Fire Department Chaplain Pastor Monte Dillard's meditation: "that day 21 years ago will always be a day of tremendous pain and loss and, for many, fear — though he added it was also one of the greatest displays of heroism, fearlessness and sacrifice." The reporter added that "The goal of ceremonies like the one held in Evanston, another speaker said, was to commemorate the sacrifice by more than 70 police officers and 343 firefighters, as well as the commitment to remember those who continue to fulfill their duty."
Every day, rescue workers fulfill their duty to protect and care for the wellbeing of others. The same goes for those we call faithful parents and friends. We should commit ourselves to remember and honor their sense of honorable duty.
Today is my Dad's birthday. While he died many years ago, he remains by my side even now. His faithful parenting never ends. I gain strength from my father's strength, even as I sit by my son Christopher's bedside at his adult care facility. I think about all those times Dad was there for me when the going got tough. As the old saying goes, "When the going gets tough, the tough get going." How I value Dad's sense of duty and toughness as we cope daily with Christopher's traumatic brain injury and hope and pray for his recovery. For all their differences from one another, my dad is like Queen Elizabeth in that he "was neither eccentric or quixotic," just "dutiful."
As I assist Christopher with his range of motion exercises, I think back to helping my dad with range of motion exercises after his knee surgery decades ago. It was hard to see him in so much pain during those exercises, especially as he was not one to talk about his own suffering. He grinned and bore pain quite a bit due to his physical labors from working from the early morning to late at night as a professional mover to make ends meet for our family. He also suffered a lot because of my rebellion growing up. But that suffering never kept him from moving mountains in caring for me, or my siblings.
Christopher is also one to grin and bear pain quite a bit. As I do range of motion exercises for him now, I am relieved to know his limbs are far more limber since the baclofen pump surgery. Even the left leg bends far more readily now and he does not grimace when I stretch his toes and straighten his feet. My heart used to drop based on his foot drop that resulted from lying down on his back so much of the day.
During our last visit to see Dad years ago, a teenage Christopher enjoyed sitting with Grandpa, meeting his needs, getting him ginger ale, and playing his guitar for Grandpa when he was battling with the cancer that would take his mortal life. I envision Dad now sitting with Christopher at his bedside. Christopher has always loved Grandpa's corny jokes. Like his sense of duty come rain or shine, Dad's jokes were like clockwork (agonizingly so to me!) I like to tell those jokes to Christopher from time to time in the hope he can still appreciate them. I like to think Christopher may be chuckling deep within his soul even now.
A faithful friend who lives with a loving sense of duty to care for those in need has been with us throughout this agonizing ordeal. She believes Christopher understands far more than we think he does. This friend wrote me yesterday and recounted how she has suffered from TBI at various times in her life. She stated, "I truly believe that he [Christopher] is fully aware and growing each day as a person, perhaps even more so than many, many of us who are buried under the demands of the world."
If my friend is right, Christopher is fully aware of many things, including his wife and daughter in need. Sometimes I tell Christopher that we are caring for his wife and daughter with the money that so many people have sacrificially provided for him and them. I can't imagine what it might be like for Christopher thinking about his family's situation if he is fully aware. I do know how painful it would be for him not to be able to work and provide for his family and care for his beloved daughter as he lies flat on his back completely dependent on others for most everything in life. If my friend is right about Christopher's level of awareness, even now in his traumatically brain injured state, his loving sense of duty as a parent remains. If my son is anything, he is dutiful. Like grandpa, like grandson.
This same friend also wrote yesterday, "Once we become parents, we are parents for the rest of our lives. The reasons to worry about our kids seem to only increase somehow no matter what. (I've heard that many times from my older friends before, now I understand them better.) It is a messed-up world, and there's no end of pain and suffering of every kind. May our Father illuminate our minds and fill us with peace in a way only He can."
Many people lost parents in this messed-up world on 9-11, which was twenty-one years ago today. No matter the circumstances, all of us who live long enough will lose our parents someday. Some of us cherish those memories and experience comfort and joy. Others endure great pain from such recollections, and for various reasons. I don't know what you are going through this day, or what your relationship with your parents was or is like. But may you and I know God's dutiful, loyal, parental love. Here I call to mind the Epistle of James, which has no place for the eccentric or quixotic, only dutiful, loyal, active faith that cares for others in need. James writes, "Every good and perfect gift is from above, coming down from the Father of the heavenly lights, who does not change like shifting shadows." (James 1:17; NIV) A good word to describe God is "dutiful." This heavenly parent does not shift and is not shifty, but faithful to the core.
It is easy to take for granted God and others who live with a loving sense of duty. To quote Elizabeth's royal confidant, "I wonder if we appreciate how fortunate we have been." We get caught up in the eccentric and quixotic and pay little attention to the less glamorous qualities like inner strength and an unwavering commitment to do one's duty. But the eccentric and quixotic will not get me through the relentless and exhausting struggle my family and I endure with Christopher's TBI. What keeps me going amid our relentless struggle is the dutiful faithfulness of God, my dad and mom's legacy of loyal love, and the compassionate, undying care and prayers of so many faithful people.
I dare not take them or their honorable sense of duty for granted. Indeed, I thank God for the example of Queen Elizabeth, the police and firefighters who sacrificed their lives on 9/11, my dad, and so many friends and others advocating for Christopher who sense their duty to care for others in need. God bless them all.