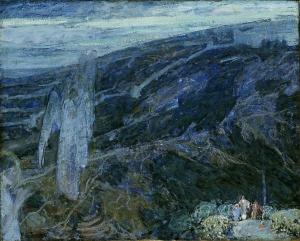 Today, many Christians reflect upon the angels' declaration in Luke 2. They light the Angel's candle symbolizing God's peace:
Suddenly a great company of the heavenly host appeared with the angel, praising God and saying, "Glory to God in the highest heaven, and on earth peace to those on whom his favor rests." (Luke 2:13-14; NIV)
The occasion for these good tidings was the announcement of Jesus' birth to the shepherds. The backdrop was quite the contrast. There was great turbulence in the surrounding countryside, and not just because of the angelic visitation. Caesar Augustus' census bound up with his taxation of Rome's subjects across the empire also engendered much turmoil.
The shepherds were near the bottom of the social and economic order among a populace that was also under Rome's oppressive rule.  So, it was like adding insult to injury. The angels' proclamation of glory and peace no doubt came out of left field out there in the fields that night.
But perhaps their perspective changed that night. They raced off to see the baby Jesus who is the embodiment of God's peace or shalom here on earth. Perhaps from that evening on, the shepherds started to look for God's peace among the broken pieces of their lives and all around them.
The angels' message reminds me to look for God's peace among the broken pieces of my family's lives. It's been nearly two years since my son Christopher's catastrophic brain injury. We often feel like we hang in a state of limbo between heaven and hell, hope and despair. It is really hard to put into words.
Late last night, my wife and I reflected on a neurologist's words after I returned from Christopher's bedside: "You will see a lot of randomness but look for signs of conscious control." I could see such signs of conscious control, subtle though they were, amid a lot of random gestures and motions.
Last night, I showed Christopher a colorful drawing of Disney's Frozen movie characters Anna and Elsa . His daughter Jaylah made it at our house yesterday and dedicated it to Daddy. I repeated to Christopher that Jaylah had made the drawing that afternoon and wanted us to give it to him. Christopher's right eye came into greater focus and zoomed in on the drawing. He turned his head and neck to follow the drawing as I moved it to the other side of his bed. One has to be really attentive. After all, the various herky-jerky or seemingly random arm and facial movements can easily distract the casual observer.
If I step back and look at much of life and society as a whole, I find certain parallels. There are lots of herky-jerky movements. There is a great many seemingly random events and chaotic behaviors. But amid the turmoil, I need to look for signs of God's conscious and peaceful control.
Such peace includes an interior dimension, but there is more. God's peace or shalom involves justice and extends beyond the personal and private to the public domain. It has widespread and even global import. How can it be otherwise since the angelic announcement connects peace on earth to God's glory in heaven? God's glory manifests itself throughout heaven, not just a remote or concealed parcel of celestial turf. So, God's peace is to extend throughout the earth.
Where do we find that umbilical connection today? Wright argues that for Luke's Gospel, it is quite evident: "the angels meant what they said, but the way to that meaning is through Jesus' followers picking up the threads of his own public career and living as kingdom-people under his direction, bringing his saving rule to bear in acts of love and mercy, in working for justice and truth whether it's for the shepherds up the Dales or the asylum-seekers desperate for help or the entire planet as human greed and carelessness make it a place of danger and pollution instead of joy and beauty."
Amid randomness and herky-jerky movements, look for subtle and easily missed though vital signs of Jesus' conscious and compassionate and just control. Jesus' operations don't often come with a lot of fanfare or makes the headline news. But his actions are momentous, nonetheless. Again, where will we find Jesus operating in our world today? Wright argues: "… you will see him at work, when those who praise him and celebrate his birth go off to make his praise echo around the homeless shelters and the prisons, the asylum camps and the hospitals, the government departments and local councils, the homes where tragedy has struck and the hearts that are broken with grief, yes, and even the dark hills where the shepherds wait to see if the angels might just sing again. And if you add Matthew's gospel as well, we find a further haunting truth: that if you want to see Jesus, learn to look for him in the faces of those in need, those in tears, those in hospital, those in prison."
One hears a great deal of the decline of the church, or the erosion of goodness in our society, and across the globe. Yes, there are widespread challenges to the common good. And yet, while I can honestly confess to have witnessed a lifetime of evil in our ordeal involving Christopher's injury and its aftermath, I have also witnessed incredible acts of compassion from people inside and outside the Christian fold and from people of all walks of life. Amid all the randomness, I observe God's conscious control at work through so many people. They may not even be conscious of Jesus working through them. But I am, and thank God for each and all.
People of various religious, ideological, and political persuasions have reached out to us and have served as ministers of God's peace. Just think what we could accomplish more broadly if we were to learn to come together more often in a host of settings and look for Jesus "in the faces of those in need, those in tears, those in hospital, those in prison" and bring his world transforming love, justice, and peace to the situations at hand. I continue to see such signs of conscious, caring control in our family ordeal and long to see it in so many other contexts here and abroad.
Many thanks to you who have reached out in different ways to help us pick up and mend the broken pieces of our lives. Thank you for being agents and instruments of God's peace. Your words of encouragement, your prayers, and your gifts make an incredible difference in Christopher, his wife, and daughter's lives, and among other family members, too. I pray that you would also look and find evidence of God's peace and conscious, compassionate, just control among the broken pieces and seemingly random events of your own life circumstances.
"Glory to God in the highest heaven, and on earth peace to those on whom his favor rests."