So rather let us openly mock God, as has been done before in the world: this is always preferable to the demeaning air of self-importance with which one would prove God's existence. For to prove the existence of one who is present is the most shameless insult, since it is an attempt to make him ridiculous; but regrettably people haven't the faintest idea of this and out of sheer seriousness see it as a pious undertaking…One proves [God's] existence by worship—not proofs.
This quote by Søren Kierkegaard (1813-1855) couldn't be more relevant to recent, tragic events. While Kierkegaard is referring here to a certain kind of rational, theological apologetics (defending "God's existence"), there's another kind of "God's defender" that takes up actual arms, rather than merely the weapons of theological argument, against the unbelievers. It is better to "openly mock God" (perhaps using comic satire?)  Kierkegaard here urges, than to "defend him." He further suggests that the act of defending God (or "proving God's existence") is tantamount to doing the opposite–because in so doing the defender only reveals the inability of the God to show itself (much less defend itself).
In a recent blog post, James McGrath, re-posted  meme (via the Christian Left on Facebook), that I think resonates with Kierkegaard's quote.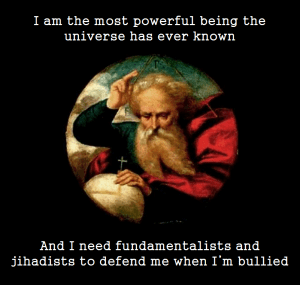 There is a complicating dimension to all this, though, in that the eruptions of violence against "the West" are likely  not solely motivated by some kind of pathological desire to "defend God." Reza Aslan provided some helpful commentary on CNN yesterday regarding the cultural and socio-economic underpinnings of these terrorist actions. Underlying this violence are questions about identity, marginalization (or perceptions thereof) and culture-clash than it about religious doctrine per se (although these are intertwined). There are reasons (beyond theological or religious ones) that fundamentalist ideologies attract social castaways and others who have either isolated themselves or have been isolated by the larger culture. The Boston bombers come to mind, too. These reasons are in no way justifications of the violence (as Aslan also made clear, in his commentary). But in defending "God," they are probably actually defending (or asserting) themselves., albeit in atrocious ways–and in ways that can be defined as idolatry of the most destructive kind. Religious fundamentalism appeals to people who cannot tell the difference between defending God and defending themselves. If this is what it means to defend God, it's better to mock him instead. But it's better still to worship God, which as Kierkegaard suggests, is the only "proof" for God worth considering.