Creflo Dollar's dream of acquiring a $65 million dollar jet to facilitate his ministry may not be dead after all. That is, if you believe his words in a recent sermon to his church. A Huffington Post article linked to a YouTube sermon in which Dollar recently thumbed his nose at his (many) critics:
I can dream as long as I want to. I can believe God as long as I want to. If I want to believe God for a $65 million plane, you cannot stop me. You cannot stop me from dreaming.
The man is a dreamer. What can you say? And he's certainly consistent. This is "name-it-claim-it" theology at its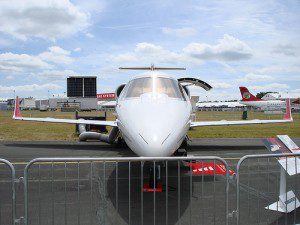 highest level of intensity, its grandest vision laid out for all to behold. If you're going to buy into that ideology, then you can't back down once you've received a vision for getting something big.
And who can really blame him? It also seems a growing fad for celebrity pastors to have private planes these days. Earlier today I Googled the phrase "pastors with private planes." I found a Forbes article about several Nigerian mega-church pastors with not one, but several planes dedicated to their work:
In March this year, David Oyedepo, a Nigerian cleric generally believed to be Africa's wealthiest gospel preacher, acquired a Gulfstream V jet for US$30 million. Oyedepo, who presides over the Winners Chapel, one of Africa's largest churches, now owns a private collection of four aircraft. In addition to his latest acquisition, he previously owned two Gulfstream planes and a Bombardier Challenger Aircraft. He is also reportedly creating a private hanger to accommodate his flying toys.

Oyedepo is not the only Nigerian clergyman to own a jet. Pastor Enoch Adeboye, the revered overseer of Nigeria's largest congregation, The Redeemed Christian Church of God, is also a proud jet owner. In March 2009, the great man of God spent $30 million on a Gulfstream jet amidst widespread criticism. Pastor Sam Adeyemi, another cleric and founder of the Daystar Christian center, a flourishing Pentecostal congregation which repeatedly preaches financial prosperity, is also a jet owner.
Other articles pointed to Kenneth Copeland's nearly $20 million private jet and Benny Hinn's private jet (in unrelated news, in 2012 Hinn asked his followers for $2.5 million to get his ministry out of debt). In 2010, Houston pastor Ed Young Jr found himself in controversy after it was reported that his church leased an $8.4 million private jet for his ministry travels.
In my first several years of teaching Theology, I often gave my students this case study: Imagine you are a recent seminary graduate, with a family of four, making $45,000 in your first ministry position. A wealthy congregant in your church offers you a $1 million dollar home, "no strings attached." He only asks that you use it to free you up to do the "Lord's work." Do you take it?
Answers ranged from, "yes, absolutely," to "well, maybe," to "Hell no, never."
I always had them think of the case in the context of the rich young ruler parable in Luke 18. Good teacher, what must I do to inherit eternal life? Give away your possessions…!
When you dig down into the situation, it's not all that simple or clear-cut. How much salary is too much? How much house is too much? How do we know when–or if–we're beholden to mammon?
I have long been struck with the profundity of a parable by Kierkegaard. He tells of a young seminary graduate who searched high and low for his first ministry job. When he finally landed the position, he discovered the salary was a few hundred dollars short of his expectation. This greatly disappointed him, and he nearly quit. But he went ahead with it anyway. The first text he was asked to preach was "seek first the kingdom of God…" Everyone was impressed with his oratory–even the Bishop! He was a seeker, alright.
Creflo Dollar recently blamed, not just his critics for the failure of his dream, but the devil. You have to wonder, though, if the devil (the "deceiver") was involved, maybe it was more at the dream's inception.
It's easy to point the finger at something so extreme as a $65 million dollar plane for a pastor. But it's harder to turn Jesus' words about the Kingdom on ourselves. Do I seek first the Kingdom? Do you?
photo credit: <a href="http://www.flickr.com/photos/32652471@N00/2678695492″>Bombadier</a> via <a href="http://photopin.com">photopin</a> <a href="https://creativecommons.org/licenses/by/2.0/">(license)</a>