Biola's online journal, The Table, recently published an excellent piece by New Testament scholar Jeannine Brown on the interpretation of the "least of these" in Matthew 25.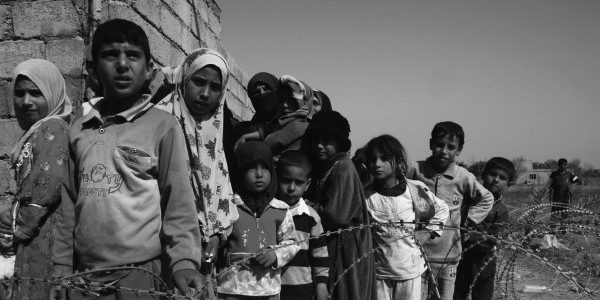 In her piece, she responds to Denny Burk's controversial suggestion (made several weeks ago now, but the interpretive questions here are not out of date) that a contemporary referent of the "least of these" are not the poor and oppressed of the world, but Christian bakers, florists, and other Christian folks who are "persecuted" for their conservative convictions against LGBTQ inclusion.
Brown offers a compelling counter to Burk's interpretation, one that is well-worth a close read. She outlines the major options regarding the referent of the "least of these" ("exclusive" = Christian disciples / "inclusive" = poor, needy, and destitute, whether Christian or not) and then sides with the "inclusive" position, primarily on the basis that "least of these" is used as a "status category" in Matthew; a status which delineates people who are physically needy and economically/sociologically (in other words, actually ) poor.
Brown, after studying a number of samples of contemporary evangelical sermons, concludes that common applications of Matt. 25 by evangelical pastors today are both "intriguing and troubling":
littleness factor to the actions of the righteous. The result was an emphasis on the small, insignificant deeds of Christians that no one but God notices but that will reap heavenly praise. Virtually absent from the sermons reviewed was the language of "the least" to describe people—and specifically people in poverty and prison. Gustavo Gutiérrez comments on such a focus on actions over people with an indictment for someone being "more interested in the charitable action he was performing than in the concrete person for whom it was done" (p. 200).

The surprise of those standing on either side of the king's throne in this scene is not based on the surprising littleness of their actions: Wow, God noticed that little thing I did for someone else! No. It is based on the surprising solidarity of Jesus with those usually treated as if they are of little or no importance because of their impoverished circumstances.
What I found was both intriguing and troubling. Rather than paying attention to the category of "the least" as a status category, preachers tended to transfer the
Brown offers us a good piece of biblical theology, with immediate application to how we position ourselves as Christians to the people around us–many of whom we simply ignore–as we skip over Jesus' challenge to attend to the needs of the "little ones" and the "least of these" in our midst.
For the full piece, go here
For more theology and society related links and discussions, like/follow Unsystematic Theology on Facebook!