Somehow I missed Stephen Colbert's interview with Joe Biden last night on Late Night.
I had to watch it today because I heard it was a powerful, emotional interview AND because I heard Biden dropped a Kierkegaard quote-bomb.
Which he did.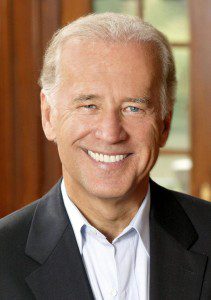 He mentioned that his wife, Jill Biden (a professor), taped a Kierkegaard quote on the mirror: "Faith Sees Best in the Dark."
Here is the original and larger context of Kierkegaard's quote:
The believer humanly comprehends how heavy the suffering is, but in faith's wonder that it is beneficial to him, he devoutly says: It is light. Humanly he says: It is impossible, but he says it again in faith's wonder that what he humanly cannot understand is beneficial to him. In other words, when sagacity [or worldly wisdom] is able to perceive the beneficialness, then faith cannot see God; but when in the dark night of suffering sagacity cannot see a handbreadth ahead of it, then faith can see God, since faith sees best in the dark.  
This quote comes from a short series of "discourses" (sort of like written sermons, or theological meditations) called "The Gospel of Sufferings," which Kierkegaard published in the fall of 1846. That year was significant because it marked the beginning of Kierkegaard's "second authorship," which reflects a deep commitment not only to his self-understanding as having a serious vocation as an author, but also reflects a deep awareness of the implications of his Christian faith.
For Kierkegaard, one of those deep implications is that suffering and spirituality go hand in hand.  The one who chooses to follow Christ must be willing to follow in the path of suffering; that's the path Jesus walked (voluntary suffering on behalf of others) and it's the path on which disciples are called to walk. There is no "prosperity gospel" in Kierkegaard's thought.
It makes sense that Biden would find a kindred spirit in Kierkegaard; not only because of the Christian faith they share, but because of their common experience of personal loss.
It's well known that Joe Biden lost his first wife and young daughter in a car accident in 1972. His two sons were injured, but survived. His eldest, Beau, died recently of cancer.
Like so many in his time, Kierkegaard was no stranger to personal tragedy. His mother and five of his six siblings all died (of various illnesses and accidents) before Søren reached his 25th birthday. In a brief period of just two years (1833-34) he lost his mother, a sister (Petrea Servine) and his closest brother (Niels Andreas, who died of illness while pursuing business success in New Jersey).
Back to the quote: "Faith sees best in the dark."
In the larger context of the quote, Kierkegaard reflects on Matt. 11:30, in which Jesus invites his followers to take his yoke upon them. Kierkegaard says,
Believe that the yoke is beneficial to you. This beneficial yoke is Christ's yoke. But what, then, is the yoke? Well, it can differ radically, but only the yoke that the sufferer believes is of benefit to him is Christ's yoke. Therefore it is not true that the Christian is exempted from human sufferings as we know them in the world; no, but the person who bears the suffering in such a way that he believes the yoke is beneficial to him is carrying Christ's yoke. No new suffering, humanly speaking, has been added, but neither has any old suffering been removed. To that extent everything is unchanged, and yet it has now been given, this great thought, and yet the place has been found outside the world: faith.