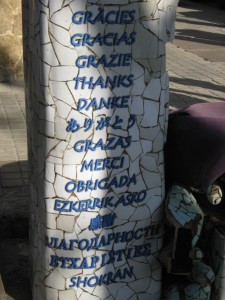 This week I attended the memorial service of a beloved soul light. First my professor, later my friend and colleague, he was a Jesuit priest whose very life was a prayer of compassion and grace.
There is a Unitarian Universalist story about prayer that goes something like this:
Dear Whomever,
Please…
Thank you.
In many ways it captures the human elements of life – a craving for intimacy and ultimacy, uncertainty, need, gratitude. It is possible to ask the universe at large and to say thank you in general, though this is not always a satisfying prayer.
My Jesuit friend taught this Unitarian Universalist another way to pray. He said that there were really only three essential elements to any prayer and they could be prayed through almost any life situation or stages of faith. The three elements are:
Yes.
Thank you.
I love you.
Yes. Thank you. I love you.
Yes. Yes to the divine spark within me, yes to the calling to ministry, yes to showing up to my life and my work with all my human imperfection, yes to the joy and the sorrow, yes to this sometimes difficult and always beautiful world. Yes.
Thank you. Thank you for the gifts of breath and water and beloved soul lights. Thank you for radish sprouts and coffee and journals with blank pages. Thank you for songs and symbols and stories. Thank you for connection and communication and Carnival. Thank you for sight and insight and the darkness too… Thank you.
I love you. I love you, spirit of life and love, creator and created, that which was and is and ever shall be. I love you, source of hope and diversity, comfort and challenge, interdependent web of all existence. I love you.
Yes. Thank you. I love you.
It is a prayer I can pray – come hurricanes and high water, elections and power outages, while waiting for a holiday or for results from the lab. It is a prayer I pray each day.
My Jesuit friend used to say that he wasn't a great theologian, but that he did know how to put deep spiritual understandings into ducky and horsy language. It was this gift, in fact, that made him a truly great theologian – one who will be deeply missed by all who encountered his gentle wisdom.
Yes. Thank you. I love you.