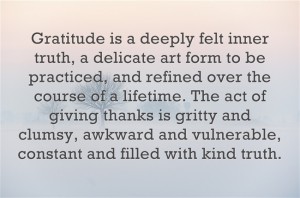 May we remember that thanks-giving isn't a day or a celebration. May we remember that the act of giving thanks is a daily commitment, an intentional act of love, a spiritual practice of sorts, and an understanding that we are all a little broken, that we are all desperately in need of grace. The act of giving thanks is gritty and clumsy, awkward and vulnerable, constant and filled with kind truth.
May we remember that gratitude is a peaceful appreciation for the absolute privilege of life, with its inherent flaws, messiness, and organized chaos. May we remember that gratitude isn't just obligatory thank-you's for gifts and favors or bold professions of our blessings. Gratitude is a deeply felt inner truth, a delicate art form to be practiced, and refined over the course of a lifetime.
As we move further into the holiday season, may we remember that it is a season of gratitude, abundantly full of the connective fibers of life and the very essence of what it means to be alive.