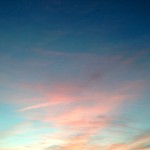 The little towns in their squares
light up, as do the scattered
lights of farmyards in the tilting,
fuzzy squares they're locked in.
I balance a Chilian red
on a bumpy flight out to
one of those squares.
The West is red too,
after we bump to a
cruising altitude through
clouds threatening snow.
I've been here before,
but not in this sundown;
in these clouds;
drinking this wine;
in the lines of this poem.
Somewhere out there
I've been on the last
cool ride in the back
of a truck at evening,
watching a huge moon rise
and knowing this, too,
would be a last.
We knew that time would pass;
we knew we, too, would pass;
we knew that the land
would not forget us
because it never heard
our cries anyway.
We knew it, but
the terrible wrench
of knowing it
again and again—
the land proved careful
about showing us that,
or perhaps even we
might have rebelled.
Perhaps even we
might have blown out
our little lights
in the squares
and called it a night
with no tomorrow.
Land, what would you
have done without
our fierce burning?
What would we have done,
without our fierce burning?
For now, there is the red.
Then, the darkness,
but for the burning.