Maybe we could just sit down and cry together first. In the presence of Black rage. In the presence of white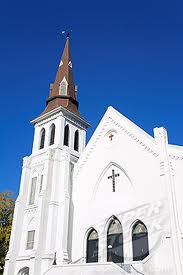 shame. In the presence of grief and despair and the overwhelming knowledge that white men with guns just keep killing people. In the devastating remembrance that this is not the first time that a white man with a gun has chosen a place of worship as the most devastating possible place to exact horrific violence.
We need to say out loud that this was another act of violent white supremacy, not just a disturbed individual. It matters that we point out that, as with almost every instance of mass violence, it was a man who committed this atrocity, with a man's sense of entitlement to assert his will at whatever cost to those around him. We need to say out loud that once again gun violence has cost innocent people their lives, that while a man bent on doing damage with a knife can certainly hurt people, guns kill people far more rapidly and efficiently than anything else.
And then we need to sit with the fact that this horrific act was committed in a church. That it wasn't random that the killer chose the AME church that has been such a force for Black empowerment and leadership development. That it wasn't random that violence was perpetrated in a temple of peace. That this man sat and prayed with his victims for an hour before he attacked, and God did nothing to stop him. That the only way that God will ever stop the violence—not just the brutality of mass shootings, but also the daily violence of racism in all its massive and tiny iterations—is if we are committed, individually and collectively, to being God's voice, God's hands, God's pain and rage, God's impulse toward love and justice.
There is so much to be done, so many rents in the fabric of our common life that we can only hope are possible to stitch or patch together. There is so much that each of us is called to do. But maybe first we could just sit down together for a little while and cry.