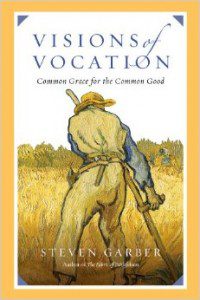 Visions of Vocation
Common Grace for the Common Good
by Steven Garber
Copyright: 2014
Publisher: IVP Books
Summary: Can my life matter? How can I thrive? The answer to both questions is vocation. Vocation is more than our job. It is our relationships and responsibilities woven into the work of God. For decades Steve Garber has traveled the world, coming alongside a wide range of people as they seek to make sense of their world and their lives.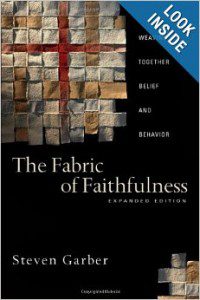 The Fabric of Faithfulness
Weaving Together Belief and Behavior
by Steven Garber
Copyright: 2007
Publisher: IVP Books
Summary: Voted one of Christianity Today's 1998 Books of the Year! All kinds of important choices are made during the college years. Young men and women explore what they really believe about the nature of the world and the purpose of life. They choose their work. They build friendships and often choose to marry. They develop goals and adopt habits that may last a lifetime. Yet late modernity is not a welcome environment for emotional, intellectual and spiritual formation. Society is increasingly fragmented. And the educational system itself, fragmented and specialized, may disintegrate more than it integrates. How do parents, professors, campus ministers, youth pastors and others help students, during one of the most eventful and intense periods of life, learn to connect what they believe about the world with how they live in it? Steven Garber vigorously engages just that question in this revised edition that includes a new chapter on what he has learned about lifelong formation in the years since the book first appeared. Drawing on the history of ideas, ethics, sociology and popular culture, he offers must-reading on the critical lifework of making sense of life.