by Laurie Works
@healingembodied on Instagram
LaurieWorks.com
In our work as humans, activists, and purveyors of nonviolence in our communities, it's so easy to get caught up in the work. The work is important, vital, necessary. It can start to feel heavy and overwhelming, as if it all falls on us, as if we must get the next thing done and -save the world-.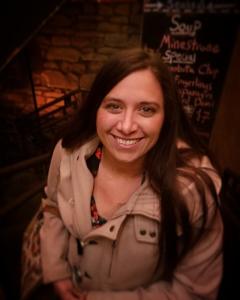 We forget sometimes that nonviolence begins with us.
It is an act of violence against ourselves to try to do work without also caring for our souls.
Furthermore, so many of us — womxn, the LGBTQ+ community, people of color — have been subjugated and disowned of power. Self care inherently is an act of rediscovering and owning our own power and agency. Even for the most privileged among us, it is important to discover what it means to own your very own power, rather than what society would tell you your power is.
For me, self care is vital. As a survivor of gun violence, a large part of my healing has been due to the work that I've done to notice when I am being affected, when certain emotions are arising, when I am exhausted. If I don't take the time to notice what is happening with me, it is often a snowball effect – I get triggered more easily, I eat less, I become depressed, I can barely move.
That tends to be the way it works for me, so self care is the way that I can gently care for myself and continue to function in the world. For me, it's a way to enact tenderness and care for my soul. In many ways, this serves to transform the violence that was enacted upon me, so I don't in turn further enact trauma upon myself, or upon others.
Self care is not just the ubiquitous bubble bath, or getting nails done, though it can be those things. Self care are the things that protect, honor, and cultivate our own power, that encourage our self compassion.
This can be getting enough sleep every night — that 8+ hours. Eating 3 meals a day. Taking one quiet moment in the bathroom away from kids or responsibilities to feel your breath moving in and out. This can be your cup of morning coffee out on your porch in the sun.
It can also be saying no to something that will overwhelm you. Saying yes to what draws you and the work that calls your soul. Drawing limits around what you will and will not do.
It can ALSO be — feeling your feelings: your sadness, your anger, your grief, your frustration, your joy, your excitement, your happiness, your surprise, your wonder. Noticing how it feels in your body to experience these emotions.
The bubble bath or the getting nails done can be self care, too — if they are a way of restoring your power, energy, and agency. Caring for yourself is an act of great compassion. Caring for yourself is what brings life into this world, to nourish yourself and others.
What are some practical things you can do today to remember and nourish your own light? What are some ways that you, in your own way, can act in nonviolence toward yourself, to be a little more gentle and loving in how you approach yourself?
We'd love to hear about it in the comments.