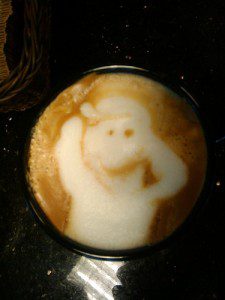 Coffee, dark, bitter, exotic, rich, alive, there is a lot that can be said about this prized beverage. Many of us thrive on it, depend on it's deep power, and even worship it at the start of every day. Many a dark and dusky morning am I reminded of the words of my dearly departed sage friend Issac Bonewits:
It is by Caffeina alone 
that I set my mind in motion...
More information about his ode to Coffee and the ritual bean in general can be found on Witchvox.
Hailing from the wildest corners of the globe from the misty Blue Mountains of Jamaica to the volcanic ash soils of Hawaii this sacred plant is revered by all, including the gods and goddesses of Santeria / Lukumi, Haitian Vodou, and New Orleans Voodoo.
New Orleans Ritual Voodoo Coffee– There are many different ritual coffee drinks used around the Afro-Diasporan world. Many of these are alcoholic and are used both as offerings to the gods, and fortification for the worshippers. This one is great for honoring the ancestors at Halloween, more correctly referred to as Samhain. The following recipe is dedicated to my dear friends at the Voodoo Spiritual Temple in New Orleans, and the coffeehouse Voobrew Café which used to be next door.

1 large cup dark roast coffee with chicory
1 healthy dash light cream
1 pinch cinnamon
1 pinch nutmeg
1 healthy dash dark rum ( we prefer Barbancourt)
1 tsp. cocoa powder
Mix together and enjoy. For more recipes for the spirits, and yourselves please check out my African-American Ritual Cookbook .