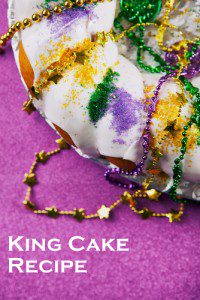 Nothing screams out Mardi Gras like King Cake. The purple, gold, and green delicacy is a staple for the holiday, even for those who have never been to New Orleans. Officially Mardi Gras season begins on Three Kings Day, January 6th. The real fun however gets started with Krewe Du Vieux, which rolled this year on January 31 2015. This Krewe has one of the most deliciously wild and raunchy reputations, and that's why we love it. This year's theme is Time for change, and the instructions were to bring some spare change and a change of underwear. Mardi Gras Day (February 17) is fast approaching everyone, so it's time to maybe change your underwear, and definitely have more king cake.
The King of the Crescent
In the city itself everyone has their own special favorite. Many stand online to get the classic French pastry King Cake. It is flaky, buttery and divine, rivaling anything you can find in Paris. Then there is blueberry, praline, cheese, cinnamon, brownie, and everything in between. In New Orleans people eat King Cake for breakfast, lunch, dinner and snack time. Unlike Mardi Gras beads and Bourbon St., King cake is something natives really truly enjoy. My choice for the classic French delicacy can be found at Croissant D'or on Ursulines Avenue. People stand on line for this, in a city that is all about the food, and that is saying something. The Peace Bakery is said to even offer a Gluten-free version, for those of us who care about such things.
The Purple, Gold, and Green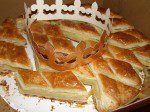 Purple is to represent justice, Gold for power, and Green for faith. The colors are tradition and have been used for over a hundred years. When you put them on a King Cake, you can have your colors inside and out. The tradition of the cake itself dates back to the middle ages, where it originated in France. While the oval shape of the king cake is said to be representative of unity. The thing the cake is famous for however is the baby, and to fend off further bizarre lawsuits that I have heard are being directed at bakers, let me say in large print DON'T EAT THE BABY !
The Original Three Men and a Baby
The magick, the mystery, the luck, the "obligation," is all about that baby. The plastic baby is said to represent Baby Jesus. Tradition has it that finding the baby in your slice of cake means you will have luck for the coming year, it also means you have to buy the next king cake. The secret surprise inside the cake isn't always a baby, other King Cake revelers have been known to hide a bean, pecan or a coin inside the cake.
Quick King Cake Recipe-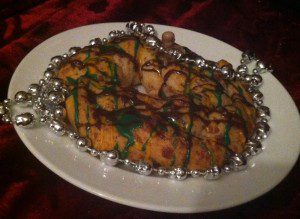 Those wishing to make this delicacy from scratch the process takes a serious amount of time, and my hat and my mardi gras mask are off to you. Betty Crocker has a quick version that takes 3 ½ hours to make. Good Luck with that. New Orleans is the Big Easy…. so this recipe is easy too. You can use a mix, people seem to prefer Mama Papaul's, or you can make your own shorthand version from things you can find in most every market.
Ingredients:
1 can Refrigerated Cinnamon Rolls
Red, Blue, and Yellow Food coloring
1 Tablespoon cream
1 drop essential lavendar oil
1 Mardi Gras Baby
Warm cream slightly over very low flame or in microwave. Add one drop of lavendar oil. Open package of cinnamon rolls, take out the frosting and place in a small bowl. Add cream and oil mix to frosting and mix well, set aside. Unroll the individual rolls into long strips. Take three long strips and braid them together. Repeat with three more strips. Place both strips onto a greased cookie sheet and press edges together to form an oval, or as close as you can get. Bake according to directions on package, remove from oven when done and cool completely. Take frosting and separate into 3 bowls. Add food coloring to make one gold, one green and one purple batch of frosting. When the cake is cool, poke in the baby, and drizzle the frosting, which should have a glaze consistency, over the cake. Use one color at a time. Enjoy and don't eat the baby ! For more of my recipes check out The African-American Ritual Cookbook.
Good luck, share the cake, share the good times, share this post and Happy Mardi Gras!