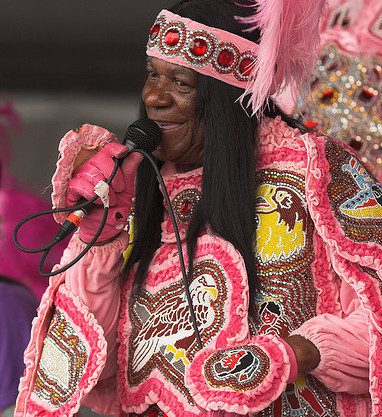 For many New Orleans means food, jazz, and letting the good times roll. Those who have the city in their soul love those things too, but they also know the spirit and the legacy is carried on the wings, or feathers if you will, of the Mardi Gras Indians.The Mardi Gras Indians date back for hundreds of years in New Orleans. Mardi Gras Indian history is an interesting gumbo of influences just like the city itself. There is evidence of the Native people of New Orleans, tribes like the Choctaw, the Seminoles, and the Chickasaws helping to free people of color from slavery. These practices led to the infamous "Natchez Revolt" where Native people and slaves alike attempted to protect and defend native land from French intrusion. Unfortunately, they were betrayed, and a bloody massacre ensued with some of the slaves beheaded, and their heads placed on pikes on the levee as a scare tactic. The secret alliances born in the wake of these horrors did not die. Native people continued to help slaves escape to the maroon camps in the swamps. According to author Willie W. Clark Jr., "in 1746 archives begin to refer to slaves dressing as Indians, as the African-Americans began to celebrate Mardi Gras in their unique customary fashion. These were in all likelihood, the first known "Black Indians." So it began.
Big Chief Monk Boudreaux is a powerful presence with a luminous spirit. I was honored and pleased to meet him on my trip to New Orleans last month. It is an honor an a privilege to see a Mardi Gras Chief on Mardi Gras Day or an day, you can get a glimpse of the pretty pretty show here.
Monk Boudreaux is, however, much more than just a pretty chief. He is a man with a deep and powerful message about both the past and the future. I was excited to see the Big Chief perform on stage with Johnny Sansone and many other great musicians at the iconic Maple Leaf Bar . Here is a piece of the show.
I was fortunate enough during the set break to speak with the Big Chief himself. We talked about the importance of education, family, and continuing the struggle. Monk Boudreaux is an inspiration and a joy to be around. He is a living legend we would all do well to listen to more often.