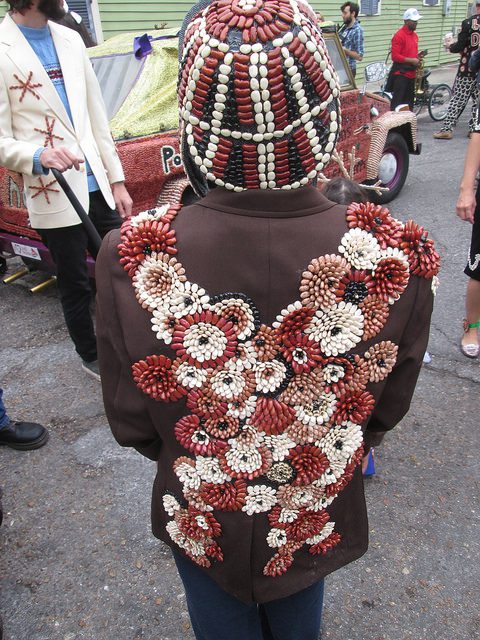 Legend says that the great jazz musician Louis Armstrong signed all of his letters "Red Beans and Ricely Yours. " Many cultures feature their own version of beans and rice. Red Beans and Rice has long been a staple food in New Orleans and the Southern U.S. The Crescent City even has it's own Red Beans and Rice parade, a fairly new addition to the wonder that is Carnival. The Redbeansparade.com website explains it was the brainchild of Devin DeWulf and his absolute "love of beans and the culture of New Orleans." The parade is an old school Second Line, and takes place each year on Lundi Gras. It involves much use of glue guns, and creativity.  Unfortunately, I have never attended, but it is certainly on my bucket list of things to do.
The Red beans parade takes place on the Monday before Mardi Gras, because Monday is the traditional day for Red Beans and Rice. As my African-American Ritual Cookbook explains these "are eaten by New Orleans Voodoo practitioners on Monday for protection. Originally it was cooked on Monday as this was designated for washing day, and the Creole cooks needed a dish they could put on ahead of time, and leave to cook during their busy day." The dish was also a great way to use up some of the leftover Sunday ham, also a Louisiana staple.  It is said even Voodoo Queen Marie Laveau had her own version of this dish, and here's one of my favorite versions. Enjoy it, and if you like what you have read here please remember to share!
Red Beans and Ricely Yours Recipe
4 cans Red Kidney Beans (rinsed and drained)
4 cups Chicken Stock
4 cups cold water
1 large onion, chopped
4 cloves garlic, minced
4 Bay leaves
2-3 Hot peppers, chopped fine
1 tsp. Apple Cider Vinegar
1 tsp. dried thyme
1 tsp. dried basil
1/4 cup fresh parsley, diced
1 lb. pork cooked and diced (use andouille sausage, bacon or ham)
1/2 tsp. salt
1/2 tsp. Black Pepper
1/2 tsp. White Pepper
3 cups hot cooked rice
Place beans in a saucepan with water, chicken stock, vinegar, onion, garlic, spices, peppers, and pork. Bring to a simmer stirring frequently. Cook over low heat, continuing to stir for 3-4 hours. Remove and discard Bay leaves. Adjust salt and pepper as necessary. Serve over hot cooked rice. Would be well paired with a Burgundy wine and a nice French bread. Serves 10-12 people.