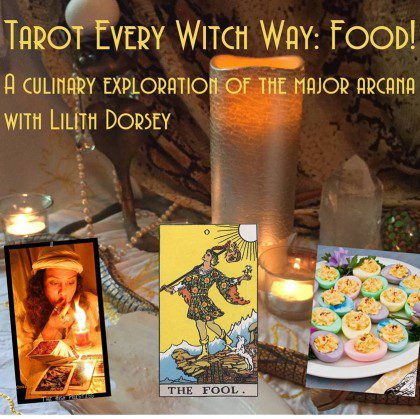 The beauty of the Tarot is that is comes through every witch way. There are many different ways to experience the power and knowledge of Tarot. People use books, practice, meditation and more. I'm so excited to tell you about my new workshop and video series Tarot Every Witch Way . The first workshop and video series will focus around food.
Many years ago I had a client come to me for a reading about her autistic son. It quickly became clear to me during the session that she needed to be able to have a deeper, and more inclusive relationship with what the cards were saying about her and her family. Maybe her son would be able to eat some magickally charged foods and internalize the advice that cards were giving him. It was then I began studying the relationship between tarot and food.
The same way each card has a meaning, it also has a corresponding food that will help guide you towards your proper path. By cooking and eating these foods you can gain insight into their true meaning for you and your situation.
Tarot Every Witch Way Video Series
July 9th 6pm – The Fool. We will be making Fool's deviled eggs and I will be answering all your questions. The fool teaches us that the end is the beginning, and the beginning is the end. We must greet all new endings and beginnings with folly, and joy, and a full openness to possibility.
July 16th 6pm – The Magician. This week will feature New Orleans style ritual coffee. Yes, it has liquor. The Magician tarot card focuses on the first manifestations of realized potential. The combination of coffee and alcohol will show us what is possible with this card.
July 24 7pm – The High Priestess. To many the High Priestess Tarot card is associated with pomegranates. The sacred energy of the High Priestess is complex. She is both maiden and crone. Then also she is both hot and cool. It's summertime, and I thought it most appropriate to prepare a summer dish for this card, so we will be making Cucumber Pomegranate Salad.
and so on every Sunday night (Goddess and technology permitting) …. The videos will be streaming live on my Facebook Lilith Dorsey Author Page, and the later available on my youtube channel too. Please like and subscribe to these so you don't miss a thing.
Tarot Every Witch Way Worskhops
July 29th Tarot Society Brooklyn, NY Click Here to get tickets ! *****(Update postponed until August 12)
One of the most beautiful and intriguing things about the tarot is that it can be interpreted and experienced in an infinite number of ways. There are foods, oils, herbs, music, crystals, and more that can be used to help you better understand the cards.
Join me for this series of workshops where we examine "tarot every witch way." Take one or all the classes as we dive into the depths of an ancient medium where few have truly tread.
This workshop will give an in depth culinary exploration of the major arcana cards and their corresponding foods. Learn how to better understand the cards through recipes and tastings. We will sample Fool's Deviled Eggs to help with beginnings, endings and transitions in our lives. A sensual chocolate dessert to explore the Strength/Lust card is being served, and will be discovering much more as we fully taste the rainbow of delight the Tarot has to offer.
$15 + $5 fee for food (payable to Lilith at the class)
4 Charles Place, Brooklyn
All tickets final. Limited to 12 people.