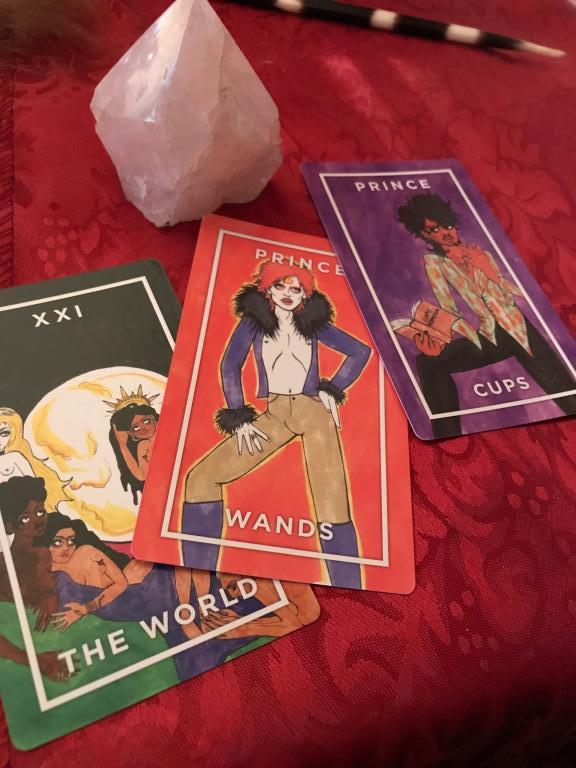 Slutist Tarot is like nothing you've seen before. Written by Morgan Claire Sirene, it celebrates sex positivity and gender inclusivity in every way. The deck is named for the Slutist "sex positive collective founded by Kristen Korvette in 2013 dedicated to telling the stories of witches, sluts, and feminists everywhere." This is exactly what this deck does.
The cards exude an unabashed sexuality that is like a long tall drink of water, to invoke a phrase. Each image speaks in it's own unique and sensual way. It is almost as if the characters dance off the cards. The Slutist Tarot kickstarter page for the project tells us that this isn't the archetypal Fool's journey but instead the Maiden's. "In her journey, she is driven by hedonism and has hearts for eyes as the world expands around her (The Fool); she discovers her own bodily autonomy and sex magick (The Magician); she transforms herself through a myriad of experiences and influences (The High Priestess through Temperance); she finds herself in toxic and dangerous situations whether with people or substances (The Devil); she discovers that the chaos magick she's been brewing has forced her to sacrifice everything, and she sees all the excitement and pleasure come crashing down (The Tower). From rock bottom, she looks up remembering her strength and the power of her sexuality (The Star); she faces her trauma (The Moon); and through divination and self-love she is able to heal and stand up strong (The Sun). In the end, she realizes that she is a part of everything else, as she sees the world reflected in her rather than herself reflected in others (The World)."
This is a powerful and evocative journey that many of us can relate to, myself included. The images are fascinating. Each card re-imagines tarot symbolism in a new and realistic way. They tell the journey, pointing to presents and pitfalls along the way. It's definitely a great working deck worthy of anyone's collection.
As always if you have enjoyed what you see here please remember to like, comment and share !