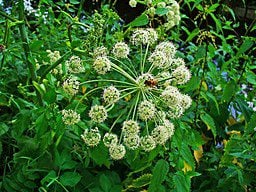 Angelica Root was traditionally used to cure the plague, so if this isn't the time to write about this Hoodoo botanical, I don't know when that would be. Hoodoo herbs tend to have powerful names and this plant has one of the best, Angelica is also called root of the Holy Ghost. This is straight up proof that this plant has been used for millennia. It grows naturally in colder climates, and is native to places such as Russia and Scandinavia. It's botanical name is Angelica archangelica and it is closely related to parsley and carrots.
Hoodoo Healing with Angelica Root
Angelica root is definitely part of the go-to list in Hoodoo for healing. It was used during the plague of 1510 in Italy, and Paracelsus, a noted alchemist and prominent physician of the time called it "marvelous medicine." It has long been connected with the archangel Michael and is said to bloom on his holy day.
A simple healing bath can be made by pouring 1 cup of very hot tap water over 3 tbs. powdered angelica and 1 Tbs. dried basil. Stir well and let sit for 3 hours. Then strain and add liquid to your bath water. The root can also be washed in holy water then left to dry. When this is accomplished, carry it in your right pocket for healing and protect when travelling far from home. Another tip is to put powdered angelica under you doormat so your home is protected from both illness and danger.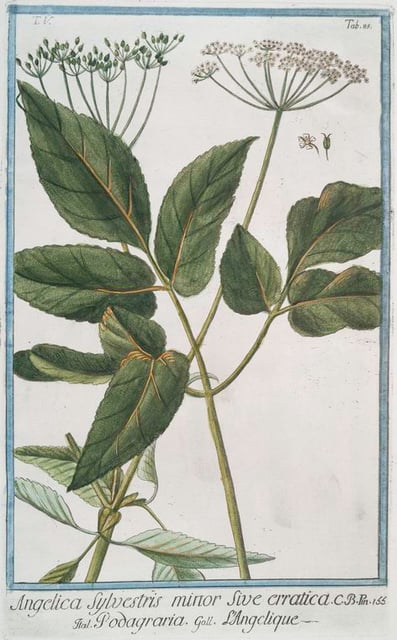 Drink Your Medicine
Popular liquors like gin and chartreuse are known to include Angelica root as part of their ingredient list. But if your don't want to drink this delightful plant, you can take it as a supplement. In fact it is even mentioned on the WebMD website, saying it can be useful for ailments ranging from arthritis to flatulence to premature ejaculation. It's healing powers even seem to be successful for the fires down below.
Hoodoo Protection Charms
Angelica is ruled by the sun and is thought of as an herb of fire. It can be used in spell-work for healing, divination, psychic connection, removal of negativity, and not least protection. One popular protection charm is made by simply attaching the root to a cord and wearing it around your neck, tuck it under your clothing so it is not touched by others. Angelica is also the prefect thing to place into a gris-gris bag and hang high up in a child's room to keep them safe.
As always if you have enjoyed what you read here please remember to like, comment, and share. And check out the other Hoodoo posts here on Voodoo Universe.