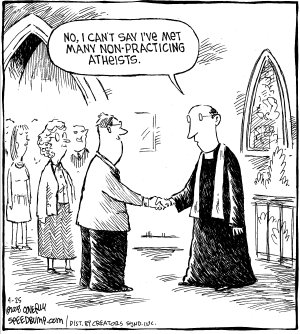 On extremes of either side of the great modern ideological divide we find atheists: on the Right live the anarcho-capitalists and Randians, libertarians who worship freedom as an end in itself; on the Left we find the smug science of the New Atheists and the vitriol of Marxists. Both sides are unapologetic secularists, it's their religion.
This fact should show, in a preliminary way, why the Church cannot be reconciled with either modern iteration. Right or Left. The Church stands on its own foundation, a foundation built before (and likely to last long after) modernity. This does not mean that Catholics can afford to sit one the sidelines during the political debates of the day.
We surely cannot become apathetic or disinterested.
But we must recognize that the quarters drawn are virtually identical to each other. We cannot forget this: all modern ideologies lead to the same, Godless conclusions. It is not so much that they go in different directions, it is that they are on the same, modern road.
In many real ways, we are on that road too. We're in this together. There is no going back to some romantic paradise that never was. We are not quite as different as we would like to be from our atheist sisters and brothers. We are broken too. The question is, where do we turn to in our brokenness?
To whom shall we go? (Jn 6:68)
Walking down the road of very late modernity we must turn, revolve, experience the revolution of conversion (μετάνοια), again and again, for the very first and very last time. Where do do we turn to?—Towards the possibility that there is more than atheism somewhere along the way. Towards the possibility of finding God within the lasting, mysterious sign of love.
All modern roads lead to atheism, yet even that path can bring us back to Christ, through love.
Behold I make all things new. (Rev. 21:5)