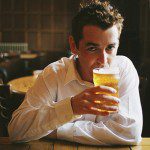 I consider myself a spiritual guy. Though I'm a lapsed Catholic, I believe in God. I meditate and pray daily. I like nothing better than to spend an hour or two reading a good spirituality book. Oh, and I write the Wake Up Call column here at Patheos.
Yet, there is a side to me that craves more than just a fulfilling spiritual life. While the party-all-the-time days of my youth are long gone, I still like to engage in activities that keep me in touch with the wilder side of my soul.
I enjoy going out with my wife for a good meal, accompanied by a bottle of wine and often followed by a nightcap. I still go to clubs in the city to hear live bands. I enjoy quaffing pints of craft beer with friends, whether it's at a local pub or while watching a sporting event, in person or on TV.
But do these hedonistic pursuits mix with the spiritual life?
At the spiritually-charged Web site Rebelle Society, there's a story by Victoria Erickson titled "8 Wonderous Ways to Restore Your Wild Spirit" that talks to this issue. It offers several suggestions on escaping life's often draining rules and routines, by feeding "our naturally wild spirit". Here are three of my favorites, pulled directly from Victoria's article:
Find live music. Find the kind of music that makes your soul soar from the sound. Music's rhythmic beats exist to tell universal truths that awaken us from everyday hibernation.
Make love. Like it's your last night on earth, gasping for air and sanity, frantic under clouds and stars and sheets. The kind that's made of heartbeats, intertwined flesh, and fiery, blazing, all consuming passion.
Get wet. These are cures that open you in places you forgot could even open, for salt and water are a miraculous mix. Release disappointment through tears, sweat from awesome, bodily pumping movement, and swim in the soft caress of water.
I say bravo to all of these ideas, and have added three of my own:
Go for a drink. Invite a friend to a local bar, preferably one without the distraction of a blaring TV, and engage in the art of conversation. A bar may be a good place to drink—but more importantly, it is a place to laugh and share stories and enjoy the companionship of a good friend.
Do new stuff. Don't have time to take up a new hobby or go on an exotic vacation? Tweak your current routine. Drive a different route to work, even if it takes a little longer. Go out for dinner on a weekday. Stop by that coffee shop, you've always meant to visit. Mix it up!
Sit in a church. Not on Sunday and not when any type of mass or service is going on. Sit in a church when it is empty or nearly empty of people. Clear your head of all thoughts and do not pray. Do nothing but immerse yourself in the great silence of a sacred space.
Set your life on fire—seek those who fan your flames. ~Rumi
Like Rumi, the spiritual author Thomas Moore believes that we must find and light the "spark" within, and pursue the intangibles that give us our passion for life. Moore writes that we must fight against "mediocrity in life". He believes that "it is the failure to let the inner brilliance shine" and "doing only what is necessary and sufficient," that leads to a life of mediocrity—and ultimately, to boredom and even despair.
It is in our own best interests to "fan our flames" (Rumi), to "light our spark" (Moore) and to "feed our wild spirit" (Erickson). The alternative is to live a less than full life, a life that's less than satisfying. And who want's that?
A different version of this story appeared on Contemplative Journal.