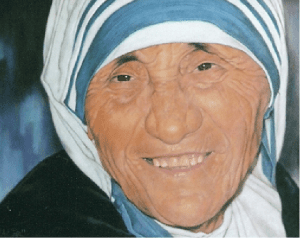 I was recently reading one of my favorite life philosophy books, when author John Templeton asked a question that stopped me in my tracks:
Was the Earth a better place because you were born?
Wow, that's a tough ask, isn't it? For some context, Templeton credits this line to an old American Indian myth. When a tribe member made the journey to "the new life" (or what we call death), he was met by a figure known as "the Great Hunter". Before he could move on, the deceased had to answer the question in the affirmative, as in "yes, I have made the world a better place."
So how do we accomplish this noble task in our own lives? I stumbled upon some pertinent advice from Mother Teresa, the Catholic missionary known for providing basic services to the poorest of the poor, including treating those with HIV/Aids, leprosy and tuberculosis. (She is now nominated for sainthood in the Catholic church.)
It seems that when Mother Teresa received the Nobel Peace Prize in 1979 (donating her $192,000 prize to the poor of India), she was asked "what we can do promote world peace?" Her response: "go home and love your family". She went on to discuss what she saw as "the poverty of the west":
When I pick up a person from the street, hungry, I give him a plate of rice, a piece of bread, I have satisfied. I have removed that hunger. But a person that is shut out, that feels unwanted, unloved, terrified, the person that has been thrown out from society—that poverty is so hurtable [sic] and so much, and I find that very difficult.
While Mother Teresa spent her life helping some of the most destitute people in the world, she looked at our society and saw a different kind of poverty—one of the spirit. And her recommendation to cure this ill was a simple one: The good you can do in this life starts at home. That's the first step. She elaborated further advising us to:
Spread love everywhere you go: first of all in your own house. Give love to your children, to your wife or husband, to a next door neighbor…let no one ever come to you without leaving happier.
So it starts with your family and expands outward, to your neighbors, your workplace and on to your community. Mother Teresa believed not in grand gestures, but in the power of these small acts of compassion. She is quoted as saying "we can do no great things—only small things with great love."
As a recap, below is a version of the initial question put forward by John Templeton, followed by Mother Teresa's words that I believe provide the perfect answer. They are truly words to live by.
Q: How do you make the world a better place?
A: Spread love everywhere you go…let no one ever come to you without leaving happier.
Want "Wake Up Call" delivered to your inbox? Subscribe by e-mail in the right hand column, just under the first ad, to receive a new story each week.