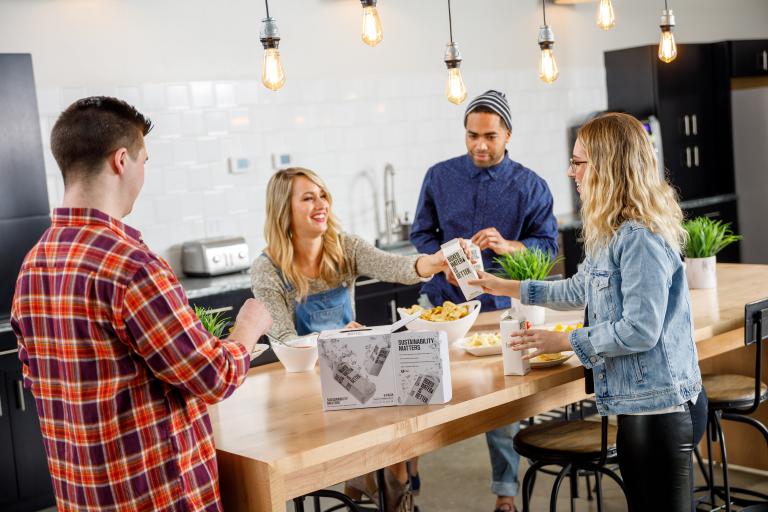 Beginning in early childhood we are taught to share. While sharing is primarily taught by our parents, it is not emphasized solely in the home. Children's television programming frequently reinforces the importance of sharing. That's because we are not born with a willingness to share. On the contrary, it is a learned attitude. Anyone who has spent even a short time with children knows this is true. As I'm sure we've all observed, some people learn it better than others.
In the book of Acts, we see the church practicing an extraordinary kind of community life. According to the author, these Christians "had all things in common" (Acts 2:44). Also, "no one claimed private ownership of any possessions, but everything they owned was held in common" (Acts 4:32). Some interpreters have taken this to indicate that these Christians practice an early communalism. Such interpreters assert that these Christians literally gave up private ownership of all their goods: homes, fields, everything. But were these Christians really living in this kind of community?
In the following blog, I will argue that they were not. Instead, I will demonstrate that they took seriously God's instructions to Israel in Torah. God wanted Israel to be a nation in which there were no needy. Therefore, the Israelites were to practice an extraordinary form of sharing of their personal resources. Early Christians knew their Bibles well and understood that these instructions applied to them as well.
Generosity and Sharing in Torah
Throughout most of history, poverty has defined the human experience. Most people lived at or below a subsistence level. They barely had enough to feed and clothe themselves and their families. God recognized this and gave Israel instructions to address this problem. If they followed these instructions, there would be no needy among them.
The most basic principle that was to guide Israel was love for one's neighbor (Lev. 19:18). This love was expressed by a willingness to give generously to needy neighbors in one's community (Deut. 15:7-8). God specifically said to Israel, "Since there will never cease to be some in need on the earth, I therefore command you, 'Open your hand to the poor and needy neighbor in you land,'" (Deut. 15:11). The early church knew their Bibles very well. When they saw that this was a high priority to God, they made it their priority.
In addition to generosity, God instructed Israel to be willing to share. Since Israel was an agrarian society (a society built around farming), this sharing would be reflected in their farming practices. In Lev. 19:9-10, the Israelites were commanded to leave something behind when they harvested their fields, grapevines, and olive trees. They were not to strip the vines or trees bare or harvest the edges of their fields. Instead, they were to leave some behind. If any wheat fell on the ground, they were to leave it where it fell. All of these leftovers were for the poor. These commands are repeated in Lev. 23:22 and Deut. 24:19-22.
The Israelites were to share in others ways. In
Deut 23:24-25
, God says that the Israelites had permission to walk through their neighbors' vineyards and fields. When they did, they also had permission to pluck grapes or heads of wheat and eat them as they're walking. However, and this is important, they were not allowed carry any grapes out of the vineyard or wheat from the field. They could only eat some as they passed through.
God's plan for Israel was a community based on values radically different than her neighbors. For the rest of the world, poverty and lack were simply a way of life. In Israel, love for neighbors expressed by generosity and a willingness to share would provide a remedy for lack.
Implication for Community Life
It is important to note that God's instructions do not indicate that private ownership was ever surrendered. People truly owned their land and homes, fields and vineyards and olive groves. What made the Israelites different was their attitude toward their possessions. They did not view their possessions as resources to be used solely for their own good. Instead, they saw their possessions as resources given to them to help their needy resources. In this way, people did not view their possessions as merely their own. Rather, they held all things in common. "My fields are not just to support me and my family. They are also a resource to help my needy neighbors."
Like I said, the early church knew its Bible. They understood God's priorities. In addition to the instructions in Torah, they also knew that God had judged their ancestors because they failed to maintain their loyalty to the covenant, to Torah. This included failure to help the needy in their communities. The early Christians made it a priority to find ways to help the needy in their communities. Just as God had intended for Israel, they did not view their possessions as merely their own. Instead, they saw their possessions as resources that God had given them to aid their needy neighbors. Their possessions were resources for the common good.
From the very beginning, God wanted his people to practice extraordinary love and generosity. Those who are truly filled with God's Spirit will be characterized by these practices. This is a key part of our witness. This should make us different than our neighbors, just as Israel was to be different than her neighbors. Let's put into practice God's instructions to his people. Let's follow the example of our ancestors in the faith. If we do so, just like the church in Acts, there will be no needy among us in our church communities (Acts 4:34).