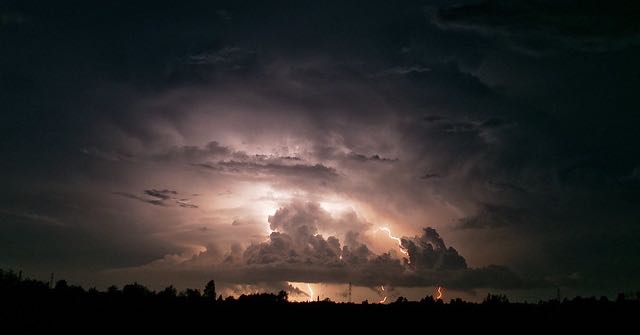 One of the reoccurring patterns of Israel's history was their predilection for chasing after the gods of their neighbors, particularly Baal. Why was Baal such a temptation to Israel? Why didn't the Israelites simply worship the God who gave them the Promised Land? In today's blog, we will examine Judges 2:11-18 in order to answer these questions. What we will see is that the Israelites actually did this for understandable and pragmatic reasons. Nevertheless, their choices actually produced the exact opposite results they hoped for. We will also see that today it's possible for us to make the same mistakes they did. There are modern day Baals. We need to learn from Israel's example that, no matter how logical it may seem, we must resist following the examples of our neighbors.
Have You Ever Seen the Rain?
In Judges 2:11, we are told that the Israelites did evil in God's sight by worshipping the Baals. Why was this god so tempting to them? A little bit of information about Baal and about life in ancient Israel will help make this clear.
First, Israel and her neighbors were agrarian societies. This means that the overwhelming majority of the people lived off of the food they grew themselves. Unfortunately, this was not easy in the ancient world. In order to grow enough food, people were dependent upon conditions over which they had no control. The most important condition was regular and plentiful rain. Without sufficient rain, your crops don't produce enough to feed your family. As a result, you and your neighbors suffer and sometimes die due to famine. Conversely, too much rain or violent storms could also destroy your crops and also result in famine.
Second, many of Israel's neighbors believed that Baal controlled the rain. However, these people did not think that Baal, like most other gods, was favorably disposed toward humans. Therefore, they went to great lengths to get Baal on their side. They offered sacrifices in order to provide him with food. They performed ceremonies that were designed to flatter Baal and stroke his ego. They didn't do this because they loved Baal. Rather, they did it because they thought it was necessary to survive and thrive. If they were successful in their efforts, Baal would provide them with the right amount of rain and they would have enough food to stay alive.
In many respects, the Israelites were no different than their neighbors. They worried about growing enough food for themselves, too. Now imagine you're an ancient Israelite. Your neighbors tell you that the best way to ensure you get enough rain is to turn to Baal. From your perspective, this is logical. If Baal controls the rain, then it only makes sense to do whatever is necessary to get him on your side. It's logical. It's practical.
So, even though God forbids it, you decide to offer sacrifices to Baal. Your practical side overwhelms your commitment to your God. You justify your decision by telling yourself that you're simply doing what is necessary to survive. At first, this seems like a solid decision. There is ample rain and you take in a plentiful harvest. The decision seems to have paid off.
Or does it? We read in Judges 2:14 that, in response to worshipping the Baals, the Lord gave them over to plunderers. These neighbors who convinced the Israelites to worship their god swoop in and take all the food that they grew. Judges 2:14 continues by saying that the Lord sold them into the power of their enemies, so that the Israelites could not withstand them. The Israelites were powerless to stop these invaders.
Now all of this began with a calculated decision. Rather than obey God, the Israelites took their provision into their own hands. The decision was practical, logical, and defensible. But it was still disobedience. In the end, everything they hoped to gain by their disobedience, they lost. The famine they hoped to avoid became their reality.
Despite Israel's disobedience, God remained faithful to his people. In Judges 2:18 we read that God was moved to pity for Israel because of the persecution and oppression they experienced. He raised up judges for Israel to deliver them from their enemies. This speaks to God's character. Even in the midst of his anger over Israel's rejection of him, God never rejected them.
God didn't hand them over to their enemies out of mere vengeance. He did it to turn their hearts back to him. God placed Israel in the Promised Land so that they could fulfill their function to be a blessing to the nations (Gen 12:3). Their lives were supposed to serve as an example to the nations around them that there was a better way of living, a way based on obedience to the creator. By worshipping God and obeying his instructions, Israel would show their wisdom and discernment to its neighbors. Then their neighbors would say, "Surely this great nation is a wise and discerning people!" (Deut 4:6).
(Sorry, I couldn't find a good CCR song title for this section).
As 21st century Christians, we may not be tempted by false gods. However, how often do we look to our non-believing neighbors for examples and advice? We're not all that different from our ancestors in the faith. Just like them, we want to survive and thrive in the world, and the world has all sorts of opinions on how to make it happen. Far too often, Christians compromise their faithfulness to God by allowing themselves to be influenced by their neighbors. They justify their compromises by telling themselves that it is necessary. Obedience to God is a great ideal, but in the "real world" things work differently. I'm sure these Christians find material success in their efforts, which probably makes them think they've made the right decision. Unfortunately, by so doing, they end up looking just like the people around them.
When we become Christians, we enter into a community that carries on Israel's function to represent God to the nations of the world. God wants to bless all the nations through us. Our job is to be a city set on a hill, to be salt and light (Matt 5:13-14). We can only do this by obeying God. This means we must resist the temptation to follow our neighbors' lead. It may seem practical at the time, but in the end we will loose all that we hoped to gain. Worst of all, we will fail in our purpose to bring God's blessing to our neighbors.