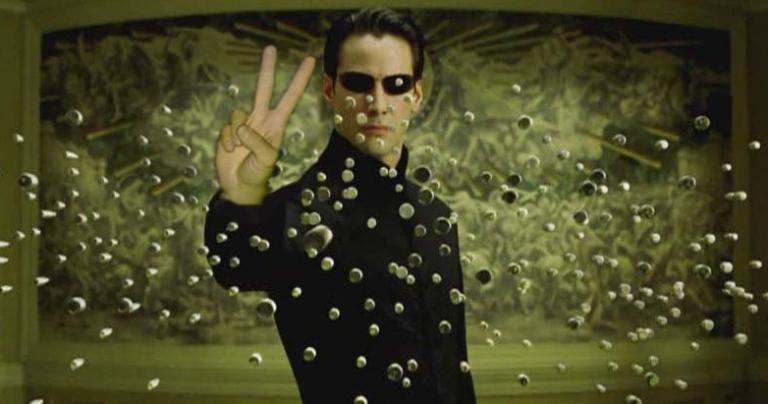 It's been 20 years and The Matrix is still my favorite movie. One of its most memorable scenes is Neo's encounter with Spoon Boy:
Spoon boy: Do not try and bend the spoon. That's impossible. Instead, only try to realize the truth.
Neo: What truth?
Spoon boy: There is no spoon.
Neo: There is no spoon?
Spoon boy: Then you'll see, that it is not the spoon that bends, it is only yourself.
Alternative Realities
I like The Matrix because it captures how two alternative visions of reality can exist simultaneously. One is true reality and the other a veil that has been pulled over our eyes. I take this to be a deeply Christian idea.
The Apostle Paul captures it succinctly in 2 Corinthians 5:14-17:
For the love of Christ urges us on, because we are convinced that one has died for all; therefore all have died. And he died for all, so that those who live might live no longer for themselves, but for him who died and was raised for them. From now on, therefore, we regard no one from a human point of view; even though we once knew Christ from a human point of view, we know him no longer in that way. So if anyone is in Christ, there is a new creation: everything old has passed away; see, everything has become new!
Hostility & Reality
Let's apply this to something that we know all too well: conflict. What does the death of Christ truly mean for hostility between humans? We are fond of the idea that Jesus died for us. It comforts us and gives us hope. It means inward renewal, a fresh start, and victory over death. We want that for ourselves, our loved ones and, when we are at our best, all people–including our enemies.
Yet it is not clear that we are equally fond of allowing Jesus to kill for us. Ephesians 2:13-16 speaks precisely about this:
But now in Christ Jesus you who once were far off have been brought near by the blood of Christ. For he is our peace; in his flesh he has made both groups into one and has broken down the dividing wall, that is, the hostility between us. He has abolished the law with its commandments and ordinances, that he might create in himself one new humanity in place of the two, thus making peace, and might reconcile both groups to God in one body through the cross, thus putting to death that hostility through it.
Put simply, Jesus killed hostility.
An Ongoing Reality
According to this passage, Jesus killed the hostility between Jews and Gentiles back in the first century. But that was only the beginning. Jesus has killed once and for all whatever hostility may arise among his followers for all generations.
According to
Romans 6:10
,
1 Peter 3:18
, and
Hebrews 10:10
, Christ died for sins "once for all." What he accomplished on the cross wasn't temporary and it wasn't incomplete. Our sins were forgiven once and for all, death was defeated once and for all, and the hostility between us has been vanquished once and for all.
On the cross Jesus truly killed the hostility between people groups. In baptism we have identified with that victory by dying and rising with Jesus. It follows, then, that we should accept and live into the new reality that hostility no longer remains between us and others.
So if we allow hostility to continue—if we secretly relish it and thrive off of its negative energy—then we still view one another from a human point of view. Creation is not new for us. The old world is still the most relevant reality in our lives. We are still "without Christ…strangers to the covenants of promise, having no hope and without God in the world" (Eph 2:12).
Back to Reality?
Of course, we know that hostility still exists in this world—even among believers. So this may sound fanciful. But it would have seemed no less so to the Ephesians. They experienced real hostility between Jews and Gentiles in Asia Minor in their day. Still, Paul asked them to accept that Jesus' death put all such hostility to rest and commanded them to live into that new reality. He doesn't let them off the hook in the name of how the world really is. He really believed in a new world—and so might we!
To the extent that we choose to inhabit the old world that is passing away, we continue to live in a world of hostility. To the extent that we identify with Christ's defeat of death and destruction of hostility, we enter the new world of peace that he pioneered.
When Neo truly realized that "there is no spoon," everything began to change for him.
For those who embrace the gospel truth that "there is no hostility," everything has already changed.