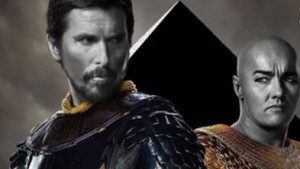 I had a chance to see about 40 minutes worth of footage from Exodus: Gods and Kings Monday night. I've been curious about what Director Ridley Scott might be cooking up with this biblical epic: The man is unquestionably a great director (his resume includes Alien, Blade Runner, Gladiator and so on), but his interaction with religion in his work, while frequent, has been mixed. Scott, an atheist, has said that religion has been the source of much of the world's evil, but he also seems fascinated by religious themes and returns to them again and again.
"I'm really intrigued by those eternal questions of creation and belief and faith," Scott told Esquire magazine back in 2012, doing press for Prometheus. "I don't care who you are, it's what we all think about. It's in the back of all our minds."
Perhaps it was Scott's dour view of religion yet curiosity regarding faith that drew him to the Exodus story. The God we see in the source material is perhaps at His most wrathful, but the faith displayed by His followers is real and powerful. While introducing the clips, Scott called Moses an "incarnation of freedom." And that freedom, obviously, was facilitated through God and faith.
I shan't say much more about the clips, other than to say that it got me excited to see the full movie later this year. Scott might not be a believer, but Gods and Kings feels fairly true to the biblical account from what I saw. Sure, there are some possible points of departure, but there are no Noah-like rock monsters in play. The plagues are divine events, frightening in their power. (The locusts are particularly memorable.)
And the film looked big—like an old-fashioned epic in the mold of Ben Hur. Chariots! Pyramids! Cast of thousands! (Or, at least, thousands of CGI characters.) It looks exciting and intense—a sword-and-sandals thrill ride toward the Promised Land.
Granted, 40 minutes of footage isn't much to go on, really—particularly if the movie is not just epic in tone, but in length. There's a lot that could go wrong. But from what I've seen, I'm cautiously optimistic. Exodus: Gods and Kings could be the year's biggest, and best, Bible movie.