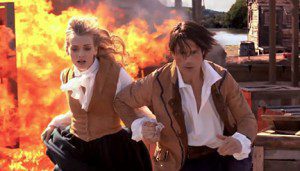 Most of us know what a Christian movie looks like: It's a gentle kitchen-table drama. An inspirational sports story. Something involving the Amish. A Christian movie is not a sprawling, CGI-laden swashbuckler complete with swordplay and intrigue and the occasional explosion.
Or at least it wasn't before Beyond the Mask.
Beyond the Mask, the brainchild of cousins Chad and Aaron Burns, rolled into theaters for a one-night only screening April 6. It was successful enough that it'll get a more traditional release (in select theaters, naturally) this Friday in more than 100 cities.
Esther O'Reilly, a regular commenter and occasional guest blogger in this space (her regular blog is found here, and her joint review of the movie with her little sister is here), had a chance to chat (via e-mail) with Luke Deboer, the visual effects coordinator for Beyond the Mask. Their conversation gives fascinating insight to what it took to realize the Burns' creative vision and how he hopes the film may encourage other filmmakers to break out of the Christian box.
How did you first become involved with this project?
In the fall of 2012, I heard about the project from Andrew and Philip Bolzman, colleagues of mine who knew (Chad and Aaron) Burns and were working on the shoot.  After catching the ambitious vision for the project, I knew I would not want to miss this opportunity!  Through my mutual connection with Andrew, I was able to contact Aaron (the producer), and by God's providence, I was brought on the project!
There are over 700 visual effects (VFX) shots in this movie, more than any other Christian film and even more than some Hollywood blockbusters. How long did the creation process take, and how did you set such a high bar within such a relatively conservative budget?
The VFX process took essentially eight months.  The barriers that we faced were numerous.  First, the scope and quantity of the visual effect shots were mind boggling, really. It's rare to see such a thing in an independent film of this size, much less a Christian film.  Secondly, we lacked experience.  This was my first job as a VFX coordinator. While Aaron (producer), Chad (director), and Ethan (Ledden, VFX supervisor) had worked on a few other VFX films before, none of them had done a film of this caliber. Lastly, the budget was very limited. The only source I can point to that allowed us to accomplish what we did was the Lord's provision and the incredible, hard-working VFX artists that created the shots.  We had a fantastic team of roughly 20 artists that were volunteering part time to help with many of the simpler shots. That team was critical in allowing us to churn through the volume of shots that we did.  We also had roughly eight exceptional full-time artists that worked tirelessly for almost the full eight months to create some of the more complex shots.  For about 25 of the largest CGI shots, such as wide cityscapes or the destruction sequences, we contracted with an outside VFX company, who were also great to work with.
Can you explain what was involved in creating an entire colonial city with CGI?
Oh my.  Quite a lot.  We start with the concepts: brainstorming the details of where buildings need to go, what they will look like, what scale they should be, etc.  Then, we often create concept art, which is essentially a painting that shows what the finished shot might look like.  After that, we hand the concepts over the a 3D artist who starts creating the 3D versions of the buildings. Through an iterative cycle of review and revision, we end up with a fairly detailed and textured model of the city.
Simultaneously, another artist preps the shot itself for compositing.  This often means "keying" the shot (removing the green screen), rotoscoping (cutting objects out frame by frame), and 3D tracking (creating a "virtual camera" that exactly mimics the movements that the real camera made.)  Once the 3D model is ready, it goes through a process known as "projection mapping", which is when an artist essentially paints on top of the 3D models so as to give them those last little details of reality (finer textures, light effects, grime, dirt, etc).  Then the shot heads over to final compositing, where the footage and the background are layered on top of each other, the camera movements are locked together, and subtle, but important details are added, such as haze, background elements (such as people, birds, chimney smoke, etc), camera blur, and lightwrap.  Once that's complete, that shot is ready to show to the director for final approval (and keep your fingers crossed he doesn't want anything changed)!
There's actually an article that gives a neat look into this process on the Beyond the Mask blog: https://btmproduction.wordpress.com/2014/03/28/visual-effects-an-interview-with-chris-arnold/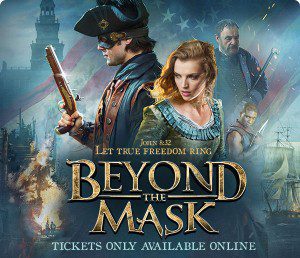 As the visual effects coordinator on this project, were you involved in creating some of the effects yourself, or was your role more of an organizational/administrative one?
My role as VFX coordinator was primarily administrative.  I communicated with the team members to make sure they had everything they needed to do their work and made sure they hadn't gone insane yet. 🙂  I did work on a shot or two myself, but nothing too crazy.  A big part of my job was also managing the information infrastructure.  From keeping our database of shots always up to date with the latest status of every shot, to managing the uploading of  hundreds and hundreds of gigabytes of footage for the different artists.
You're named in the credits as a second assistant director. Explain for our readers what a second assistant director does!
The second assistant director's primary job is to communicate the schedule to the cast and the crew. A big part of this is creating the "call sheet" for every day, which is essentially the day's itinerary with all the details people need to know, like the shooting schedule, location addresses, call times, weather, contact info, even the nearest hospital. The 2nd AD is also sometimes responsible for making sure that the actors get through hair, makeup and wardrobe at the proper times so that they are ready to go on set when they are called. Luckily for me, we had multiple 2nd ADs on Beyond the Mask!  Peter Burns (the "head" 2nd AD) and Rowen Talmage (2nd 2nd AD) took care of making sure the cast was where they needed to be at the right times.
Hundreds of homeschoolers from around the country volunteered their services to get this movie made. What was that atmosphere like on set?
The set of Beyond the Mask was a really special place to be. So many people came together to make this project a reality. It was a unique mix of local families, homeschool alumni and professional film crew.  It was cool to see how the groups blended and worked together to accomplish so much!
How do you think this movie will affect the Christian film industry as a whole?
There is no doubt about it: Beyond the Mask is a groundbreaking film.  Even aside from the accomplishments of reaching such raw scope and professional production quality, Beyond the Mask at it core expands the definition of what a Christian film looks like. They've busted through the invisible genre barriers that surround the faith-based market by creating a fictional action-adventure romance.  I hope this film will inspire Christian filmmakers everywhere to keep exploring and perfecting their crafts, to continue reaching outside the established "boxes" to touch new sectors of the market.
Beyond the Mask will have a regular theater run starting June 5. Do you have a tentative date for when it will be released on home video?
To my knowledge, Burns Family Studios has not announced a date when the film will be available on DVD or for online streaming.  But don't worry, it will be coming to home video!
Can you share any insider knowledge on what the Burns cousins are planning for the future, or is this classified?
I've had a few discussions with Aaron and Chad about what's ahead.  Both are still working very hard on the promotion and distribution phases of Beyond the Mask, and, while they are definitely thinking about the future, much still remains to be done.
What's next for you as a filmmaker? I understand you've also produced a couple short films.
I continue to be passionate about telling stories through filmmaking.  Right now, I am also pursuing my other passion, which is web design.  These two interests led me to start my own company called SetHero (www.setheroapp.com), which is a web software that allows filmmakers to easily schedule and manage their movie shoots.  SetHero was borne out of the frustrations I had with workflow inefficiencies while serving as a 2nd AD.  I continue to work on film projects as I have time.  Most recently, I was the VFX supervisor of Alex and Stephen Kendrick's new movie, War Room, set to hit theaters August 28th!
I also had the opportunity two years ago to work on the set of Polycarp, which tells the powerful true account of Polycarp, a disciple of the the Apostle John who was martyred for his faith.
What advice would you give to young people who'd like to break into the filmmaking world?
First, search yourself.  Is filmmaking something you're really passionate about?  Is it something you are willing to sacrifice for?  Making it in the independent film world takes lots of time and work.  It involves years of volunteer hours just to get the skills and connections to be able to get paid jobs (which often start off as minimum wage).  If, after thought and prayer, this is where you feel led, then go for it!  I have been making films since I was 15.  My early work was cringe-worthy, but the lessons I learned were invaluable. Regardless of whether you decide to go to college for film (I did not), make sure you remember that true learning comes from experience and hard work.  Try things and be okay with failing.