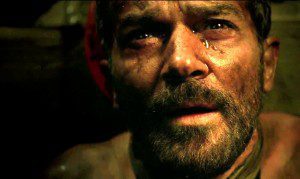 Five years ago today (Aug. 5), 33 Chilean miners were trapped nearly a half a mile underground. For 69 days, they survived in those dark tunnels. And while they were eventually rescued through the efforts of hundreds, perhaps thousands of experts topside, the miners believe their true savior was God.
"You have to have faith," miner Jorge Galleguillos told CNN. "You can never lose your faith. Faith is nourishment … Faith is life."
CNN recounted the story of the Chilean miners in a story yesterday—moments in the ordeal that felt to some, especially the miners themselves, like miracles. And many of the rescuers concur.
"These tools should not have been able to bend and go around some of these curves," Brandon Fisher, who led a team of drilling experts during the rescue, told CNN. "I mean, there's no question in my mind that the faith of God, and the faith of the world praying for these guys to get rescued was a huge factor. Science, know-how, and will were applied, but at the end of the day, the big guy had everything to do with this rescue being successful. I believe that wholeheartedly."
I remember being mesmerized by this story, just as much as the world was, back in 2010. Even now, when much of civilization is pretty numb to pain and death on the evening news, how a story like this can draw us in and, in a mysterious way, draw us closer together. Many of us were sympathetic voyeurs of sorts—following the plight of the miners, tracking the ingenuity of the rescue, praying that they might get out safely.
On Nov. 13, we'll have a chance to see the story from a different angle.
The 33—a docudrama that chronicles the disaster and ensuing rescue—will be released. It looks like it's a pretty big deal: Antonio Banderas, Juliette Binoche and Lou Diamond Phillips are among the stars, and I hope it'll get a substantial release.
And there's something more: The film looks like it will delve deeply into the story's natural faith component. Take a look:
The film won't be out for several months yet, so who knows how it might turn out. But the trailer gives me hope that it could be good—both as a movie and as an expression of faith in a desperate time. I'll be looking forward to seeing this one.