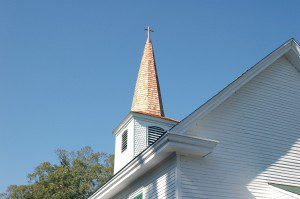 The United States is growing more secular. According to data released earlier this month by the Pew Research Center, only 63 percent of Americans are "absolutely certain" that God exists, down from the 71 percent who said so in 2007. Nearly a quarter of the U.S. population (23 percent) now reports having no religious preference—up from 16 percent just seven years earlier. Skepticism is particularly strong in Millennials (those born between 1981 and 1996), with just four in 10 young adults saying that religion is important in their lives.
Sure, the study also shows that folks who are religious seem to be growing more so. But still, those provisos don't necessarily comfort the typical youth pastor trying to foster faith in his young charges. When we see these sorts of statistics, we can sometimes get a sense—both the faithful and skeptical—that religion is increasingly irrelevant.
It's not. And the entertainment world can help give us a sense of perspective.
Few people are more relevant in our culture than Taylor Swift. Her album 1989 has sold 5.35 million copies in the U.S. so far, and it just left Billboard's Top 10 for the first time in 53 weeks. (It's only the fifth album to have ever spent a whole year in the Top 10.)
But is Swift as relevant as James Bond? Maybe not this past weekend, when the new 007 movie Spectre made $73 million. The average ticket price in the United States is around $8.61, which means around 8.5 million people saw the movie. Not too bad.
'Course, Spectre didn't earn nearly the $191.3 million that Avengers: Age of Ultron made in its opening weekend. That suggests about 22.2 million people saw Ultron the weekend of its release—nearly 7 percent of the population, assuming that no one saw the thing twice (yeah, right).
But as big as that those figures are, nothing can hold a candle to the sway the National Football League has over our culture. Football games are massive ratings winners , with NBC's Sunday Night Football traditionally the most-watched show of any given week. More than 23 million people watched last weekend's showdown between the (then) undefeated Denver Broncos vs. the (then) undefeated Green Bay Packers—a big number even by NFL standards.
Now, let's step back and look at church attendance: According to the Pew study, about 36 percent of Americans say they attend some sort of worship service every week—down from the 39 percent who said they did so in 2007.
That's 114.8 million people. Every week.
That's more people than watched the latest Super Bowl—the closest thing to a universally observed national event we have. The 111.5 million people who tuned in to watch the Big Game this February was a U.S. record, and it still wasn't enough to match the numbers of people who go to church every week. Take the biggest, buzziest pop culture phenomena we can think of, and standard weekly worship services leave 'em all in the dust.
None of this refutes the polls that show the United States growing more secular. Clearly it is. But as we consider these numbers, it's important to remember that even in today's increasingly niche-centric society, there is still one thing that can draw people together in truly astounding numbers: Religion. And I don't think that'll change for a while.