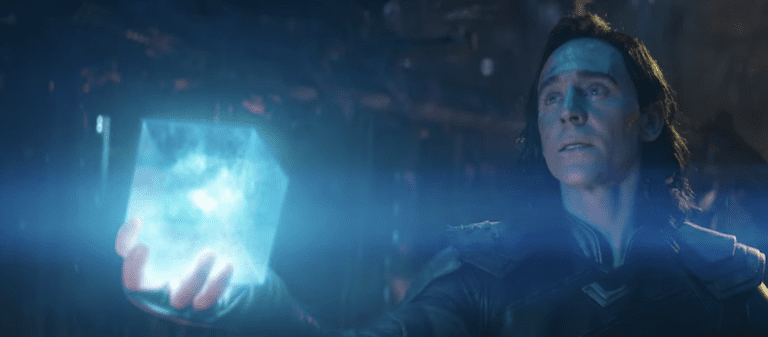 The Greatest of these is Love
"For the foolishness of God is wiser than men, and the weakness of God is stronger than men," we read in 1 Corinthians 1:25. Thanos, for all his power, comes at the problem of life through a very limited human understanding—an understanding built on, perhaps, a belief that life isn't more than an evolutionary and biological accident. That we're all just "lucky mud," as an old pastor of mine used to say.
But with God, life is a gift. Life has purpose. And it's all wound up in what the Bible says is the real universal trump card: Love.
This is important. Thanos runs after power like, I think, most of us would, based on our very human understanding of stuff. We chase after powerful things. In the MCU's case, those are Infinity Stones, and boy are they powerful. Each one gives the user power over some universal element like time or space or matter or mind.
It's interesting, though, when Thanos runs into the Soul Stone. The stone is somehow aware … and like a pagan god, it demands a sacrifice. Thanos must kill the thing he loves most. And because Thanos loves only one thing, his adopted daughter Gamora, Thanos throws her off a cliff to claim the stone.
Later, after Thanos has realized his bleak vision of a Utopian universe, Thanos has a vision of Gamora, as the child he first abducted/adopted. "What did it cost you?" Gamora asks him.
"Everything," Thanos says.
Thanos sacrificed love for power. Our heroes, on the other hand, flip the script: They sacrifice power for love.
When Thanos visits Thor and Loki looking for the blue Space Stone, Loki hands it over to save his brother—sacrificing his own life in the process.
Later, Thanos comes calling for the Mind Stone—wedged in Vision's forehead. Vision (again, taking on an explicitly Christ-like vibe) encourages his girlfriend, Scarlet Witch, to destroy the stone even though it means killing him, too.
And when Thanos tries to claim the Time Stone from Doctor Strange, he stabs Tony Stark/Iron Man. Strange promises him the green Time Stone if Thanos will simply let Tony live.
Later, Strange says something … well, strange to Tony: "It was the only way," he says.
Strange, remember, had seen the future—looked at millions of possible outcomes of the Thanos/Avengers conflict and saw only one path toward success. Could it be that giving up the stone—a decision that seems to pave the way toward certain defeat—was actually the only way to win? Powerful echo in that.
After I left the movie, I thought of another passage from 1 Corinthians—this one from chapter 13:
If I speak in the tongues of men and of angels, but have not love, I am a noisy gong or a clanging cymbal. And if I have prophetic powers, and understand all mysteries and all knowledge, and if I have all faith, so as to remove mountains, but have not love, I am nothing. If I give away all I have, and if I deliver up my body to be burned, but have not love, I gain nothing. Love is patient and kind; love does not envy or boast; it is not arrogant or rude. It does not insist on its own way; it is not irritable or resentful; it does not rejoice at wrongdoing, but rejoices with the truth. Love bears all things, believes all things, hopes all things, endures all things.
Thanos can seemingly speak in the tongues of men and angels. He understands all mysteries and knowledge. He has the power not just to see into the future, but to change it.
But he has no love. He threw that over a cliff. And I wonder whether the Soul Stone itself—perhaps a thing that understands that love is the universe's truly great power—may have some comeuppance in mind.
Avengers: Infinity War was a great movie, but a hard one to watch at the end. It was, if I can say this without being blasphemous, the Good Friday of superhero movies. But I think it also suggests that a brighter, better morning may be around the corner.