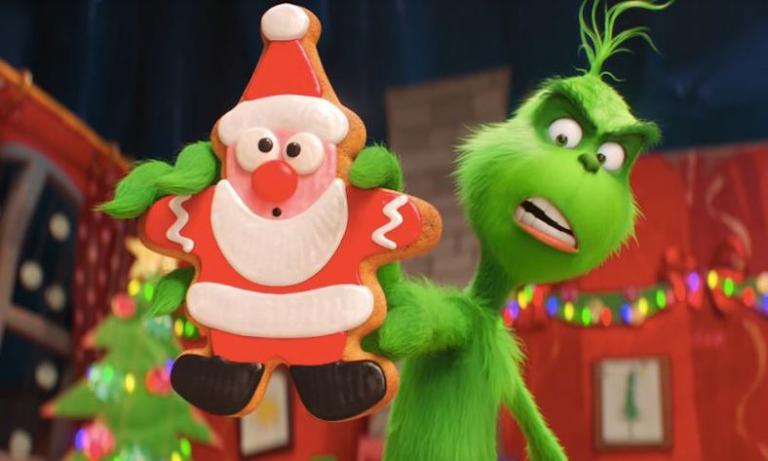 No one likes it when carolers attack.
That's especially true if you're the Grinch, who hated Christmas. Still, when you live near the Christmas-crazy town of Whoville, it's hard to get away from it completely. And in the new Universal movie named after him (based, of course, on the Dr. Seuss book and the timeless television special), Mr. Grinch braves the Christmas-besotted enclave to pick up some provisions for his mountaintop retreat.
Our green anti-protagonist is immediately assaulted by Christmas cheer from every direction, but the worst (?) comes from a horde of Christmas carolers: "God rest ye merry gentlemen" they warble in oh-so-perfect harmony, pursuing the Grinch through the streets of Whoville and eventually catching him in a clever pincher maneuver. There is no escape from these tidings of comfort and joy.
Introvert that I am, I sympathize with the Grinch's plight. I think I'd feel much the same way if I braved the malls on Black Friday.
Christmas is a time of both comfort and joy for most of us. In the darkest, coldest part of the year, we celebrate a new light and life on the horizon—the coming of Jesus, who'd save us all. As Christians, we have lots of reasons to feel incredibly joyful. And we want to share that joy with the world.
But no matter how beautiful the carolers sing, the Grinch isn't ready for the message.
I think that goes for a lot of people in our world: Maybe all of us.
Sometimes, I picture my relationship with God as that of a stray cat to a kindly homeowner: Back in my early days, he knew better than to chase me down the alley, promising His bountiful love and forgiveness. But He leaves a saucer of milk out for me, maybe the porch light on. And so, slowly, a relationship grows. I have nothing to offer. He has everything. And yet, slowly, I came to understand that He loved me anyway.
We see a similar dynamic at work in the movie The Grinch, which unpacks the green one's story in a bit more detail. [caution, spoilers to come.]
We learn that the Grinch wasn't necessarily born Grinchy. His Christmases past led directly to his Christmas present: As the people around him were showering tidings of comfort and joy on each other, the Grinch got nary a trickle.
We hear all the time about people who've been hurt in the Church and how deep those wounds can go. Sometimes it feels as though the world's most fervent atheists were raised in really religious homes that, for whatever reason, failed to show God's character. The message got lost, and how it takes something extra-special to find it again.
Or, more accurately, three somethings.